Premium
DP Gachagua's scorched earth politics may sideline other regions, give Ruto headaches
Politics
By Eric Nyakagwa | Jan 3rd 2023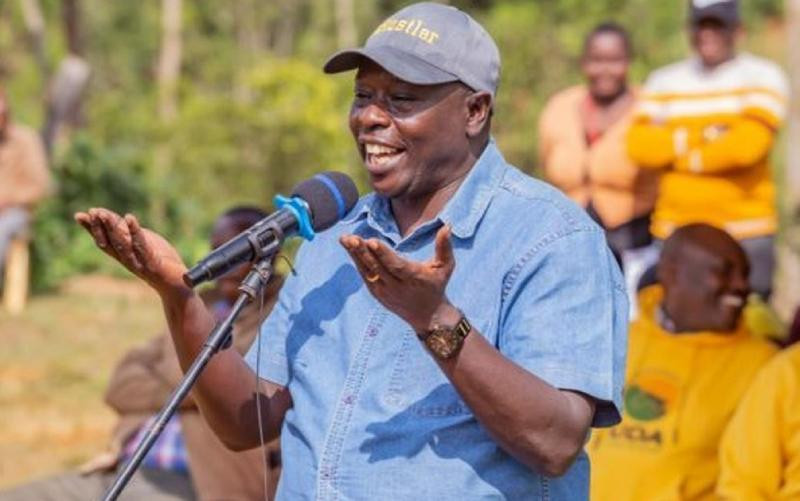 Immediately after being declared the winner of the August 9 election, President William Ruto vowed that he will not seek vengeance against his opponents.
He vowed that he will serve the interests of all Kenyans including those who did not vote for him.
"I'm acutely aware that our country is at the stage where we need all hands on deck. We do not have the luxury to look back, we do not have the luxury to point fingers, we have to work together for a prosperous Kenya," he declared at the Bomas of Kenya.
The pledge was seen as being in line with his bottom-up economic model, which he said during the campaigns will not leave any Kenyan behind.
However, his main opponent, Azimio's Raila Odinga has since accused him of embarking on a revenge mission, including the targeting of four electoral commissioners who disputed the tallying of presidential votes at the national tallying centre.
But it is his deputy, Rigathi Gachagua who appears more determined to vanquish those who were on the opposite side in this year's election.
No prisoners
From deliberately pushing for skewed public appointments to favour communities that backed Kenya Kwanza to positioning himself as the chief defender of his Mt Kenya region, the DP is not taking any prisoners.
In what is seen as a scorched earth policy, he has sought to woo those who backed Azimio to defect if they want to benefit from government appointments.
Stay informed. Subscribe to our newsletter
As a result, several Jubilee politicians, including Nyeri Governor Mutahi Kahiga, Tetu MP James Gichuhi, Nominated MP and National Assembly Deputy Minority Whip Sabina Chege and EALA MP Kanini Kega now recognise him as the region's topmost political leader.
On Monday, Gachagua even invited former President Uhuru Kenyatta, who as Azimio chairman backed Raila, to "return home" during a function in Nyeri. There are indications he could relinquish the role.
Never mind that he has been bitter at Uhuru for allegedly weaponising the war against corruption and targeting Ruto's backers in Mt Kenya region.
Gachagua even publicly hit out at him during Ruto's inauguration at Kasarani Stadium in the presence of his peers.
And in an interesting twist, it is now those who do not agree with him, such as Murang'a governor Mwai Wa Iria who are crying foul, though Gachagua denies any role in his battle with the EACC.
But it is his open promotion of ethnic nationalism that has raised concern among keen observers of his politics.
While Ruto has not yet made a thank-you visit to Rift Valley, Gachagua never misses an opportunity to tour Mt Kenya where he has been parading the gains the region is getting for supporting Kenya Kwanza with a promise that more is coming.
"The region will continue benefiting from Dr Ruto's government. In the forthcoming appointments for ambassadors, you will still benefit. Ruto is a truthful and honest person, and we will consolidate our support for him. Our colleagues in the opposition are welcome to Kenya Kwanza Alliance because they were coerced and intimidated to join Azimio," Gachagua said early this month during a function in Murang'a.
According to him, other communities can only get the spoils after Mt Kenya and other pro-Jubilee communities have had their fill.
Discrimination
This, despite Ruto's call to those appointed to government to serve all Kenyans without discriminating on the basis of tribe, a position he repeated during the swearing in of 51 Principal Secretaries.
"The jobs and responsibilities and positions you have been given are not private, family or community position but opportunity to serve the entirety of the people of Kenya. I expect every PS to diligently work to the best of their ability to serve the 53 million Kenyans," he told the PS at State House, Nairobi.
However, there are reports that he pushed for an equal share of slots between Mt Kenya and Rift Valley, which saw them get 13 PSs each, a development that saw other regions such as Gusiiland miss out for the first time since independence.
In 2013, while Mt Kenya and Rift Valley again dominated public appointments, Ruto, then elected as Uhuru's DP, never took credit, at least publicly, for skewing them in favour of his backyard.
But it is his latest stand on the plan by Nairobi City County to relocate matatus that brought out how deep he wants the recognition of Mt Kenya as a partner in the Kenya Kwanza government to be felt.
While the matatu operators have secured a court order suspending Governor Johnson Sakaja's plan, Gachagua declared it will not be implemented pending consultations.
"I have told Nairobi Governor Johnson Sakaja that we will have a sitting with him because we are the ones who elected him. I mobilised Kikuyus in Nairobi to vote for him. Any decision that he makes which may affect business in Nairobi, we must first sit and discuss," he said at a function at Dedan Kimathi University on Tuesday.
Nairobi lawyer Donald Kipkorir, who has been one of Gachagua's leading critics, wondered who will work for other Kenyans or whether each community will also need their own DP.
"Why is he preaching every day that he is in government to make sure Mount Kenya gets appointments? Who will speak on behalf of other tribes and races?" he recently posed.
Following last Tuesday's remarks, Kipkorir again took on the DP, saying his utterances are contrary to Chapter Six of the Constitution. Depending on how the matter is resolved, it could yet provide President Ruto with his first major headache since Sakaja was elected on the ticket of his United Democratic Alliance (UDA) party. Will he stick to original course?
At the same time, the President is seeking to reward those who stood by him but lost in the General Election with positions such as Chief Administrative Secretaries and parastatal chairmen and board members , a promise he is said to have repeated during a meeting at State House, Nairobi on Wednesday. They include those from region he did not fare very well.