Premium
Homa Bay MCA relieved after election petition thrown out, says he can now take bank loans
Politics
By James Omoro | Nov 29th 2022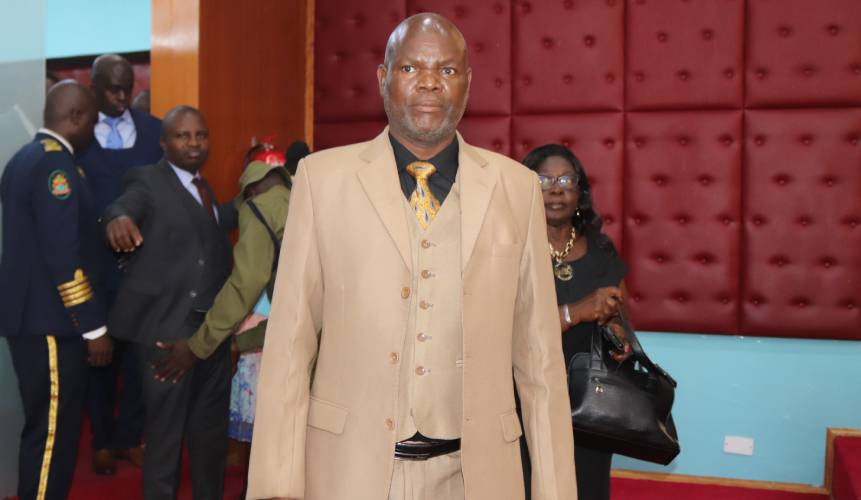 A Homa Bay MCA now says the end of an election petition challenging his victory has given him the courage of using his political position to borrow loans from banks.
The MCA for South Kasipul MCA Zakayo Ong'ondo surprised people when he said that an election petition that was filed against him in Oyugis Court had deterred him from accessing loans from the financial institutions.
Ong'ondo said a group of people took his name to all banks in Homa Bay county that he had a petition challenging his election. This was done with intention of deterring him from using his position as an MCA to borrow funds from a bank.
"I went to various banks but I was told I had a petition challenging my election hence I could not use my positon as an MCA to borrow funds from the financial institutions. This has made work difficult for me considering the huge amount of money I spend in a day," Ong'ondo said.
Dismissed petition
But his relief came after the court dismissed the petition, which had been filed by a voter Naomi Ongiro. The court found that Ongiro was acting on behalf of the immediate former South Kasipul MCA Geoffrey Opiyo. The court described Opiyo to have camouflaged in Ongiro's name.
In the petition, Ongiro argued that Ong'ondo of ODM party was elected irregularly. The issue stemmed from ODM nomination in which Ongiro argued that Ong'ondo was shambolically nominated by ODM.
The petitioner argued that the issues presented in court are different from the ones which were heard by the High Court, Political Parties Disputes Tribunal (PPDT) and ODM Appeals Tribunal before the last General election.
He argued that for Ong'ondo's election to be valid, ODM party ought to have conducted a fresh nomination for South Kasipul ward. Since the fresh was not conducted, Opiyo wanted the court to nullify the election.
Stay informed. Subscribe to our newsletter
On the other hand, Ong'ondo defended himself that the issues of his nomination had been concluded by the High Court of Homa Bay which dismissed Opiyo's petition on August 8. He requested the court to dismiss the petition.
Settled matter
In his judgement, Oyugis Senior Principal Magistrate Benard Omwansa dismissed the petition. Omwansa argued that the matter had been settled by competent legal bodies before the General election he could not uphold the petition.
"It will not only be improper and total disregard of the legal system in the country but unlawful as well as going against the legal gains. Consequently, the entire petition is dismissed," Omwansa concluded.
Each party will bear its own cost.
Ong'ondo said he felt relieved and his jubilation is the ability to borrow loans from banks to serve the people of South Kasipul effectively.
"What makes me happy is that I am now relieved. I can use my position as an MCA to borrow money from some banks because this petition has been dismissed. I am ready to work for the people of South Kasipul wholeheartedly," Ong'ondo said.
Make this Easter memorable with our KES999 annual offer!