I wish we went for a free and fair nomination instead of handpicking candidates,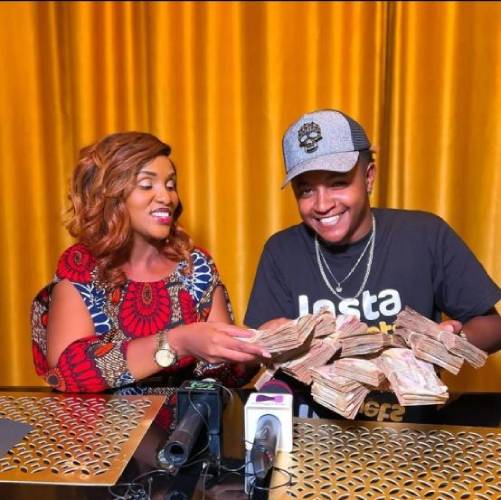 Wangui B Ngángá, aka Wangui B, has something most politicians would die for: an instantly recognisable face. She enthralled city residents with her eye-catching billboards, and her foray into politics has similarly seen her make headlines.
Ms Wangui B was among the city politicians eyeing the Women Representative seat with Jubilee Party, under the broader umbrella of Raila Odinga's Azimio la Umoja Coalition. It was not her first time at the rodeo; Wangui B previously vied in 2017 but lost to the incumbent, Esther Passaris.
Now, it seems she will have to shelve her political ambitions for a little longer. The Coalition reached an agreement to front Esther Passaris as the flag bearer, a decision that effectively halts Wangui's own run.
Yet she remains graceful, saying she respects the decision of the coalition leader.
"I would definitely have loved to be on the ballot and I wish our formation went for a free and fair nomination process as opposed to hand-picking candidates, but I respect the decision and I'm now committed to throwing my weight to popularise the party's agenda nationally and ensure that we emerge victorious," she says.
While careful not to play into the narrative of crying foul, Wangui B holds that she was the more popular candidate.
"I have traversed the whole county and met city residents on a door-to-door basis. I believe I would be best suited as a flag bearer."
It is a situation we are seeing play out more and more, as political parties issue direct nominations to candidates who were considered more popular forcing the losers to dump their interests in elective positions.
It is not always well-received. A few candidates have openly expressed their fury at the system. But Wangui believes her quest has been delayed, not deferred.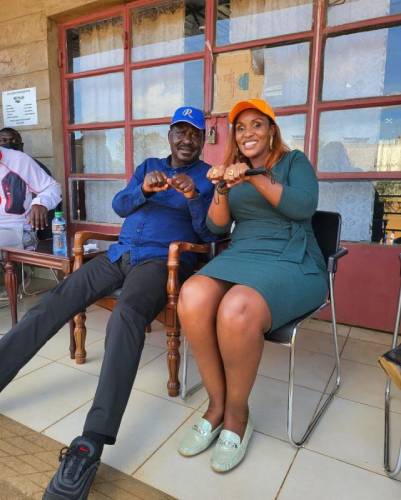 "I respect my party's decision," she adds. "This was not about me but for the good of the party. You see, leadership is a privilege to better the lives of others, not to enrich oneself," she says, adding that she enjoys a very cordial relationship with the former premier. "Hon Raila recognises my contribution and has played a huge role in mentoring me. We have that father-daughter kind of relationship."
Besides installing numerous personalised billboards across the city, Wangui's claim to social media fame however came when photos emerged in which she is seen handing over stacks of money to Thee Pluto, a Youtube Influencer. The images went viral. Before the dust settled, there were further claims that she was entangled in a relationship with the popular millennial and was behind his flashy lifestyle.
"I am a bigger person than that. Working on empowering the youth was part of the agenda listed in my manifesto. What is wrong with uplifting an industrious young man?" she questioned in response.
Wangui alleges that her political adversaries are hell-bent on mudslinging to tarnish her name based on her ambitions and political inclination. Tasked on the legitimacy of the Sh1m gift, she maintains that her intention was not chasing clout as rumour had it.
"I have started businesses for many youth. We had a deal and I promised him the amount once he fulfilled it. Why should it be a big deal? People should instead look at empowering the young generation aspect than being judgemental," she alludes.
Following the allegations and the subsequent questions about her close relationship with the young influencer, Wangui has acquired numerous sarcastic titles.
"I have been called all sorts of names. From Kanairo's a girl toto, Auntie wa Harrier to mumama and sponyo. But I embrace them all, for they are a representation of what Nairobi residents identify with and I know I will get to serve them someday. It doesn't bother me," she says.
In spite of the drama surrounding her political life, Wangui notes that freezing in the political cold will not be an option and lauds Azimio la Umoja chief for promising inclusivity for all including leaders who gave up their ambitions for the sake of the party.
"I will remain steadfast and loyal to Raila Odinga and ensure we popularise the National agenda."
Her inclination to oblige to party strategy notwithstanding, Wangui, who is also Azimio la Umoja organising secretary states she still has enough tricks up her sleeve to solve the country's political Rubik's cube should a fallback plan to nominate her to a leadership position avail itself.
"I'm not a political reject despite not making it to the ballot. I will welcome any offer as a nominated leader as I build up momentum to vie in 2027 or even sooner. I'm up to the task."