Laikipia Women Rep Waruguru out in the cold following campaign dominated by verbal attacks, party-hopping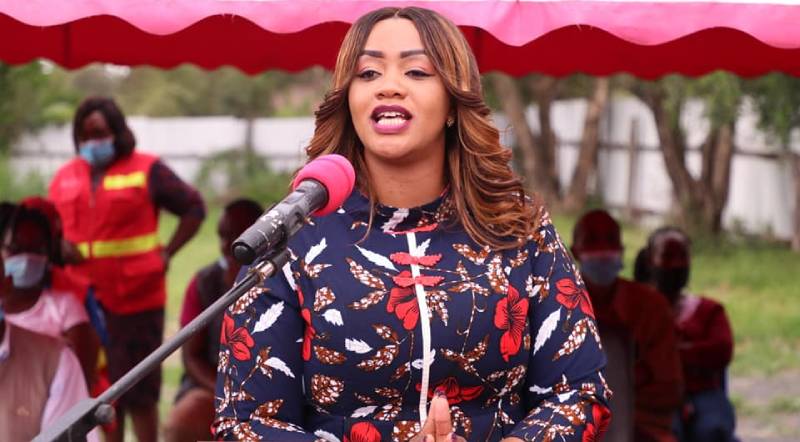 With the dust of United Democratic Alliance (UDA) nominations having settled across the country, one of the biggest losses in the Mt Kenya region was felt by outspoken and well-known Cate Waruguru.
In what can only be described as an unceremonious exit, Kenyans will miss Waruguru, a firebrand politician who speaks her mind, ruffling feathers and also eliciting laughter.
Waruguru, who was seen as a frontrunner in the Laikipia East UDA primaries, lost to the incumbent MP Amin Deddy.
In his victory speech, Deddy stated that the people of Laikipia East are interested in development and not abusive language used by leaders.
"The people of Laikipia East are development conscious. That is what they want. They are not interested in insults," he stated.
Waruguru, who is the current Laikipia Woman Representative and popularly known as Mama Simba, got 5,595 votes against Mr Deddy's 12,743 votes. She was followed by former Laikipia East MP Anthony Mutahi with 2,700 votes.
After the loss, an uncharacteristic soft-spoken Waruguru released a press statement, claiming she had been rigged out.
However, despite pleas that the results be overturned, it is apparent she will remain in the cold unless the party hands her nomination as MP or some other job.
Waruguru's political career started off as a nominated Member of the County Assembly in 2013 where she caught the attention of her colleagues and voters due to her beauty and sharp wit.
At the time, she was fondly referred to as "Mrembo wa Laikipia", a persona she has since shed off to adapt the Mama Simba moniker to match her tough stance. By the time she was elected as County MP in 2017, Waruguru was one of the women leaders who were closely watched as she often had harsh words for her opponents, often resorting to vulgarity.
In her personal life, she never shied from defending her life choices when she called on men willing to take on a second wife to do so. This was after she was involved in a dispute with management of a Kericho hotel which denied her and her partner admission for failing to produce a marriage certificate.
Wauruguru publicly urged single women to find men who they are comfortable with and start a family regardless of the marital status of the man.
"I love my husband. I don't need kutangatanga…Somebody else's husband is their husband within the confines of their home. Mzee ni wako kwa boma akishaatoka, take care of yourself and choose what you want. The constitution allows it," she said.
"If you feel you have the energy, you are free to marry a second wife. We need you," she added.
In her political career, she also made waves and by 2019, she was one of the more noticeable members of the Tanga Tanga brigade - a group of Jubilee Party MPs who associated with Deputy President William Ruto and his 2022 presidential ambitions.
During campaigns against the Building Bridges Initiative (BBI) across the country, Waruguru, who was a member the Inua Mama caucus, took on Kirinyaga Governor Ann Waiguru telling her to focus on making babies.
It was just a few months after her lavish wedding and the remarks seemed to target Waiguru, who was one of the top supporters of the Handshake between President Uhuru Kenyatta and ODM Leader Raila Odinga and BBI.
"Iko kamama kengine hapa ameolewa juzi. Hata tumbo ya kwanza haijatupatia mtoto lakini anafikiria ile kitu kubwa atazaa ati ni kutuzalia BBI (There is a lady around this place who got married the other day. We are yet to see a child after her marriage yet she thinks the greatest thing she can give birth to is BBI)," Waruguru said.
When the political Sword of Damocles threatened to axe Tanga Tanga diehards from their coveted committee positions, Waruguru went silent and stopped her public tirades.
At the time, Waruguru was vice-chairperson of the National Assembly Committee for Agriculture, and she made a calculated move to seek out Raila in an effort to save herself. But the move did not work as she was relieved of her committee duties even as she sang praises for President Uhuru and Raila, sharing a podium with leaders she had publicly told off.
She went as far as criticising Ruto, accusing him of being unforgiving and not fit to lead this country as president.
Hoping to win over her new bosses, she described herself as the Biblical Paul having seen the light.
In her campaigns, she told off the DP and his campaigns, stating: "At some point, I started asking myself, is the DP a poor messenger who never takes the message to his boss?"
But her dalliance with Jubilee and the Handshake did not last long. In November 2021, she changed tune and dumped the team, dismissing Jubilee as "clueless, rudderless and out of touch with the reality in Mount Kenya."
She added Jubilee was organised as a party and is led by incompetent people.
"The only competence they have displayed is bashing the DP and organising town hall meetings. I can't wait and sink with it," she said.
Waruguru never one to be fazed by the irony of her switching sides numerous times went on to campaign alongside DP Ruto and when the public turned hostile she turned her wrath on them.
Now with the UDA ticket for Laikipia East gone with Deddy, and her political ambitions hanging on by a thread, many are waiting to see if Waruguru will survive the storm of her own making.