Violence, bribery and corruption are indicators of flawed party nominations systems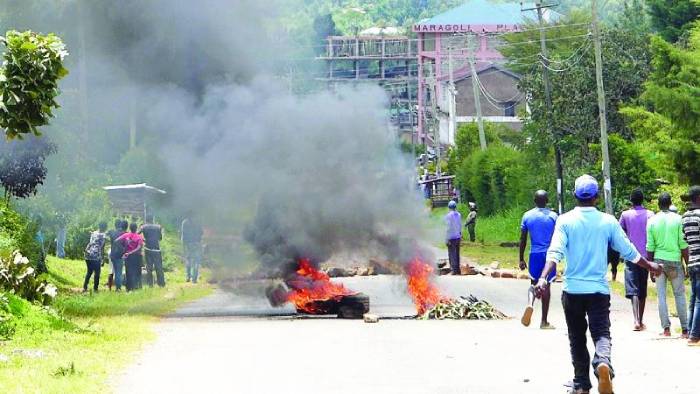 Political party nominations have always been laced with violence, allegations of bribery and plain old rigging.
"Unless there is rigging, direct nomination is the best method since it is fair and transparent unlike indirect nomination where candidates are selected in boardrooms and imposed on the people," says, Ferdinand Waititu, a streetwise politician.
The former Kiambu governor, who is seeking to reclaim his seat on a United Democratic Alliance (UDA) ticket, says indirect nominations tend to favour loyalty at the expense of popularity.
"Why would I be persuaded to accept consensus and step down for someone else when I know I'm the most popular candidate? Let me be subjected to direct nomination so that if I am defeated fairly, I will graciously be contented with the outcome," states Waititu.
Violence occurs, he observes, when parties allow rigging and bribery.
"When the nominations are free and fair, no violence occurs, but when people start suspecting that they are being short-changed, then you can't rule out chaos," says Waititu.
In direct nominations, every person is an eligible voter and a possible candidate in the absence of a strict party membership register. Voting is usually open to all, thus reducing the exercise to a public rather than party affair.
But even though aspirants favour direct nominations, political parties have no capacity and sufficient resources to manage them. In most instances, distribution of voting materials becomes a problem, same with appointing and deploying polling officials.
These logistical challenges are fertile ground for electoral fraud, which ultimately begets violence impacting the rights of both the aspirants and the voters to freely exercise their political rights.
And as the country stares at another round of bruising primaries, there is apprehension parties are ill-prepared to manage the chaos that manifest in different forms, like goons storming polling centres and destroying voting materials, and fights among rival aspirants and supporters.
While explaining why aspirants and parties engage in crooked means during nominations, Martin Andati, a political analyst, says determined aspirants pull out all stops to win since clinching a party ticket at the nomination stage is as good as winning the battle half.
"When you get the ticket, especially if it is for the bigger and popular party, you're almost assured of a win during elections," says Andati, adding that riding on the coattails of a big party accords a contestant undue advantage over opponents because such parties revolve around personalities with national political clout.
Registrar of Political Parties Ann Nderitu affirms that nomination through direct nomination has been the Achilles' heel of parties that lack capacity and resources for the crucial exercise.
"That is why we have been encouraging them (parties) to diversify and internalise indirect nominations while considering affirmative action so that the youth, women, minority, marginalised and people living with disabilities are not excluded," says Nderitu.
Although police say they are adequately prepared for the task lying ahead, there however are signs that the primaries might not be peaceful due to the palpable tensions among parties.
Police spokesman Bruno Shioso is urging parties to prioritise security in their nomination plans. For instance, they can conduct risk assessments and share the findings with police officers who will be at hand to guide accordingly.
The parties, insist Shioso, must ensure the safety of vulnerable groups is guaranteed and that inciters to violence should be fingered out.
"Further, people have to be extremely cautious and on the lookout for indicators of crime and terrorism," he added.
As the campaigns intensify, some politicians have been issuing veiled threatens to rivals or voters perceived not to support them. Already, politicians like Kitutu Chache North politician Don Bosco Gichana have borne the brunt of the violence.
"As long as we are in a society without proper democratic systems and where many people are poor; conflicts will persist, and party nominations are no exemption," says Kenyatta University-based sociologist, Dr Francis Kerre, adding that university students are likely to be manipulated by politicians who use them as tools of violence.
In 2017, the Kenya National Commission on Human Rights (KNCHR) recorded 17 serious cases of violence in 33 counties.
They ranged from assault on aspirants, their supporters, agents and voters, rivalry during rallies, attempted rape, alleged abductions, use of firearms to threaten aspirants and intimidation.
Interior Cabinet Secretary Dr Fred Matiangi, while announcing the creation of the command centre, said security teams have been reorganised and realigned ahead of nomination and election exercises.
"Aware of the challenges lying ahead, more security officers have been recruited and more equipment procured and deployed to beef up security while election-specific training is going-on," Matiang'i told foreign development partners on March 21, 2022.
Apart from violence, bribery is rampant during party primaries. Money exchanges hands between aspirants, supporters and voters. In a bid to avoid competition, some aspirants buy out opponents.
Besides denying deserving candidates the right to be voted, bribery violates the right of the electorate to freely vote for the candidates of their choice.
An electoral offence, bribery comes in the form of cash hand-outs, gifts, food, airtime, fuel, among others.
A person who engages in bribery, according to section 6 of the Elections Offences Acts shall be liable, on conviction, to a fine not exceeding two million shillings or to imprisonment for a term not exceeding six years or to both.
During the 2017 political party nominations, KNCHR documented 12 cases of bribery reported in Bungoma, Nairobi, Garissa, Kirinyaga, Kisumu, Kwale, Meru, Migori and Mombasa.
According to the Commission, most of the recorded cases happened at polling stations where candidates for varied positions were giving out monies to those coming in to vote. Jubilee Party (59%) had the highest number of cases closely followed by ODM (25%) and Ford Kenya and ANC (8%) each.