Elections mean stories; be wary of politicians who sell stories but no substance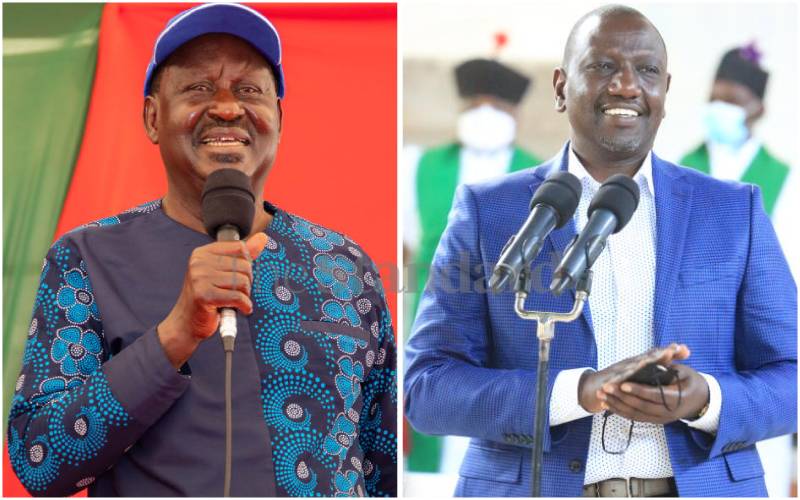 Kenya is now a battlefield. Politicians from both sides of the divide have launched psychological warfare for the control of the nation and its people. We are yet to see all manner of dirty tricks to not only control your imagination but lay siege on your view of reality.
The political class has one goal, to imprison you in a utopian dream from which you will remain until after the August general election.
By now, many of us have already been conditioned to accept certain positions as true and unquestionable. Narratives of all kinds have been sold to us with a view of distorting our view of reality. This will slowly render us ineffective in logical thinking. No wonder we fight and kill one another for no reason.
To discover if your heart, soul and brain are being stolen, you have to unpack the narratives told. You have to deconstruct these stories and open them to see deceitful elements thrown at you.
Election time is storytelling time. Our country is now a large stage with many performers. The manner in which rival politicians frame their stories and the performative tricks they employ as they cajole and seduce us will determine their fate. They know that failure to successfully sell their stories means political oblivion.
Have you observed how they try to outdo one another as they dance for you? Roles have completely been reversed! It is their turn to dance and sing for us! You are the boss but an easily manipulatable one.
They know the centrality of the media and use it effectively. That is why we need to be careful in consuming the media, especially social media, and identify how the stories are framed to hide truth from us. Do not be cheated that you are dealing with angels.
As the Waswahili say, "Msitu ni ule ule na nyani ni wale wale" (It is the same forest with the same old monkeys).
How can a politician who has never espoused democratic ideals or higher values lie to you and posture as reformer and saviour of the nation?
Politicians will pose as saviours by giving an incomplete or distorted narrative of themselves. In fact, they will never say certain things. Some truth about their character are swept under the carpet. They will give any records of accomplishment. They only tell you what they want you to hear to build your hopes.
By now, the political formations are complete. We have two major teams: Azimio la Umoja led by Raila Odinga and Kenya Kwanza led by William Ruto. Any other team that comes up is a donkey to escort the two horses.
Azimio, led by a master storyteller, will not disappoint in storytelling. It is no wonder his opponents call him 'Mzee wa Vitendawili' (the old man of riddles). This is obviously because he beats them in dipping into the culture to drive his stories home. Expect him to invoke images from football and African folklore to construct images in your mind.
Kenya Kwanza is an equally strong team of master sloganeers. Their rallying call is "Hustler nation" and "Bottoms up model". They will repeat these slogans to you until you start singing them in your dreams. Remember these are slogans, not ideologies. They will never give you a treatise on the so-called "bottoms-up model". You may also call them aggressive braggarts to the hilt. They believe they have imprisoned the youth with the hustler mantra.
They have equally mastered telling incomplete stories as they play with your mind and send it to utopia. They want the poor to believe their problems will be over after the polls.
They wish to project a youthful outfit and castigate old age. What they never say is that one cannot be a youth when 40 years old and above. They want to appeal to the youth by telling their stories in the language of the youth, hence their poor imitation of sheng and their admiration of hatupangwingwi song.
From both sides of the divide, one of the most used tactics is gaslighting. This refers to the tactic of telling false narratives until you make your victim doubt their perceptions and abilities. These narratives disorient your ability to see the unchanging nature of your reality, perhaps because of your vulnerability.
In this state, you will start believing in political miracles. You start seeing yourself in heaven on earth come August 10. This makes you invest in a mirage. To make you believe in the mirage, they will swear they did not design your current sorry state. Instead, they will blame other entities. This will drive you into a fantasy world.
Beware of reverse psychology, which politicians use to imprison you. Reverse psychology is a tactic that politicians use to psyche you up to do certain things, unsavoury though, but they will pretend they do not approve of them. They will spread hate with a view of making you fight your fellow Kenyan but pretend they do not advocate for violence. This is a manipulative tool at their disposal.
As you consume media, remember that politicians will use catfishing to imprison you. This is the practice of pretending on social media that one is someone different in order to trick or attract another person. Warriors employed to lie post most of the comments that you see. They fabricate online identities, often to trick you to believe certain politicians are popular. Simply, this is an elaborate system of lies meant to short-circuit you.
Finally, remember they will use cherry-picking. They employ this tactic to suppress evidence in dealing with issues. They remain selective in giving evidence to confirm a particular position while ignoring a significant portion of facts.
When you start believing everything that the politician tells you, then know they have captured you the way cult leaders do. Remember not to kill your fellow Kenyans by what they tell you.
Kabaji is a Fulbright Scholar and Vice President of Pan African Writers Association (PAWA). He is currently visiting professor at Kabale University in Uganda on Inter-University Council of East Africa Staff (IUCEA) mobility programme.
Prini Spa- where kids are king
We have a spa section for kids that does pedicure, barbershop and salon services. At the same time, we have a smart space with entertainment and learning activities.