Measures are in place to prevent repeat of 2007 violence in Rift Valley region- commissioner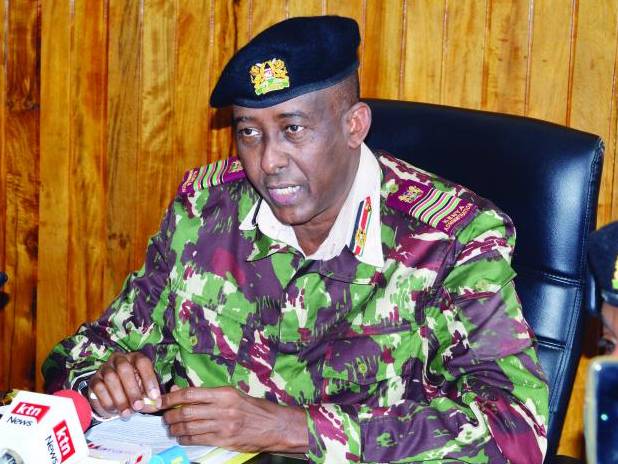 Every election cycle, the Rift Valley region has been the epicentre of inter-communal conflicts and ethnic violence pitting rival political camps against each other.
This did not happen in 2013 and 2017, though, when a political alliance between President Uhuru Kenyatta and his deputy William Ruto helped to avert large-scale violence between the Kikuyu and Kalenjin communities.
But in previous elections in 1992, 1997, 2002 and 2007, the region witnessed ethnic violence that led to deaths and displacement of people. Many were wounded.
And with the August 9 elections a few months away, there is talk that some families will move out of the region early, in case there is violence.
John Mageto, who has lived in Molo Sub-county for 21 years, says unlike during the 2013 and 2017 polls, he is not sure of his safety and that of his family.
"In 2013 and 2017, it was peaceful because the Kalenjin and the Kikuyu were supporting the UhuRuto team that brought together President Kenyatta and his deputy Ruto.
"But now we do not know what will happen since the two are no longer together," he says, referring to the political row within the ruling Jubilee Party that saw the president and his deputy part ways.
In the past two elections, Mageto, 47, voted in Molo constituency but this year, he transferred his vote to Kisii County, fearing election-related violence.
"Although there are no direct threats to me and my family, I would rather be safe than sorry," he says.
In a bid to manage his succession, President Kenyatta has endorsed ODM leader Raila Odinga and dismissed his deputy as unsuitable to lead the country.
"What has made me go to vote in Kisii is that simple reason that Uhuru and Ruto are in different camps now.
"The people in this county are sharply divided between the United Democratic Alliance (UDA) headed by Ruto and Azimio la Umoja that is fronted by Raila and backed by Uhuru," says Mageto.
The 2007 post-election violence displaced an estimated 600,000 people, and Mageto was among them.
He lost his property in Molo when his house was torched and his small shop looted during the clashes between the Kalenjin and Kikuyu communities.
In a makeshift garage in Kericho town, Augustine Otieno, a mechanic, says he witnessed the post-election violence, when the ethnic Kikuyus were attacked because they supported a party that most of the locals opposed.
"In 2007, we were all in ODM. Those who were not in ODM like PNU were affected," Otieno said, adding, "this time, even though lessons were learned, you still do not know what will happen. So to be safe, just vote and go home."
But authorities have assured residents that peace will prevail, before, during and after the August 9 polls.
Rift Valley Regional Commissioner Maalim Mohammed says there is no cause for alarm and calls on politicians to conduct peaceful campaigns ahead of the polls.
Mohammed says the security surveillance has started in areas they consider hot spots and teams have been working day and night to ensure that the region is peaceful ahead of the elections.
The Nairobian has established that areas like Molo, Kuresoi in Nakuru County, Uasin Gishu, Narok and Bomet counties have been put under security surveillance.
"Electioneering should not be a messy affair if everyone plays by the rules and stays ethical in their campaigns. The government is determined to bring to an end the culture of chaos and tension around elections in this country," he said.
He vows that violence can never be part of the country's political fabric.
"It will not happen in our country. Kenyans are after development-leaning and progressive leaders. We are keenly following political activities in this region. Security agencies are under firm instructions not to spare individuals engaging in acts of violence and issuing inflammatory utterances," he said.
On the fears expressed by Mageto and Otieno, the administrator says every Kenyan has a right to live and own property in any part of the country.
"The president is committed to ensuring security and peaceful co-existence among Kenyans and so am I," he says.
To secure the region, Mohammed reveals that peacebuilding activities have been rolled out in all the 14 counties ahead of the polls.
"We have started holding meetings in the 14 counties that make up this region to ask the residents to maintain peace before, during and after the elections. No life will be lost or property destroyed," he said.
Another strategy employed by the security agencies to secure the region is taking legal action against perpetrators of retrogressive politics.
"Election is a one-day affair. Everyone must be allowed to air his opinion without blackmail, threats and violence. The country has to do everything to prevent election-instigated violence. I have tasked local administrators to walk from village to village and spread peace messages. Don't fight with the police because they are only here to maintain law and order," Mohamed said.
Leaders in the region are also working with the government to ensure there is peace and harmony.
Nakuru Governor Lee Kinyanjui said they have been working closely with the security agencies to ensure the region is secure.
"We are engaging wananchi in peace-building initiatives and we also urge them to report unlawful political activities within the region," Kinyanjui said.
"I urge leaders to continue preaching peace. I am happy about the relative peace that has been there for the last three years."