Elections: It's our time to eat where we did not sow
Politics
By Barrack Muluka | Mar 2nd 2022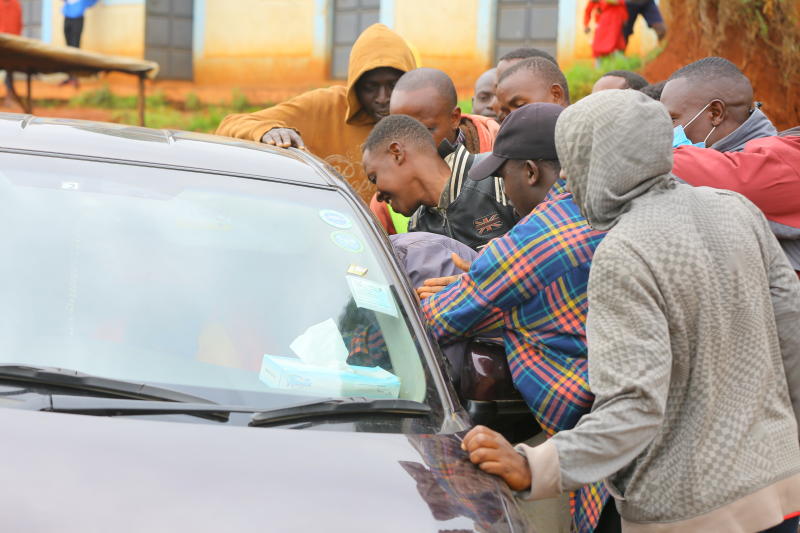 It is time to eat where you did not sow. Yes, we are literally reaping and eating where we did not sow, and gathering where we did not scatter. The natives who went away are trooping back in style; fat cars, fat wallets, fat spouses, fat girlfriends and boyfriends, fat children, fat everything. They are ready to do fat wonders. Even crying at the funeral is done fat-wallet-style. On matters of style, they are arriving in fat.
They are coming in four-wheel-drive monsters and baby monsters – all fat. Others are descending down upon us via aerial dynamics. Some virtually. Now you see them, now you don't. Some others, who are not too endowed, are arriving in dilapidated things; but we really don't care much about that. It is what they are bringing that counts. Music, dance, drama, money! That's what counts.
You entertain us, feed us and pay us, and we consider whether you have our vote or not. That is what this season, called "siku za kura," is about. It is time to eat, or be eaten. We have heard that in this world some things are eaten, and others eat. If you are not the anvil, you are the hammer. We choose to eat here in Emanyulia. Some choose to drink and smoke, but it doesn't matter. What's the difference anyway, aren't they all matters of the mouth? When the mouth is not busy singing, shouting election matusi, singing blasphemous things about politicians, and committing sundry sins in the open and in secret, it eats.
And so we are delighted here in Emanyulia that they opened up the floodgates of harvest and eating, 12 years ago with the new laws. That was when they increased the positions that watu wa siasa are competing for to six, from three. Bless you, Nzamba Kitonga, where you went to rest in peace. For you are the man who led the people called the experts, in raising eating opportunities by more than 100 per cent.
Man of smoke
This is what the villagers are saying, led by our man of wisdom, Orende. You remember that bare-chested thin man who smokes the big cigarette for breakfast? He says he is going to vote for a certain Professor, because he has promised to legalize the big cigarette, as soon as he becomes president. "Eat, eat, eat," is the familiar gospel that our man of smoke and wisdom is preaching.
Don't we love him! And don't we love this election thing! To eat, or not to eat, that is the question. Conscience does not make any of us cowards when it comes to eating, especially ya wanasiasa. We say that wanasiasa ni wezi, anyway – that they are thieves. Each one of them says that the rest are thieves.
Now we don't know who is lying and who is not. For us here, we have concluded that wote ni wezi, they are all thieves. We will, accordingly, eat their loot without discriminating against any of it. They are coming with plenty-plenty of goody goodies, these people. And everywhere you go, we are busy saying things like republic, republic, republic! The Republic is ourselves, and people must listen to us. They must listen to the republic. Some big guns who are listening have told us to "tofautisha kati ya kula, na kura." That is to say, "Don't be foolish. Know the difference between voting and eating." It is also to say that to eat from you does not mean to vote for you. "Kura ni siri," Orende has been saying. That is, that balloting is a secret. But eating is not. You eat in the open and do the rest of the things in secret. That is deep village wisdom, if you get it. Let the party begin, then. We are taking this seriously, very seriously. We are receiving lost sons and daughters of the village, trooping back with loot. Big fat mamas and thin ones, who look like they could be carried away by the wind, have come.
Agbada suits
Huge babas who take forever to crawl out of their 4wds, because of the weight of body mass and wallet money, are here in their agbada suits from Nigeria. So, too, are agile thin ones with shrill voices; clad in West African dashiki. There is food here, food there, food everywhere. You are free to roam from this Mheshimiwa's homestead to the other, at any time of the day, or even might. Gates whose hinges had gone rusty because hazifunguliwangi are now wide open.
Big fat dogs are in chains, some until April, when the owners will lose the party primaries and return where they have come from.
Their party ends with party primaries. But our party goes on – until after August 9, when we join some people to celebrate, as others cry from the toilet while some jump into the sea. Ndio Maisha ya siasa, says the thin smoky wise villager.
You win some, you lose some. Don't take these siasa things to heart, he says. They can give you a heart attack. Take them to the lungs, because they only make you gasp. And we will be gasping together about these exciting happenings for the next two dozen or so weeks. Great times are here, but take care to only gasp.
— Dr Barrack Muluka is a strategic communications adviser.