Politicians raise eyebrows with incredulous campaign pledges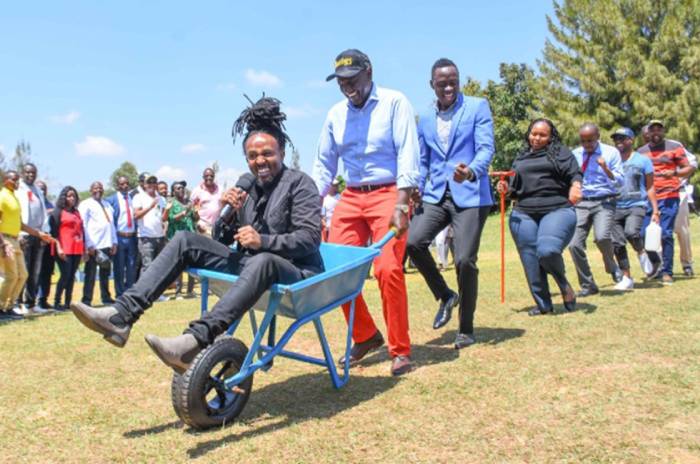 Even in a world where smart brains have shown one can venture and succeed in almost everything - including selling bottled fresh air - Kenyan politicians still rank up there among the most innovative in their class.
Their ingenuity is often on display during electioneering periods such as the one the country is currently in. What with the kind of campaign promises they have been making to voters in the last few months and which will only go a notch higher as each candidate, especially those in the presidential race, fight to be in the lead going into the homestretch?
For many months, Deputy President William Ruto's promise to uplift the so-called Hustler Nation - comprising mostly millions of youth - by implementing his bottom-up economic model if elected on August 9 has been the talk of the country, thanks to his choice of wheelbarrow as a campaign slogan.
His critics, mainly ODM leader Raila Odinga and those in his Azimio la Umoja movement, have been chiding him, terming him a hypocrite by offering the unemployed simple implements that would not make a difference in their lives yet he is a rich man who flies around in choppers. And this, close to 10 years after Jubilee promised Standard One pupils that it would provide them with laptops and tablets, which never materialised.
However, Ruto has hit back at them, stating that the wheelbarrow is a powerful image of the youth's potential to revolutionalise the country's economy.
"In their hands, in their talents, in their efforts, in their knowledge, is the solution to the challenges that we face as a nation. And they need to stand up and be counted as the young people of our nation," the DP told a church service in Nairobi last September.
With an eye on the youth and other vulnerable groups, Raila also came up with a 10-point agenda that will see him, among others, implement a social protection programme dubbed Pesa Mfukoni, which will see every needy household get Sh6,000 per month.
Despite estimates indicating such an initiative will need an annual budget of Sh700 billion, Raila insists having worked as prime minister, he knows which holes to seal to ensure adequate resources are made available.
He has also infused his "Inawezekana" slogan into his manifesto, promising to equip Kenyan youths with the mindset, skills, funds and technology to enable them to innovate at par, and even surpass their global counterparts.
Kenyans have become used to promises such as these every election year since the return of multi-party democracy in the early 90s.
But what takes the cake this time around are those that have been made by governors Alfred Mutua and Mwangi wa Iria, who are also gunning for the State House job.
In a clip that is trending on social media, wa Iria early this month promised to provide every poor household in the country a milking grade cow if he clinches the presidency come August 9.
The governor, whose surname literally means milk, which he got from his days as the Managing Director of New Kenya Cooperative Creameries (KCC) before formally adopting it, pledged to reciprocate a similar project he introduced in his first term and extend it across the country. "My government will provide every homestead engaged in farming with a cow. One home, one cow. I want to start it before being elected as president," the Usawa Party of Kenya leader declared during a function to issue bursary cheques to needy students.
"I know is attainable if there are resources and being Head of State, I can successfully implement it and help poor families have a source of livelihood," he said.
Mutua also made headlines after the launch of his campaign manifesto on December 5, 2021 when he promised that his government would give newly-married couples between Sh500,000 to Sh1 million loans to build new homes, if he becomes president.
"Newlyweds will receive an initial capital of Sh500,000 to Sh1,000,000 in kind, payable over 20 years at an interest rate of 0.5 per cent as a gift to invest in their new home and entrench the family institution," Maendeleo Chap Chap party leader said.
Both wa Iria and Mutua's promises will no doubt require massive resources to implement even in the long-term.
However, if Treasury mandarins were to crack their brains on how to implement promises almost all the presidential candidates have made regarding how to address the myriad challenges facing Kenyans ranging from lack of access to affordable, quality healthcare; high levels of poverty; high unemployment; insecurity; lack of adequate food hunger; and lack of affordable, quality education especially at tertiary and university levels, it would take centuries to find a formula.
Perhaps, isn't it time then for Kenyans to look for other parameters of gauging which politician to elect right from MCA to President, and not on the strength of their manifestos alone?
They should enjoy the hilarity of those made by the likes of Mutua and wa Iria and treat everything else with a pinch of salt.
Ridicule religion at your own peril!
Even though it's ok to question religion and to poke holes in theories we find surreal, it is unacceptable to deride anyone because of their religion.