Raila drawing support of governors in quest to win over Mt. Kenya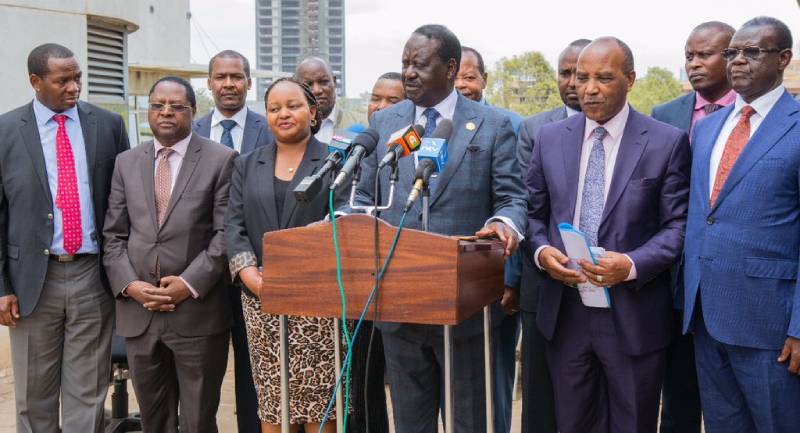 In his quest to spread his message to the mountaintops, ODM leader Raila Odinga is knitting a circle of governors from the Mt Kenya region; a team of former foes turned allies.
He has already won over seven of them – Kiraitu Murungi (Meru), Francis Kimemia (Nyandarua), Lee Kinyanjui (Nakuru), Ndiritu Muriithi (Laikipia), Martin Wambora (Embu), Muthomi Njuki (Tharaka Nithi) and James Nyoro (Kiambu) – who act as the Atlas holding Raila's dreams of winning in Mt Kenya in place.
Anne Waiguru (Kirinyaga) supports Deputy President William Ruto, while Mutahi Kahiga (Nyeri) is yet to declare his stance. Mwangi wa Iria (Murang'a) harbours presidential ambitions.
The seven governors who are supporting Raila have earned a spot in his inner circle, planning the ODM leader's recent tours in all their respective counties, mobilising the masses to show up at Raila's rallies.
Whether or not they are winning him numbers will be tested next year. But his team has succeeded in drawing a reaction from Ruto, who has rebuked their support of Raila, seemingly concerned that they may be chipping away what would have ordinarily formed part of his base.
The governors represent the devolution of Raila's Handshake with President Uhuru Kenyatta. In charge of counties, governors come out as persons with significant influence. Raila is seemingly banking on that to improve his numbers from the region and beyond.
Of the seven, Kiraitu is the only one reconnecting with the former prime minister, with whom he partnered in the push for multi-party democracy as part of the 'young turks' of the Forum for the Restoration of Democracy (Ford) party.
Kiraitu and Raila would later defect from Ford Kenya at different times, only for their political paths to cross again in the National Rainbow Alliance coalition that secured Mwai Kibaki presidential victory in 2002.
The 2005 constitutional referendum, the 2007, 2013 and 2017 elections thrust them into opposing camps. That has changed, with Raila earning his former lawyer in his corner and a chance to win the hearts of the 750,000 voters Kiraitu represents.
In Kiraitu, Raila has a seasoned politician who has served in elective office since 1992, when he was elected Imenti South MP. A former Cabinet minister, he was elected Meru Senator in 2013, transitioning into the governorship in 2017.
Kinyanjui is another one taking up the space high up Raila's ranks, accompanying him in tours beyond the Mt Kenya region. Before he declared his intention to defend his governor seat, he was touted as Raila's possible running-mate.
The governor, currently in his first term, once served as Nakuru Town MP before unsuccessfully vying to be Nakuru governor in 2013.
Nakuru is poised to have more than one million voters in next year's polls, and Raila will be hoping to win a huge chunk of the votes from the cosmopolitan county.
Ndiritu, elected in 2017 as an independent candidate, is another probable running-mate of the ODM leader. The former Laikipia West MP and former assistant minister for Industrialisation is Raila's gateway to the more than 250,000 votes in his county.
Equally prominent within the ODM leader's fold is Nyandarua's Kimemia. A few weeks after dropping the bombshell on the role of the deep state in close electoral contests, he has acted as Raila's wingman from Mt Kenya.
Kimemia previously served as the head of public service, the zenith of a two-century-long career in the civil service. The first-term governor is the only Mt Kenya county boss in Raila's side who has not held a previous elective office.
Nyandarua County registered more than 15,000 new voters in the recently concluded mass voter registration, taking its possible tally to more than 370,000 votes.
Raila is also interested in part of the more than 200,000 votes that the entry of Tharaka Nithi's Njuki into his camp promises. The first-term governor is relatively new in politics, having been elected Chuka/Igambang'ombe MP in 2013.
Christened the governor with nine lives, Wambora has survived two impeachments in his first term as Embu governor. He was reelected in 2017 by the slimmest of margins, had his election nullified by the High Court before the Court of Appeal and the Supreme Court upheld his victory.
He cemented his place amongst his peers and was elected the Council of Governors chairperson in January. The one-time Runyenjes MP will be hoping he has some say over the more than 320,000 voters in his county despite the fact that he retires as governor next year.
Unsuccessful in his 2013 attempt to head Kiambu County, Nyoro joined former governor Ferdinand Waititu, alias Baba Yao, to clinch victory in 2017. The Baba Yao-Nyoro ticket was sold as a balance of sorts.
Dr Nyoro, an economist and agricultural expert, was meant to balance out Baba Yao's unorthodox style.
Baba Yao's impeachment in January last year placed Nyoro at the helm of the county second to Nairobi in its total number of voters.
Though Nyoro's political might has never been tested, Raila will be hoping the governor can secure a significant fraction of the county's 1.2 million votes.
While analyst Gitile Naituli agrees that any support is key to Raila's ambitions, he argues that that of the Mt Kenya governors may be of little value to the former PM.
"The popularity that the governors think they have emerges from the population that could be ignorant about the kind of work they have done," he says.
"Many of them cannot account for their annual allocations because they have done little for their people."
Prof Naituli posits that the support of governors who have delivered for their people would better Raila's chances of winning over Mt Kenya.
"Those who don't like a particular governor supporting Raila could end up not voting for Raila," he adds.
On his part, political risk analyst Dismas Mokua terms the governors' support of Raila "significant".
"It is significant because no one from Mt Kenya has previously wanted to associate with Raila," he argues.
"Having the governors on his side gives him some soft landing in the region. Any candidate would want that," adds Mokua, a school of thought endorsed by political scientist Macharia Munene.
"Their support could get Raila votes here and there because governors are known to have some support. But it all depends on the kind of weight they pull," states Prof Munene.
"But the governors appear to have some problems and they may want Raila's help."