City hawkers, matatu owners lay out demands for gubernatorial aspirants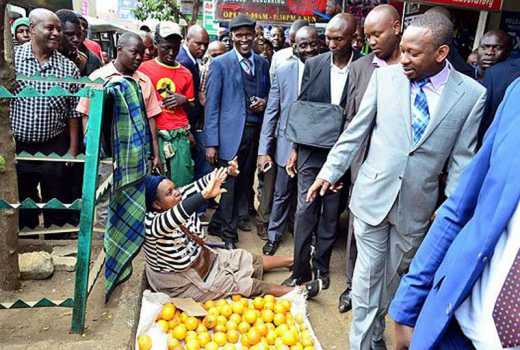 Small scale traders who are the majority in the city want a governor who will lower taxes and create an enabling environment for growth. The holder of the office, must, for once, address the perennial problem.
"Whoever is aspiring to be governor must prove to us that he or she is not coming into office to kill small business as is the case now with hawking, which is considered a menace," says John Kihiu, chairman, Kenya National Hawkers Association.
Though the health sector has been revived by NMS, Wanyonyi thinks there is still room for improvement.
"I will promote better healthcare, ensure equitable access to facilities by PWDs, improve, construct and equip Early Childhood development centres and invest in skills development for the youths," he assures.
Round the clock health facilities have been set up in Muthura, Dandora, Soweto-Kayole, Gatina, Gichagi, Mukuru kwa Reuben, Mukuru kwa Njenga, Riruta-Satellite, Sinai, Lunga Lunga, Kibra, New Mathare-Kiamaiko, Tassia kwa Ndege, Mwiki, Zimmerman, Pumwani-Majengo, Gumba and Ngundu-Kamulu health facilities.
Public transport remains the biggest challenge in Nairobi. Police and county marshal have been unable to instill discipline and order among matatu and boda boda operators. The situation is compounded by traffic jams with commuters wasting man-hours stuck on roads.
According to World Bank estimates, city residents on average spend an hour to travel to work and another 60 minutes commuting back home due to traffic congestion.
Infrastructure to introduce Bus Rapid Transport (BRT) is being laid. There shall be dedicated lanes on key highways for express commuter buses. The idea is to reduce the number of private cars and general congestion.
Wanyonyi says once in office, he will push for BRT to be rolled out in all parts of the city unable to cope with the ever-increasing vehicular volume.
"I will work with the National Government to operationalize and expand the BRT system to cover all major roads as well as enhance the network of motorcycles and bicycle lanes and pedestrian walkways," says the lawmaker.
Dickson Mbugua, chair, Matatu Welfare Association (MWA) they will embrace a governor open to consultations. According to Mbugua, the transport problem can be solved through discussions among policymakers, implementers and players in the industry.
"It is through deliberations that we can be able to formulate a comprehensive plan on how to accommodate matatus, boda bodas and haulers," says Mbugua while proposing nomination to Nairobi County Assembly, members from the public transport sector
On tourism, Wanyonyi intends to promote Nairobi as a premier tourism hub by leveraging on its positioning as the only Nairobi City in the world with a game park. This will be achieved through formulation of relevant policies and legal frameworks.
His government will also leverage on the existing excellent medical facilities to position it as a medical tourism hub.