DP William Ruto: How I will stop Nyanza politicians inciting the youth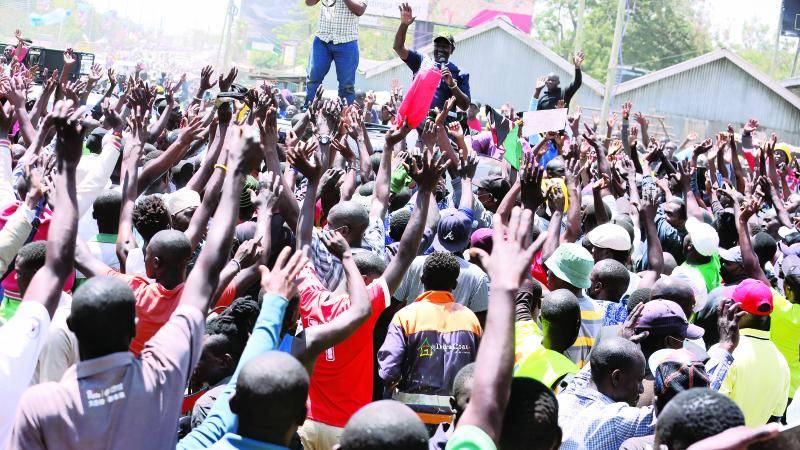 Deputy President William Ruto has promised to teach a section of Nyanza politicians a lesson after he was heckled at Kondele in Kisumu County. In his tour of Nyanza region about two weeks ago, Dr Ruto was heckled at a political rally and some vehicles in his convoy were pelted with stones.
Ruto and his allies believe that the youth who caused the violence were hired by political leaders. Kuria East MP Marwa Kitayama, a close Ruto ally in Nyanza, said the youth were incited and hired by political leaders to cause chaos. He said Ruto toured Kondele on June 1 during Madaraka Day celebrations and received overwhelming reception. The youth made an appointment and told him to return.
"The Deputy President toured Kondele following an appointment he was given by the locals on Madaraka Day. It is not logical to invite a guest into your home then you become violent on his arrival," Kitayama said.
The DP is now contemplating a 'permanent solution' to end political violence vented on him in the region.He gave the hint in Homa Bay town, where he also met a large number of Nyanza residents.
His key secret is to make regular visits to Nyanza region. That way, Ruto believes, the politicians would get tired of spending money on hiring 'goons' every now and then. He argued that the youths would not be interested in participating in violence without 'motivation' by politicians.
"I want to make many visits to Nyanza so that the politicians who are hiring some youths to engage in violence get tired of spending money. Youths of Nyanza are my friends but a few politicians want to antagonise us. I will visit this region until the politicians get tired," Ruto said.
Another advantage he hopes to enjoy by making regular visits is that Nyanza residents would get used to him and stop seeing him as a stranger.
"I am your person who used to be in the same political party with the people of Nyanza. Let us start getting used to each other because I am going to be a regular visitor here," Ruto said.
He pledged that his government would allocate every constituency Sh150 million every financial year for empowering small-scale traders and medium enterprises, if he is elected in 2022. He also promised that his government would create jobs to reduce unemployment in the country.
"My government will create jobs to ensure the youth have reliable sources of income," Ruto said.
Ruto challenged his competitors to go to the ground and seek votes instead of holding boardroom meetings in Nairobi.
"Let my competitors come to the ground instead of holding boardroom meetings. Voters are the key decision-makers in an election and they are in villages, not Nairobi," said Ruto said.
He toured Kisumu, Homa Bay and Migori counties, which he had rarely visited since the Jubilee administration came to power.