2022: Who would be the perfect running mate for Raila, Ruto?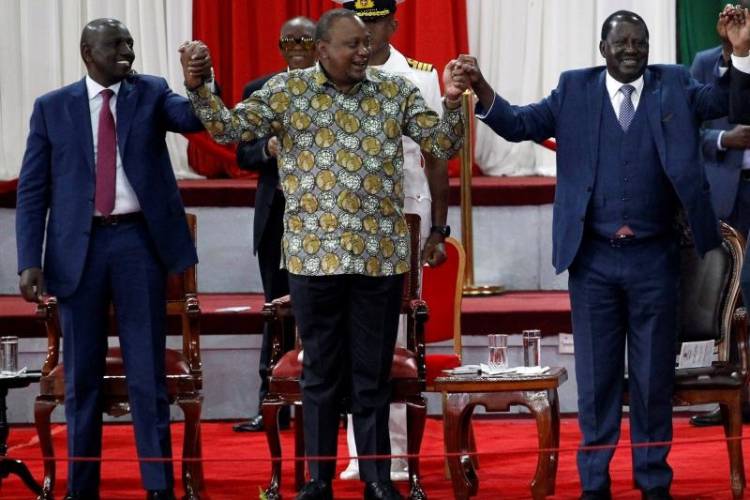 The contest between ODM leader Raila Odinga and Deputy President William Ruto to succeed President Uhuru Kenyatta is likely to be decided by their choice of running mates.
Pundits say the two leading presidential contenders will rise or fall based on whom they settle on for the coveted number two slot.
"My instincts tell me that the choice of a running mate will be a make or break decision for the two.
"The question of who to pick for the position of deputy president is something that is keeping the two leaders awake at night," says Gitile Naituli, a professor of management and leadership at Multimedia University.
It is a given that Raila, who has gone flat-out to market his Azimio la Umoja mantra ahead of next year's polls, will pick a running mate from the Mt. Kenya region.
Dr Ruto, too, has heavily invested his time and resources in keeping the vote-rich region under wraps for the past nine years, and has his eye fixed on the mountain for a running mate.
Raila and Ruto have compelling reasons for picking their running mates from Mt Kenya, which, for the first time since the return of multipartism, has no strong presidential contender.
First, the region is the biggest block of voters compared to other parts of the country and a running mate from the region would pull in a substantial vote for either candidate.
For Raila, a Luo-Kikuyu combination would eliminate the historical divisions that have existed among the two communities since after independence and which tend to flare up during elections.
It would also assure the powerful Kikuyu elite that its interest would be safe.
For the deputy president, the support he accorded President Uhuru in the past two elections has endeared him to the masses.
Until March 2018, when Uhuru and Raila shook hands on the door-steps of Harambee House in Nairobi after resolving to work together in uniting the country, Ruto was seemingly Uhuru's preferred successor.
That is now water under the bridge since the president has been carefully crafting his succession with Raila in mind.
But accepting the logic of a Kikuyu running mate is easier than picking one. Who fits the bill?
Going by the recent unfolding political events, there are at least four serious Kikuyu politicians from among whom Raila and Ruto can pick their running mates.
Narc Kenya leader Martha Karua may look like a perfect choice for both, but her case is complicated.
She has not shown keen interest in the position and word has it that she might still be keen on the Kirinyaga governorship.
"It is still not clear if she wants to be a running mate to either. Even if she did, I do not think that kind of political arrangement would last for long. Ms Karua is a very strong-willed person. She is her own woman," observes Prof Naituli.
He adds, "The Kikuyu elites who have openly backed Raila cannot be persuaded to back her as his running mate. But she would bring a huge chunk of the female and civil society votes."
Karua, a former Justice and Constitutional Affairs minister, has a brilliant, strategic mind and the courage of a lion. Besides, her reformist and anti-graft credentials are not in dispute.
"She can inspire confidence in either of the political camps and Kenyans will be sure that she cannot protect thieves. She is the perfect candidate if paired with Raila," Naituli says.
This brings us to former Gatanga MP and Planning assistant minister Peter Kenneth. There are those who consider him calm and collected. Raila's think-tank appears to consider him a clear favourite.
Kenneth is seen as a fresh and intriguing face on the national political scene and has severally accompanied Raila to campaign rallies.
Those fronting for him argue that he is a youthful leader who has not been tainted too heavily by virtue of tribe.
"He seems to get the youth. His appeal goes beyond the Kikuyu. He lacks the gravitas of other Kikuyu political heavyweights, but he is emerging as the voice of the future," says Peter Cheruiyot, one of the Jubilee Party's regional directors.
However, some influential individuals within the ruling Jubilee government and President Uhuru's inner circle think otherwise.
They have fronted Health Cabinet Secretary Mutahi Kagwe, Nakuru Governor Lee Kinyanjui and his Laikipia counterpart Ndiritu Muriithi.
Kinyanjui is seen as the most viable running mate for Raila.
"Kinyanjui's performance as a governor has been exemplary. He can make a serious running mate. He may draw a large bloc of Kikuyu votes and also the Rift Valley vote because he comes from Nakuru County," observes Prof Naituli.
The latest entrant to the growing list is Nyandarua Governor Francis Kimemia.
Kimemia, a career civil servant, is a calm politician who has managed to steer clear of political controversies and many see him as the perfect choice of a deputy president.
Before joining politics, he served in several positions in government including Secretary to the Cabinet, Head of Public Service and Principal Secretary in the Ministry of Interior and Coordination of National Government.
The Ruto camp is also exploring options of having National Assembly Speaker Justin Muturi or former Vice President Kalonzo Musyoka as his running mate.