Mudavadi's Amani National Congress Party: We are single and ready to mingle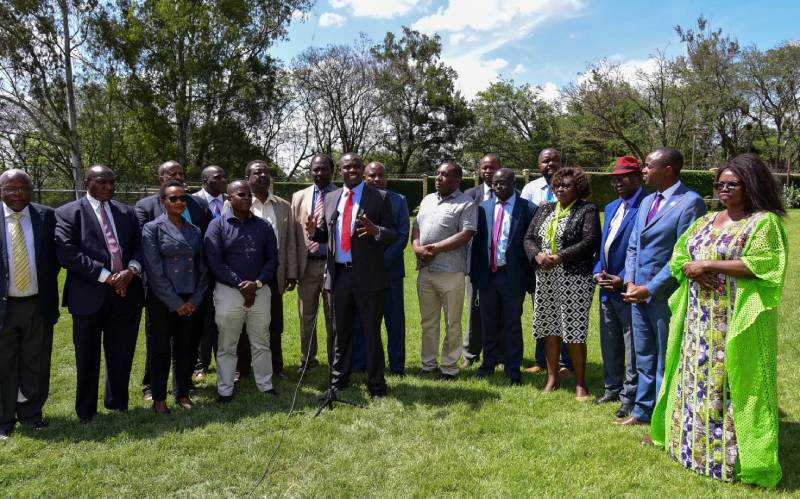 The Amani National Congress Party (ANC) have declared their relationship status with regard to the forth-coming general elections. According to ANC leader Musalia Mudavadi, Simon Gikuru, ANC Secretary General, they are still shopping for a suitable suitor for their bride.
"As a Party we are doing everything possible to shop for a suitable Running mate for our presidential candidate H.E Musalia Mudavadi. We are very open, we are talking to everyone including our partners in OKA," said Simon Gikuru, ANC Secretary General during the party's parliamentary group meeting held in Karen yesterday, and chaired by their party leader.
Adding: "The party is open-minded to other parties within OKA formation and other like minded people outside the union before they settle on one who is going to be Mudavadi's running mate."
On the issue of possible running-mate coming from Mt Kenya region, Gikuru said that all presidential aspirants have interest in the region from its rich voting block and experience in leadership.
"Mt Kenya is a very critical area of interest in this succession politics since it is a voter rich region and also it has experience in matters of governance having produced three out of the four presidents we have had. That makes it a very unique area in its own way in this succession matrix," he said.
"As many presidential candidates are focusing on Mt Kenya doesn't mean other areas are able to produce a running mate. We are yet to see more formations coming up until towards the end of February next year and March we shall see many formations coming up. Let's give ourselves more time," he said.
The meeting also resolved that the party will continue with grassroot campaigns to popularize Hon Musalia Mudavadi's Presidential bid by engaging in continuous meet the people tour for all Kenyans.
"We need to engage each other logically, in our current situation. As the ANC party, we don't want to engage people in shouting, trying to create euphoria, we want to engage people in logic not using arm twisting or taking advantage of the other," Gikuru said.
Word reaching The Nairobian is that ANC is preparing the National Delegates Conference to endorse Musalia Mudavadi as their Presidential flag bearer after the Amani Council ratified his candidature last year.