Who is Anne Waiguru and what makes her tick?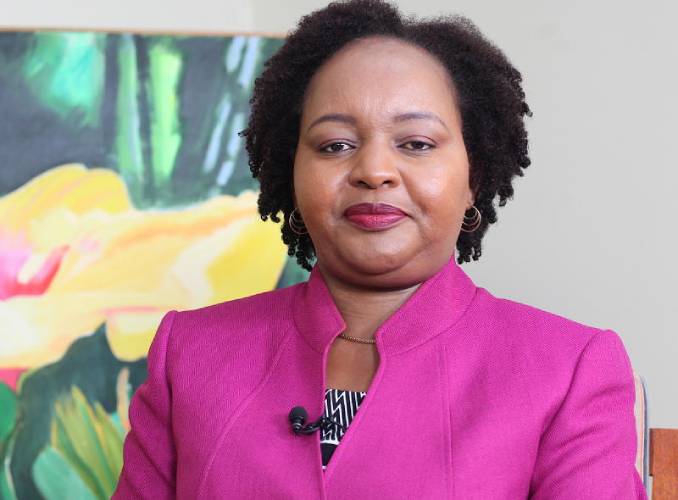 Once in a while, when time allows and there isn't much noise from the outside world, Kirinyaga Governor Anne Waiguru turns up the volume in her hi-fi system, lets the music play, drops her guard and dances her heart out to an R'n'B tune.
But even as she does this, there is a likelihood that at the same exact time, there is someone burning the midnight oil planning her downfall.
In any case, she has survived multiple attempts to oust her from positions of power and influence and like the proverbial cat with nine lives; she has survived every time.
The first was the 2014 motion to impeach her as the Cabinet Secretary in the Ministry of Devolution and Planning by Igembe South MP Mithika Linturi which fell flat on its face when Linturi failed to move it.
The second one was the attempt by the vocal Nandi Hills MP Alfred Keter which failed to take off after some members of the house who had pledged support for his motion pulled out at the last minute.
Somehow, Waiguru managed to step away from the eye of the NYS storm and turned into a state witness in one of the most brazen acts of corruption by civil servants who not only conspired to defraud the NYS off of hundreds of millions of shillings, but also managed to siphon off almost Sh800 million from the same organization.
And as Governor of Kirinyaga County, Waiguru the sole woman governor from the mountain, has faced a bitter standoff not only with County Assembly Members but also her Deputy Governor Peter Ndambiri over a myriad of issues including the much sort after 4 million Mount Kenya votes. While MCAs have been fighting to have Kirinyaga County dissolved, Governor Anne Waiguru accuses them of frustrating her.
Anne Waiguru, recently married to lawyer Kamotho Waiganjo is making headlines again, this time as the newest recruit to DP William Ruto's United Democratic Alliance (UDA) party, having turned her back on Jubilee Party.
The governor's communication confirmed the move to The Standard after she met Deputy President Wiliam Ruto at his Karen residence in Nairobi on Tuesday morning. According to Governor Waiguiru, she made the decision based on her people's needs.
"I cannot be ignorant and not listen to the people. I can't vote myself in, I am listening to what they want," she said.
Waiguru was accompanied by a section of Kirinyaga MCAs to the meeting, still underway.
This paper had previously reported that presidential front runners are in a tight spot in picking running mates amid growing pressure from Mt Kenya that the next second-in-command should come from the region.
Political analyst Tom Mboya argues that for the DP and ODM leader to fully consolidate Mt Kenya votes, they will have to find someone who has a huge following at the regional level and marketable nationally.
"Given the numbers from Mt Kenya, political and financial influence of the region and that they have held the presidency for so long, they cannot be ignored. It then makes sense for serious presidential contenders to leverage on a running mate from that region," argues Mboya.
For Ruto, there are talks of running on a joint ticket with the likes of Governor Ann Waiguru (Kirinyaga), National Assembly Speaker Justin Muturi, The Service Party leader Mwangi Kiunjuri, Mathira MP Rigathi Gachagua, Meru senator Mithika Linturi among others. Could the DP have settled for Mumbi as his second in command? Only time will tell.
But who is Anne Waiguru and what makes her tick?
On the eve of the impeachment motion by Keter, President Uhuru Kenyatta hosted MPs from Central Kenya, some of whom had been in support of the Keter motion. After the State House meeting, their signatures disappeared from Keter's petition.
Each and every move she has made seems well calculated, perhaps a testimony to her background in sciences.
Eye-brow raising moves
She attended Precious Blood Riruta High School, then sat her A-level exams in 1989 at Moi Forces Academy in Nairobi, where she studied mathematics, physics and chemistry.
On graduating from the University of Nairobi, she worked for Transparency International as an intern and research assistant, and then joined the Kenya Leadership Institute, which flaunted some of the best economists in the country at the time. In terms of career, she has got it down to the tee.
There are no gray areas when it comes to dealing with her. There is no fence-sitting. However, her appointment to the mammoth devolution ministry raised eyebrows.
First, was the sheer size and number of ministries collapsed to form her docket, which had pundits and commentators foaming at the mouth, some arguing that the responsibilities bestowed upon her were too much for a newbie. She is on record as having rejected this notion.
"There's a lot of work, but I have been in the service for quite a number of years. I worked similar hours while at Treasury. It is busy, but not any busier than others...all of us just find a way of keeping our eyes focused. It requires a lot of hours," she said during an interview on KTN's Person of Interest morning show.
Other than music, Waiguru also enjoys a good read. Maybe she has read Sun Tzu's Art of War. To survive for this long in such an acrimonious space requires tactics, strategy godfather or all of the above.
My first salary was Sh6,000
The straight-talking governor never minces her words, as a matter of fact, she is on record for lecturing university students on dressing properly. The National University Students Organisation (Nuso) leaders were meeting the CS at her office when she made the light remark.
"It's funny, I've just seen this and it's funny, but you should take that label off your suit when you put in on," said Waiguru.
Waiguru, the first of only three women Governors in Kenya also shocked students of Nairobi University after revealing she was paid Sh6,000 on her first job.
"Everyone has to start from somewhere. Youths should pursue opportunities and even do volunteer work in society," she said, adding that she started as a volunteer in church before getting her first job.
"I was being paid Sh6,000 which doubled to Sh12,000 gradually. It was little money then because I had friends who were being paid a lot more," she said, citing hard work and determination as the secrets of her success.
"I have never had anyone make a call for me to get a job. Not even for CS," she said. Waiguru revealed that her 19- year-old-son started an IT business without her help. "I encouraged him to start doing something instead of sitting in the house and watching TV. Before I knew it, he had organised an IT forum and he did not let me talk at the event," she said.
Any State House hopeful in 2022 cannot ignore the four million vote rich Central Kenya. And political observers are still gauging to whom the House of Mumbi gravitates towards between Raila, Ruto, Kalonzo and Amani National Congress leader Musalia Mudavadi.
Kenya seems to be listening to a different tune to what Waiguru's stereo is playing. But she sure is dancing.