Young people increasingly apathetic towards poll, not registering as voters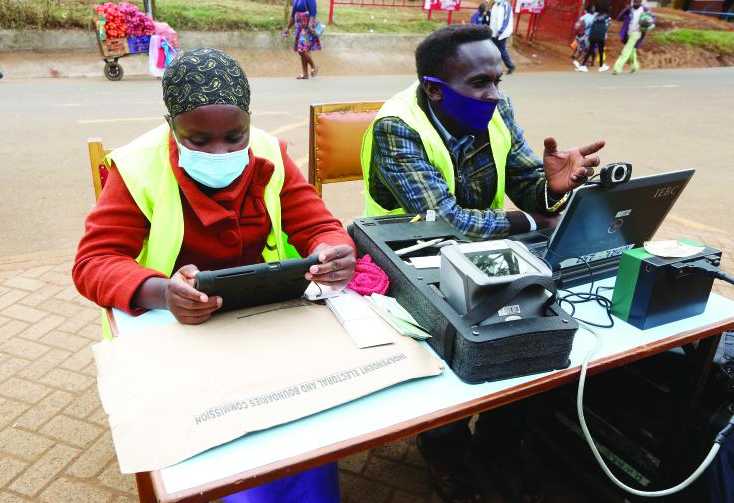 Before the start of the nationwide voter registration, politicians, especially those under the aegis of the Mt Kenya Unity Forum, said they were targeting three million new voters.
But by Monday, midway through the month-long exercise, voter apathy, especially among the youth, was evident in the 10 counties of the region.
In the last two presidential elections, backers of President Uhuru Kenyatta rode on what political scientist Mutahi Ngunyi called "tyranny of numbers" to paint the president as unbeatable.
In the 2013 elections, Uhuru garnered 6,173,433 votes to win the State House race, with his main challenger Raila Odinga scooping 5,340,546 votes.
In the Mt Kenya region, the turnout averaged 90 per cent, which was only comparable to Rift Valley counties where Deputy President William Ruto delivered massive support for their joint ticket.
The only other counties that came close were Kisumu, Siaya, Homa Bay and Migori in Raila's backyard.
A similar feat was witnessed in 2017 when Mt Kenya voters turned up to the last man to vote for Uhuru, with the popular slogan being kumira kumira.
As President Kenyatta gears up to give a signal to the region's voters on the direction they will go in next year's elections, possibly during the planned Limuru III meeting, he should be worried about the low numbers seen during the ongoing voter registration.
According to Independent Electoral and Boundaries Commission (IEBC) Chairman Wafula Chebukati, in the second week, the highest number of voters was listed in Meru, at 15,286 out of a target of 114,773, representing a 13 per cent turnout.
The other counties only saw between seven and 12 per cent turnout. In total, IEBC has so far registered 491,968 new voters out of the targeted six million and unless a miracle happens, it is unlikely to be met in the remaining days.
About three weeks ago, Kirinyaga Governor Anne Waiguru had projected that the region would have nine million voters, though conservative estimates had put the figure at six million.
There are many reasons that have been cited for the apathy, including the fact that the vote-rich region will not be fielding a serious presidential candidate for the first time since the return of multi-party democracy in the early 90s.
But still, the Uhuru succession stands to be jolted if the lack of enthusiasm continues into the election. For he will need the support of the Mt Kenya nation if his preferred candidate is to prevail, especially as the contest is expected to be close.
According to political analyst Macharia Munene, the low turnout is indicative of loss of confidence in the available crop of leadership as well as economic and health hardships across the region.
"There is a lack of inspiration from those they look up to. There is no emotional attachment to anyone or any institution to warrant sacrifices," says Prof Munene, a former history lecturer at USIU-Africa in Nairobi.
He warns large-scale voter registration failure will translate to increased apathy and low voter turnout in next year's elections.
Despite Meru performing better than the rest of the counties, most youth can be seen idling around as they chew miraa even as IEBC clerks wait nearby to list them.
Once in a while they throw glances at the lone and visibly bored IEBC officer manning the registration desk, as they engage in idle banter.
Two young men aged between 20 and 22, who spoke with The Nairobian, said they had not registered as voters, and were not interested in voting in the 2022 General Election.
They are not the only residents who are giving the registration centres a wide berth.
Voter apathy has been noted by leaders, with Meru Governor Kiraitu Murungi, National Assembly Speaker Justin Muturi and others raising concern over the low numbers so far registered.
Kiraitu said there is an unfounded belief that IEBC will hold another registration exercise next year, in the run-up to the polls.
"Many people believe there will be another registration next year because that is what has been happening. People in my area are asking me if there will be another registration and I tell them I do not know!" said the governor.
Though Muturi, who was installed as the Mount Kenya East kingpin, has announced he will run for president, Kiraitu, an experienced hand in politics, says he expects a lower voter turnout in Mt Kenya region because it will not be fielding a presidential candidate.
He also foresees a lower voter turnout in comparison to the 2017 elections, adding Ruto's and Raila's Rift Valley and Nyanza bastions, respectively, will, in contrast, witness higher turnouts.
"I expect it (voter turnout) to be higher in Rift Valley because of Ruto and Luo Nyanza (because of Raila)," Kiraitu said.
But a section of youth and people living with disabilities in Mt Kenya region have cited lack of national identification cards as a hindrance.
Igembe Central politician James Mithika said the low numbers being seen in Meru will affect the presidential race.
"Certainly, the low voter turnout will reduce our power to determine who wins the presidency in 2022.
"Part of the reason for this situation is that this region is not fielding a presidential candidate. Therefore, there exists some political lethergy and uncertainty. There seems to be nothing to excite and look forward to by the people here," Dr Mithika said.
He added: "Another reason is the attitude of the would-be voters. They are carefree, hardly interested in political processes. That is the nature of our youth today."
Naathu Ward (Igembe North) MCA Samuel Mutuura said: "People have not refused to register, only that many do not have IDs. The government is purely to blame for this."
Muturi, while speaking in Igembe South on October 8, expressed a concern over the slow pace of the exercise and asked IEBC and the government to establish why there is a low turnout of those eligible to vote.
"The agency should address the apathy. The government needs to go back to the drawing board and find out why this (apathy) is so," he said.
Nominated MCA Makena Muthaura said the youth were showing little interest.
"In Meru, we are targeting a million plus, from the 800,000 registered voters but the youth are not ready because they are reluctant Kenyans who do things at the eleventh hour," said Ms Muthaura.
Kirimi Kanyatta and William Mithika, youths who will be vying for Antuambui and Nkuene MCA seats, respectively, said residents seem to have less interest in who becomes president.
"The fact that there will be no presidential candidate from Mount Kenya is the primary cause of apathy," Kanyatta said.
But Mithika said people are fed up with going through the pain of elections yet "they have not seen any change".
He added there is a need for civic education at the grassroots level.
Morris Kiongozi, who is aspiring for MCA of Igoji West, said people are tired of fake promises.