Uhuru and Ruto still need prayer to reconcile- Bishops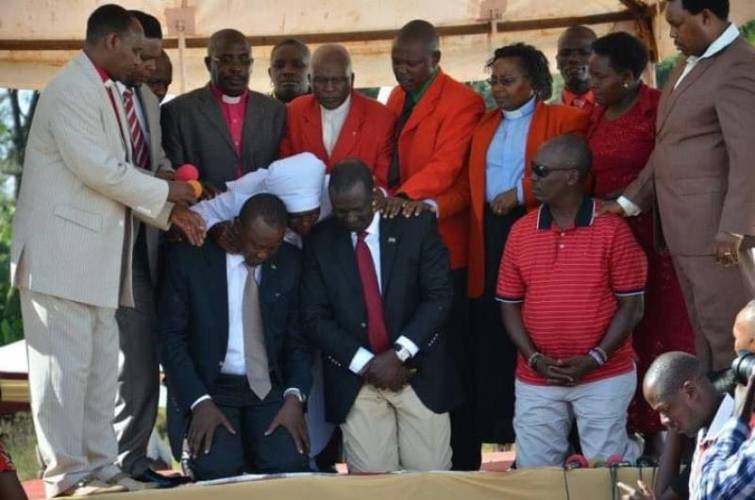 Nine years ago, at a time the country was preparing for a transition from Mwai Kibaki government to the unknown, something unprecedented happened.
Political temperatures were high. Then-Prime Minister Raila Odinga appeared to be a front-runner during the presidential campaigns because his main protagonists, Uhuru Kenyatta and his running mate William Ruto, were staring at an uncertain future.
The two had crimes against humanity charges awaiting them at The Hague. At one time, they had to cut short their campaigns to go to The Hague for the initial appearance.
With the Sword of Damocles hanging over the heads of the strange political bedfellows, united by fate, they hoped and prayed for divine intervention. This was the origin of a series of prayer rallies around the country for Uhuru and Ruto.
Almost a decade later, we have traced some of the religious leaders involved in the prayer sessions.
A photo of the men of the cloth praying for Uhuru and Ruto has made a comeback on social media platforms. These pictures have reminded many what the prayer rallies achieved and put a spotlight on strained relations between the dynamic duo. That their camaraderie has turned frosty is well known and so is the frustration spirited efforts by religious leaders to reunite the president and his estranged deputy are facing.
Bishop Peter Gachara of Power of Faith Church International (Furaha Worship Centre, Kiambu) says he was behind the plans not only to bless Uhuru and Ruto but also offer them moral support since they faced trials at the International Criminal Court while eyeing the presidency amid warnings by the West that "choices have consequences".
It meant that electing the two would attract sanctions by the US and European countries as it would attract and break down in relations.
"The day before the 2013 General Election at Kirigiti Stadium in Kiambu County, former Kiambu Governor William Kabogo contacted me to reach out to other pastors so that we could pray for him, Uhuru and Ruto, asking God to give them victory," recalls Gachara.
He says: "We were about 25 preachers but not all were on the podium. Before I led the prayers, I shared with them John 15:16, which reads, 'You did not choose me, but I chose you and appointed you so that you might go and bear fruit - fruit that will last - and so that whatever you ask in my name the Father will give you.'"
"If it was their wish to help the county prosper, God would help them," adds Bishop Gachara.
The bishop, who is also the secretary of Kiambu County Clergy Forum, reveals he told the two not to worry about the warnings by Western diplomats and remain united.
"I told them that if you remain united, God would command blessings to their work and those blessings and prayers would see them through until 2022.
"Today, no one knows the cause of their fallout but I don't feel good as a preacher because I have sat in several meetings to find out what transpired but all in vain," he says.
According to Gachara, it seems the reasons behind the fallout are political but the prayers have never stopped: "In my church, we pray for the president, his deputy and leader of opposition every Sunday. The blessings and prayers by the 25 pastors were not in vain."
The preacher believes the president and his deputy could have listened to advice from men and forgotten to pray, saying the friendship between the two was built on prayers. He is, however, still optimistic the two can still be united as that is the nature of politics.
Bishop Samuel Njririri of Stewards Revival Pentecostal Church on Outering Road was also involved in the final prayers and said theirs was not only support but winning prayers.
He says the prayers were also meant to cement the relationship between the two and that there have been attempts to reconcile them.
"They entered the leadership on a foundation of prayer and even came out of trouble and united their respective communities. After prayers, they promised to go back and hold thanksgiving prayers at Afraha Stadium in Nakuru but that never materialised," he says.
Bishop Njiriri adds reconciliation never fails to work, noting one party has given unconditional terms for a reunion.
Reverend Mary Mambo of Christian Church International, Victory Chapel on Kenyatta Road in Thika, says their prayers were answered but the leaders never returned for thanksgiving.
"Our prayer was supposed to unite them for period of 10 years because whatever you achieve through prayers should be maintained by payers," she notes.
Peter Ng'ang'a, the chairman of pastors fellowship in Gatundu and the larger Kiambu, also notes their business was not completed since Uhuru and Ruto were to hold another thanksgiving prayer afterwards. That never happened, he said.
The preacher at Emanuel Christian Church, says: "If they had informed us their union was facing difficulties and that they were falling apart, maybe we would have come in. We came to discover when it was too late. The unity prayer brought harmony between communities," he said.
"We were doing our spiritual duty but it is unfortunate that they fell apart on their own principles. We are still there in case we are called to unite them because blessed are the peacemakers" he said.
Bishop (Dr) George Kamau of Ambassadors of Christ Church, on his part, says Uhuru and Ruto emerged victorious by seeking divine intervention but it seems they have deviated and should go back to where they started and reconcile before the next elections.
"I'm the one who laid hands on President Uhuru. Around that time, I had been praying for 45 days and it was the 30th day when we prayed for them.
"Their leadership came about because of anointing, which cannot be divided because it was released in unison," he adds.