Governor Awiti to married women: No voter's card no sex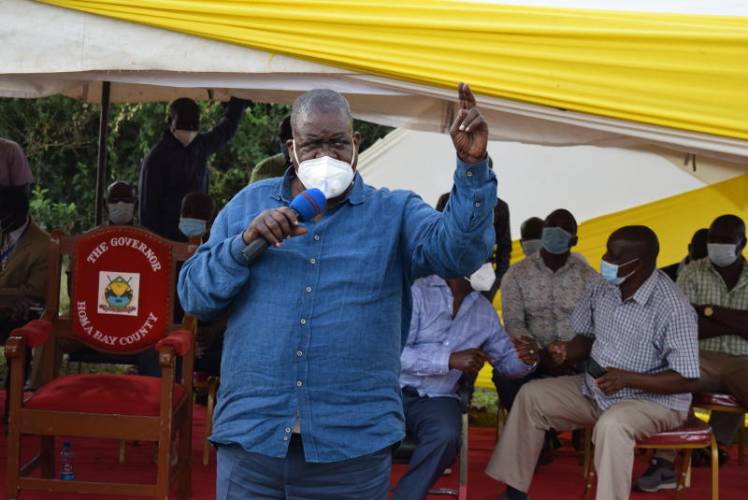 Homa Bay Governor Cyprian Awiti has asked married women from his county to deny their men conjugal rights until they are registered as voters.
Disillusioned by the low voter turnout in the county, Awiti is pleading with wives to deny their husbands sex until, they hit the county target of new votes. The county is yet to hit the target of 177,000 new voters to bring the total number of registered voters in Homa Bay to 650,000, ahead of the 2022 elections. From the look of things, politicians are struggling to acquire new voters hence the desperate measures.
Since the registration exercise began last Sunday, only 5,081 voters have been registered in Homabay County. The exercise will be conducted for one month until November 2.
"I want all ladies whose husbands have not been registered as voters to deny them their conjugal rights," Awiti told a gathering of political leaders and residents at Rakwaro Chief's Camp in Karachuonyo Constituency.
The governor argued that voter registration is just as important as conjugal rights yet some people were taking it for granted.
"We want men to be role models in voter registration right from the family level. We want men to be serious and their wives and children will follow," Awiti said.
"Let everybody understand the essence of voter registration because this is the only we can enhance good governance in our country. Even if it means men are being denied sex, let it be so as long as we can achieve the target voter population when the exercise ends next month," he added.
Awiti's comments elicited mixed reactions residents of the county.
Mary Anyango, a local who agrees with the governor, believes that, "Voter registration can enable us to have leaders who deserve political positions. I can deny my husband sex if doing so can make him register."
However, Tom Mboya asked the governor not to mix issues, arguing that sex cannot be pegged a political process.
"Sex depends on feelings of couples. It would hardly depend on a political activity," Mboya The Nairobian.
He argued that the matter can cause chaos in the family.
"I hardly understand the connection between voter registration and conjugal rights. This opinion can lead to domestic violence," he added.