Tegla Loroupe: I'm ready to initiate dialogue in Laikipia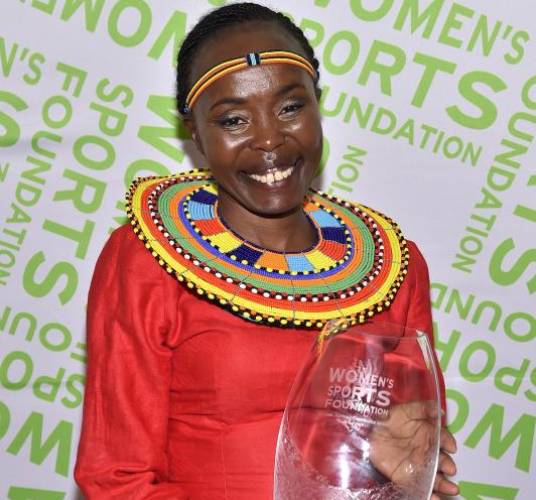 She stands at just 5'1, but even the most dreaded member of a cattle rustler in the larger Pokot and Marakwet regions sits and listens when she talks. As the International Peace Ambassador, Tegla is celebrated both at home and abroad. She is respected in diplomatic corridors just as she is loved by sports enthusiasts. She has rode some of the world's finest automobile artworks. She has also traveled on some of the toughest terrains in search of peace - including on an empty stomach.
"One time, we traveled with to Pokot with her for two days to distribute food. We drove through the forest because there are no roads. We didn't eat for two days," her niece, Viola Loroupe, herself a talented sportswoman, says.
So much has been written about her long sports career. Maybe, what we might consider new is the fact that she hated the course at Boston Marathon, where she raced just twice, and that she once played football and netball.
"I was an uphill runner and in Boston, you start the race downhill. I hated it," Tegla reveals in an interview with The Nairobian.
"I used to love all kinds of sports, especially when I was in primary school. We used to play soccer, with boys. But I realised that team sport was very difficult for me because they broke my foot. I played netball, they broke my foot again. And because I was a very tiny person, I decided to do cross country and cross country led me to do track," disclosed Tegla, also the first female professional athlete from West Pokot.
The former World Marathon record holder made her international debut at the Chiba-Ekiden race in Japan while still studying at the Rift Valley Institute of Technology in Nakuru.
"My first race at home was at what is today's AK (Athletics Kenya) national cross country in Iten. That's when I realised that I could compete against other girls from Iten, Keiyo and Nandi because I come from West Pokot and I was the only girl from that area to have done that," added Tegla.
In 2006, she was named the United Nations Ambassador of Sport by Secretary General Kofi Annan. Additionally, she is an International Sports Ambassador for the World Athletics and UNICEF and a member of the 'Champions for Peace', an elite club of 54 famous elite athletes, founded by a Monaco-based international organisation, that is committed to serving peace in the world, through sport.
Tegla recalls an incident when as a little girl, she first came face to face with the cattle rustling menace when a raid at their home left her nephew dead and over a dozen head of cattle stolen.
"They killed my nephew. They also stole our cows," she recalls.
This week, the world marked the International Day of Peace. And for Tegla, any discussion that hints at long-lasting peace in any conflict situation is one of those things that still keeps her awake. "We (Tegla Loroupe Foundation) use sports to bring together (people) who have been in conflict. And we also have education. We have a school in Kapenguria for disadvantaged kids from conflict regions. We also have athletes in Ololua in Ngong. Those are the refuge athletes," she says during the interview at her new office in Kilimani.
Even as the government deployed a multi-agency team to Laikipia to address the banditry situation there, Tegla feels dialogue remains the best solution.
"The security issue in Baringo is chilling. Everybody needs to come together and talk about it. If the government would ask me to go and do a dialogue in Laikipia, then I am ready to do that. Those are our people and people are dying. I am ready to go there and talk to them," avers Tegla.
"The best way to disarm these people is to educate them. Taking the police or the army is not a solution because some of those bandits are better shooters and have better guns than our security officers."