Bitter lemon: Ichung'wah may have missed history lessons at Alliance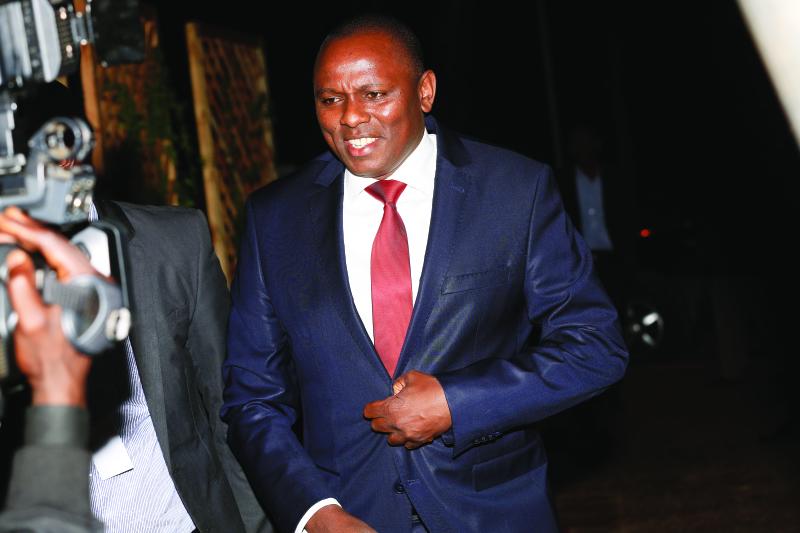 Many Kenyans on social media have taken offence at utterances by Kikuyu MP Kimani Ichung'wah on Interior Cabinet Secretary Fred Matiang'i. In a video that went viral on social media, Ichung'wah is captured as saying that Dr Matiang'i was just a "junior lecturer" at the University of Nairobi before joining the Cabinet.
Those who took offence at his utterances accused the MP of disparaging a profession that has moulded many in life, the legislator included. They were particularly angered by his remarks that teachers are "watu wa kushika chokaa".
Ichung'wah's remarks were triggered by the ongoing tussle between Matiang'i and backers of Deputy President William Ruto, which reached a high when the CS outlined the DP's security structure and various private properties under police protection.
What Ichung'wah forgot is that apart from teachers being critical opinion shapers in the country's political life, especially at the village level, there are thousands who have transitioned from the classroom and lecture halls to both politics and government.
But even more fundamentally and unbeknown to the likes of Ichung'wah is the fact that Kenya as a nation state was founded by teachers and university dons.
They formed the core of the political movements that championed Kenya's independence, took part in the Lancaster House constitutional talks and formed a majority of the country's first post-colonial Cabinet.
Both President Jomo Kenyatta and Vice President Jaramogi Oginga Odinga were teachers before joining politics.
After his studies in Moscow and London, Mzee Kenyatta returned to Kenya in 1946 to become a teacher but joined politics the following year when he was appointed president of the Kenya African Union (KAU), the precursor of Kanu.
On the other hand, Odinga, upon graduation from Makerere University College in Uganda, became a teacher at Maseno, his first school, before transferring to the prestigious Alliance High School at the behest of Carey Francis.
He taught from 1940 to 1946 when he went into business before joining politics as a member of Legco representing Nyanza. He joined KAU in 1948.
Like Odinga, nine out of the 15 ministers in Kenya's first Cabinet studied at Alliance before going to Makerere from where they graduated to become teachers on their way into politics and government. Ironically, Ichung'wah counts Alliance High as his alma mater.
Others in Mzee Kenyatta's Cabinet who had a background in teaching were Mbiyu Koinange, Joseph Otiende, Ngala Mwendwa, Julius Kiano, Dawson Mwanyumba, James Gichuru and Samwel Ayodo.
Another interesting facet is that Mbiyu, Kenyatta and Gichuru all taught at Githunguri Independent School, which had been established to cater for Kikuyu youth locked out of mission schools. Mbiyu, the first Kenyan to obtain a master's degree, was the principal, Kenyatta an administrator and Gichuru a teacher.
Only Njoroge Mungai, Achieng' Oneko, Bruce McKenzie, Jackson Angaine, Tom Mboya and Attorney General Charles Njonjo were non-teachers.
After Kanu merged with Kadu in 1964, former teachers Daniel arap Moi (who later became president) and Ronald Ngala joined the Cabinet.
And when Odinga quit Kanu and government as vice president in 1966, Mwai Kibaki (who replaced Moi as president in 2002), was elevated alongside James Osogo. Both were former teachers.
Dr Mungai would later recall: "Most of these were people who had attended the same school, thus they knew each other well. They had worked in the same party (Kanu) even if not for very long, in the lead-up to independence. These were the men (there was no woman) on whose shoulders the making of crucial decisions on the destination of the country lay."
He added in an interview: "There was no more taking of instructions from the Colonial Office or Number Ten Downing Street and so we felt the weight of our responsibility. We wanted to have and show the dignity that free people have and demonstrate to the world that we were equal to other human beings, white or black."
Apart from those who have served in Cabinet and other high levels of government over the years, two of the country's seconds in command (10 vice presidents and one deputy president) since independence were former university professors.
They were Dr Josephat Karanja, a former University of Nairobi Vice Chancellor, who served as vice president between March 24, 1988 and May 1, 1989 and George Saitoti, a former mathematics professor at UoN, who was VP between May 1, 1989 and January 8, 1998 and again, between April 3, 1999 and August 30, 2002.
Macharia Munene, who teaches history and international relations at the United States International University-Africa in Nairobi, teachers and lecturers are inclined to be better politicians since they have regular practice in public speaking and handling small day-to-day challenges.
"They learn to anticipate and prepare for routine troubles from naughty pupils/students. The principle is the same in the political arena, which tends to be a bigger classroom," Prof Munene told The Nairobian.
Multimedia University journalism lecturer Kipkirui Kap Telwa says that teachers are trained to serve and transform communities they serve.
"In their day-to-day engagements, they are community workers who lead humble lives. The job is humble and does not have a lot of allowances that would allow one to lead an extravagant life. The joy is in transforming lives. The classroom background makes teachers better politicians as it informs how one leads their lives once they get into public service or office...," says Kap Telwa, a lawyer and former journalist.
On whether teachers have the capacity to change lives once in political office, he says: "They are transformational crusaders. Think of the Nyayo milk, district focus for rural development, harambees, global scholarships that can be traced to international connections acquired during academic sojourns and public engagements acquired during the teaching period. Teachers are result-oriented people and are unlikely to cheat."
He adds: "They are likely to be trusted because of their past classroom duties. They are also likely to survive in rural settings."