Could communication gaffes be costing Raila Odinga the presidency?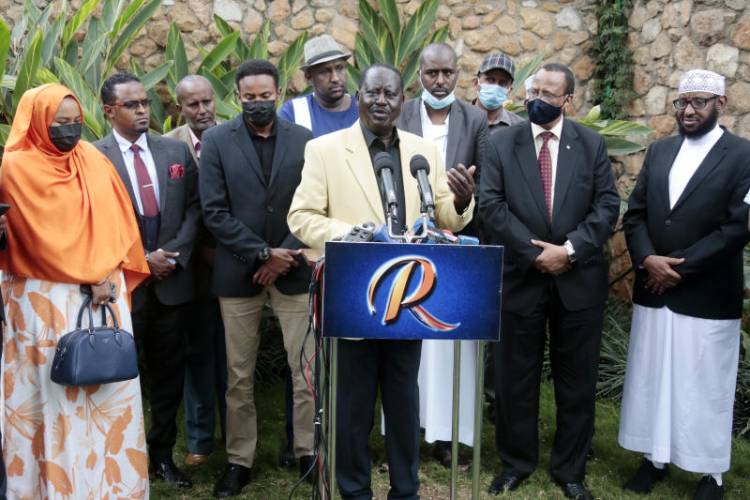 ODM leader Raila Odinga on Tuesday held talks with Somali community representatives led byy Sheikh Mohamed Mohamed Ibrahim Shakul and former Garissa Governor Nathif Jama during which he reassured them that he would not discriminate against north eastern Kenya in the event he becomes president next year.
The hastily organised meeting followed the former prime minister's remarks in Murang'a last weekend during which he appeared to suggest that Central Kenya counties deserve allocation of more resources due to their huge population. Those in northern Kenya, he suggested, should retain their current allocations.
The remarks elicited a barrage of criticism from leaders and professionals from the latter region who felt Raila was perpetuating their historical marginalisation going back to independence. Incidentally, some of those who were up in arms are staunch supporters of Raila but who warned him he was underestimating the "coalition of minorities".
Senior Counsel Ahmednassir Adullahi was among those who criticised the ODM leader's remarks, contending "the abusive relationship between north eastern Kenya and Raila/ODM was irretrievably broken".

"Mt Kenya has officially been downgraded to a marginalised region and joins Mandera, Wajir, Turkana, Samburu, Marsabit, etc. New Dawn!" Saudi-based banker Mohamed Wehliye, an avowed Raila backer, tweeted.
However, while Raila and majority of his supporters said the remarks were taken out of context, they best portrayed one of the opposition leader's key weaknesses, which some analysts say has previously partly cost him the State House job.
Though Raila has in past campaigns managed to assemble admirable strategists, those who have worked with him say he frequently went against the agreed script on the campaign trail in his effort to please the masses.
According to communications lecturer Irungu Ndirangu, while Raila is a street smart mobiliser, he is not a deep thinker, which often results in him landing in communication quicksands such as the case in Murang'a.
His problem, he says, is the temptation to please one group of people at the spur of the moment at the expense of another yet he could do well by articulating unifying messages that can be embraced by all Kenyans.
"Raila is a mobiliser but very weak when it comes to theories, be it on economics or social issues. You know you can act Shakespeare and also act Whispers. It is one of his key weaknesses. The problem is that he ends up as though he is trying to antagonise one group against another," says Ndirangu.
For instance, during the 2017 campaigns, Raila appeared to incite the Maa community while speaking on the land problem in Kajiado.
On the Murang'a incident, Ndirangu says: "The message was correct and that is how it is supposed to be since the purpose of the Equalisation Fund was to bring historically marginalised regions to the same level as the rest of Kenya. The rest of national resources are supposed to be disbursed equitably."
"Where he went wrong was to mention Mandera in the same sentence with Murang'a, Kiambu and the rest. In the end, he appeared to be favouring them over northern Kenya," he says.
According to Ndirangu, while Raila has smart thinkers such as Siaya Senator James Orengo, he must, as a person seeking the presidency, build his own personality and be clear on his flow of thought and be able to think on his feet, especially on the campaign trail.
"Every leader has his own unique personality and leadership style. We can go back to the days of Jomo Kenyatta and Jaramogi Oginga Odinga. If you read Jaramogi's book, Not Yet Uhuru, you will appreciate he was a better thinker than Jomo. You can say the same of the likes of Kibaki and Wamalwa Kijana. Kibaki was a quiet man but he drew his agenda even through other people," he says.
The Murang'a fiasco came barely weeks after the ODM leader also appeared to belittle small business people when he dismissed Deputy President William Ruto's distribution of implements such as wheelbarrows as he promotes his bottom-up economic model, as takataka (rubbish).
"A local investor ploughs back the surplus into the market therefore you have got the multiplying effect of capital. This is what we want to do. So, we have a bigger agenda than someone just coming and telling you about mama mboga, vitu vidogo, sijui mkokoteni. Hiyo ni takataka," Raila told a gathering of business people from Mt Kenya in Kiambu on August 12.
Among those who took issue with the remarks was Elgeyo Marakwet Senator Kipchumba Murkomen who tweeted: "Today, Baba amesema mama mboga, boda boda and mikokoteni operators ni takataka @RailaOdinga Awuoro!"
However, political analyst Wanguhu Gitonga is of the view that Raila is a smart politician who crafts his targeted messaging, depending on the mood on the ground.
"I don't think it is a weakness. Raila is just smart in matters realpolitik. You can't sell boardroom ideas to the people and hope you will get votes however ambitious they may be. When you hit the campaign trail, you put them aside and address issues that resonate with the audience," Dr Gitonga told The Nairobian.
Apart from communication setbacks, keen watchers of Raila's campaigns also say he has been many times undone by, among others, failure to mobilise voters in his strongholds and protecting his votes.