Kenya's election fever: Keeping up with happy political marriages and messy divorces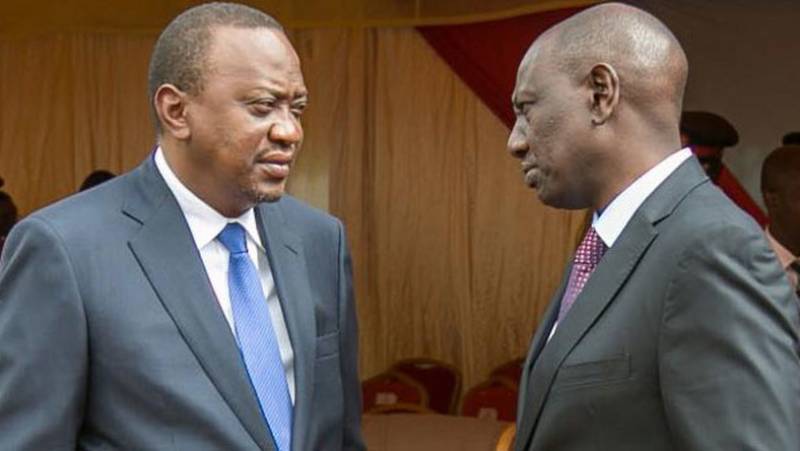 With less than a year to the next presidential contest, there are clear indications that it will be an intriguing battle between Deputy President William Ruto and two major coalitions.
So far, at least seven political parties have coalesced into alliances, the chief one being One Kenya Alliance (OKA) that brings together Kanu, Wiper Democratic Movement, Ford-Kenya and Amani National Congress.
The other one is a confederation between the Party of National Unity, Safina and Democratic Party while Jubilee Party is in talks with the Orange Democratic Movement (ODM) in a bid to form a pre-election coalition.
However, President Uhuru Kenyatta is reportedly determined to bring the parties in OKA into his succession plans . But in an interview with editors on Monday, the President denied two meetings with Opposition chiefs at State House, Mombasa were about the 2022 succession.
There is also talk of a coalition between Makueni Governor Kivutha Kibwana, National Assembly Speaker Justin Muturi and former Trade minister Mukisha Kituyi, who have all expressed interest in the State House job.
While this is not the first time Kenyans are witnessing pre-election coalitions seeking to win power and share the spoils, as well as post-election ones, next year's poll could be defined by the largest number of such entities fighting it out at the ballot.
Though Dr Ruto has been promoting his United Democratic Alliance (UDA), which brings together politicians of various shades who claim to share his hustler philosophy, there are calls by some of his backers, especially in the Mt Kenya region, that he goes for a coalition arrangement.
For instance, Gatundu South MP Moses Kuria, who recently unveiled his Chama cha Kazi party, is adamant that he will not join UDA.
Political communication strategist Javans Bigambo, however, says it will not be a unique development, noting that since the reintroduction of multi-party democracy, politicians have realised that to win the presidency, there is a need for consolidation of political parties so as to get nationwide support.
He says the ethnic nature of most political single parties makes it impossible for them to win elections on their own.
"Political parties in Kenya are tribal and ethnic in nature. Very few parties can manage a presence in 24 counties as required by law or even 30. Most of their support is concentrated in regions where the party leader comes from, which means that as long as they remain tribal entities, coalitions will continue being a reality in Kenya. For a single party to prevail, it will have to be so huge and cosmopolitan that it transcends these boundaries," said Bigambo.
Bigambo say that unlike in the United States and United Kingdom where there are only two major parties, in Kenya, the reality is that no Luo, for instance, can get elected if he vies on a Wiper ticket or a Kikuyu running on an ODM ticket.
"Political parties do not operate as provided for in law. They remain in the firm grip of party leaders. Even party organs are answerable to party leaders. They are private properties. That is unlike in the US where Obama was not a party leader but won the presidency and when he left the party remained intact," he says.
"The same applies to the UK. Also in South Africa, the party can even remove the president. Here, no one can remove the party leader. The situation cannot change if they continue choking under party leaders," said Bigambo.
Macharia Munene, who teaches history and international relations at United States International University-Africa, said that coalitions are an admission of weakness on the part of the coalescing parties and are often doomed to fail after elections. "They are unlikely to be sincere and will have a lot of frictions. Whichever candidate captures the voters' emotions and convinces them that he is the one will carry the day," he told The Nairobian.
The first practical coalition in the country was the National Rainbow Coalition (Narc) that brought together opposition politicians, among them, Mwai Kibaki, Wamalwa Kijana and Charity Ngilu under the National Alliance Party of Kenya and Kanu rebels led by Raila Odinga who ganged up to successfully defeat the independence party's candidate in the 2002 elections, Uhuru Kenyatta, who President Moi favoured to take over from him.
It is in the 2013 polls that we had two main coalitions facing each other - the Coalition for Reform and Democracy (Cord) consisting of Kalonzo Musyoka's Wiper, Raila's ODM and Moses Wetang'ula's Ford-K and the Jubilee Alliance of Uhuru's The National Alliance and Ruto's United Republican Party.
In 2017, at least 10 political parties collapsed to form the Jubilee Party in support of Uhuru's re-election while Raila-Kalonzo campaign more players attracted, among others, Musalia Mudavadi's ANC to form the National Super Alliance (Nasa). However, even before the Political Parties Act, 2007 came into force, some form of coalitions always preceded elections but these were often wracked with wrangles and never achieved what they had aimed to partly because internal rules were not clearly defined or adhered to.
Still, even though the law outlines a legal framework for formation and management of coalitions. It also requires political parties in a coalition to draft clear internal rules and objectives so that ordinary Kenyans can understand what to expect from the coalition, they still leave a lot to be desired.
Even worse, most of them serve as vehicles to hoist candidates to office only to collapse soon or later as has been the case with Nasa and Jubilee.