Commissioner Wambui Nyutu: I lost six kilos campaigning for Uhuru and Ruto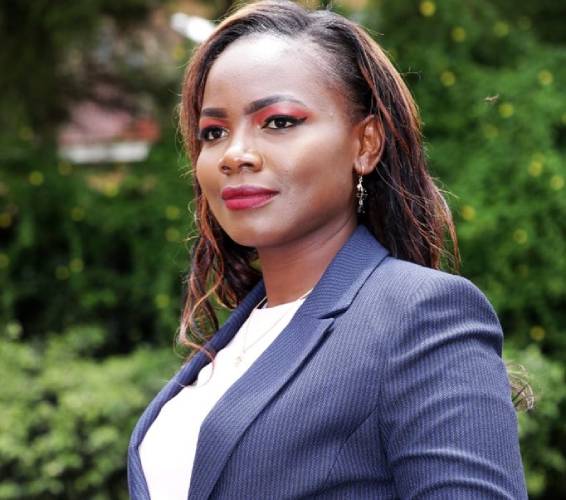 Wambui Nyutu is a commissioner and vice-chair at the National Cohesion and Integration Commission. She spoke to KTN Home about championing for women rights, her relationship with her dad and campaign period that kept her awake.
At age 29, you serve as a commissioner and wear many other hats. This is no mean feat. How did you do it?
I can say it is by the grace of God. You may work hard, have all the degrees and have all that it takes but without the grace of the Lord, you may not be able to do it. God has played a big role in my life. I also had to put in so much hard work and focus. Going for what I thought was right has also come in handy for me. I did things I never thought I'd be able to do. It's been five years of growth but I started long ago. I have been a leader all my life.
Let's start with your days at The University of Nairobi...
I pursued my degrees from the University of Nairobi. I took part in SONU politics and it was life-changing. The university elections had a way of elevating you to national leadership. National leaders looked up to student leaders to do things for them and that is what shot me into the limelight.
You were the brains behind the outfit, Warembo na Uhuruto. How did it all start?
I had a very vibrant team of student leaders. After finishing campus, we decided to transition into national politics. That is how Warembo na Uhuruto outfit was born. It gained a lot of attention. This movement gave many young leaders a voice. I noticed that there was no space for women in those leadership movements and that's why I came up with my organisation. I am happy that we have elected MCAs who were mentored by the organisation.
People say that a woman is a woman's worst enemy. Do you buy this notion?
I do not agree with that saying. First of all, you don't follow someone because she is a woman, you follow them because you believe in their ideals and they are worth it. You don't just follow people blindly because they are of your sex and tribe. You follow or believe in people because they have something unique that you look up to. When a woman decides not to believe in another, it is because of principles. My movement did well because women found a space where they didn't have to fight with men, or fight every day for small positions. I also support women through my foundation, Wambui Nyutu.
You led the youth to campaign for Jubilee in the presidential campaigns. Did you have any jitters? Any regrets?
I received a call and I was asked to be in charge of youth campaigns throughout the country. It was a huge responsibility and an exciting one as well. I remember paying my rent for five months since I never slept in that house. We were always on the road. I also lost six kilos because I used to tremble anytime I saw my bosses call. I was always afraid that maybe I had not done something right. My best campaign area was in Machakos because we spoke to people who were not Jubilee supporters and they listened to us. It was fulfilling. After the elections, I was nominated to the senate to represent the youth but unfortunately, I didn't meet the cut.
You are a commissioner at the National Integration and Cohesion Commission. How was the recruitment process?
I saw an advertisement by the National Cohesion looking for commissioners, so I went on to look at the profile of previous and current commissioners because it was a very rigorous exercise. On profiling them, I saw some were lawyers, others arbitrators and mediators and I had all those qualities. But the only thing is that of all commissioners, there was no young commissioner and I knew it was going to be tough. There were about 10 people interviewing me, so I wore my tough head and serious face. After the interview, my name was nominated for vetting in parliament, I managed to pass and was sworn in by the Chief Justice.
Does the job keep you up at night?
Not exactly. I have a strong support system. You need to be grounded, you need to kneel before your God and maybe cry when you feel you should. My father used to send me money for campaigns in university. Pray to God and have friends who believe in the course.
Looking at your vision board, do you feel you are where you have always dreamt of?
A person without hope and ambition is more or less a dead person. You cannot be living if you do not have ambitions or hopes for a better tomorrow. There are different things that I am doing. Currently, I have young women who I mentor, and we meet over a cup of coffee and talk about our lives and how they should take steps ahead to ensure we grow together.
What are you doing as the commission to ensure the safety of children and women during this electioneering period?
We have made remarkable progress as a commission. We not only touch on hate speech but also, have other functions to fulfil. We mitigate cross border conflicts. We have a road map to the 2022 elections; we will have hate speech monitors, we will have cameras and voice recorders. As a commission, we have decided to become our own witnesses through the hate speech monitors throughout the country. Our employees or representatives will be present during any political meetings. We are working with the EACC to play a role in vetting politicians before they run for office. We have established a good relationship with the DPP and the DCI.
How can the youth be economically empowered?
I believe that a job must not be a white-collar job. There's dignity in being a mason, a carpenter and even a farmer. People are making a lot of money from this. I urge the youth to take up the roads that have the least struggle if there is money. Vocational training institutions are up and the youth should take up. It is however sad that our system has convinced the youth that they should get an education of the highest level, sit in an office for you look like an important person.
Girls have a special bond with their fathers. Is the same case with you?
My father is my political advisor, he writes to me and advises me on what to do. I appreciate his input. I am just a normal person around my family and friends, I did not let my position change my relationship.
Any parting shots?
Young people must have fun because they are young. Freedom comes with responsibility, you must always remember that at the end of the day you have your health and your future to look after. Fun should be in a responsible manner.