Politician denies nominating wives and mothers-in-law to county assembly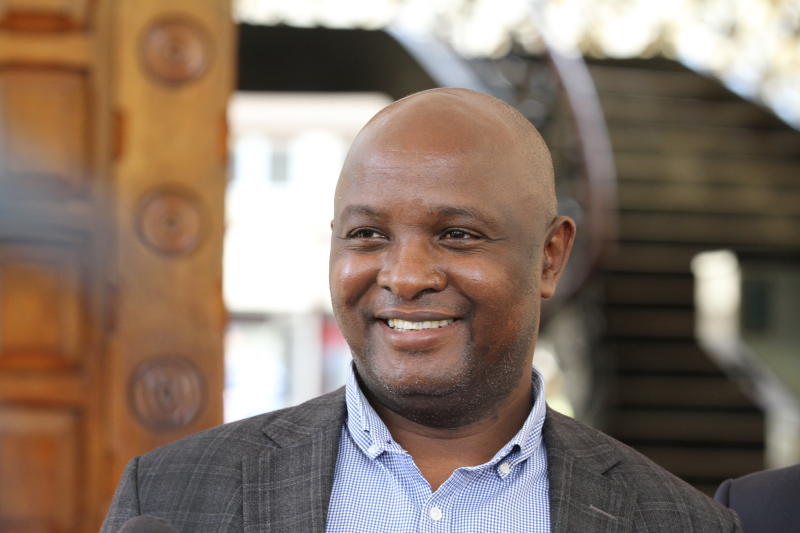 Former ANC Secretary-General GODFREY OSOTSI explains to Mike Kihaki why he is ditchingMudavadi's ANC to vote for Raila.
You were accused of only nominating your cronies to assemblies when you were ANC secretary general…
Many have accused me of nominating my two wives and relatives as MCAs while I was the secretary general of the party. It is laughable. I only have one wife who is a medic and has no interest in politics or becoming an MCA.
So where did these rumours emerge from?
I have no idea. IEBC regulations are very clear about the steps required to nominate individuals to various assemblies. The ANC list of nominated MCAs was approved by the party leader as required. How would I have gone against these regulations? Any party member would have petitioned.
Where did your beef with Mudavadi start?
While in UDF, party treasurer Martha Wangari and chairman Hassan Osman were giving Mudavadi a headache on the running of the party. The matter ended up in court. The Mudavadi faction went to challenge the order in court. This is where I differed with them.
What was wrong with seeking court intervention?
I didn't consider it prudent to wrestle with those two in the mud. So I was omitted on the list of Nasa national coordinating committee members. I was upset by the choice of members presented by ANC. Unlike other parties, which had secretary generals, those names presented by ANC were not going to add value to the coalition or match those presented by other affiliate parties.
But why would you rebel against the party that took you to Parliament?
I am not a rebel. Too many things were not right. The handshake, for one, was also a bone of contention. I, Malala and Khaniri supported it but our boss was skeptical about it. The BBI gospel also came which we supported. He has now embraced BBI and handshakes. I am vindicated that they have just come to see light.
And what of your court battles with your own party?
I requested my party leader to give me three months to oversee proper transition of the secretary general position to a person I would see fit. When I went for two days to Dubai for a Parliament assignment, I heard in the news that Barack Muluka had replaced me at meeting chaired by Mudavadi, I had talked to him before, I had a good relationship with him. I tried looking for him but he became elusive. I sat with my supporters to challenge the decision in court.
But you were leaving the position anyway. What was wrong with Muluka replacing you?
One, Barack was not a member of ANC and there was no appointment provision in the party, no notice of the meeting, no specific agenda. The court nullified the decision and I was reinstated. The team rushed to the high court which gave them a stay order that the status quo remain. In a year, we tried to challenge it in court to no avail. I won several cases in court, spent a lot and wasted a lot of time but they haven't dampened my spirit. I have been consistent and very firm.
By gravitating towards Raila rather than Mudavadi, aren't you an enemy of Luhya unity?
I believe in Raila's ideologies and his liberation credentials, that's all. This country would not be where it is if it were not his agitation for change.
How did he become a member of the ANC?
You might remember that losing to the Hassan faction rendered him partyless. I approached him to join the ANC and he accepted. I went for full party registration and had to file a full list of party officials, registered operations office and minutes stating intention to form a party. We listed Mudavadi as party leader, Godfrey Osotsi as Secretary General with nine others. We brought on board Kelvin Lunani, former MCA in Mombasa (now the chairman of ANC) who was not in Parliament outside Western and also a loyal member. On 13, July 2015, ANC was officially registered.
Do you believe you deserved a nomination to Parliament?
I worked hard for the party because during elections, from the party primaries in 15 counties we had potential 900 MCAs, 70 MPs, 15 Senators and Woman representatives and 10 governors seeking to run on our party ticket. I am happy we delivered 13 MPs and two senators and several MCAs under ANC. The two slots for nomination, one for national assembly and senate were given to me and Petronila Were.
Where did war start in ANC?
A cartel in the party who were dissatisfied with the 2017 elections wanted to remove me as Secretary General, have me relinquish my parliamentary seat and then arraign me in court. After the elections, a fierce battle started in the party with those who lost trooping back to the party headquarters. Since the list had already been gazetted by the IEBC until expiry of five years, they had nothing to do rather than start character assassination.
What are some of the challenges you face as nominated leaders?
Challenges we face as nominated leaders are many. Elected leaders look down upon us and if you are a weak leader then you will be intimidated. Transition from nominated to elected is tricky, which is why I am inspired by the likes of Prsident Uhuru, and Senators Wetangula, Sakaja and Zuleka.
Is that all?
No! Our area of jurisdiction is of course bigger. We represent interests across the country as compared to elected leaders who are confined in a designated area. Also elected leaders have a kitty to work from. MPS have CDF, woman Reps have NGAFP, but nominated leaders have nothing.