Is it time for Kalonzo Musyoka to retire from politics?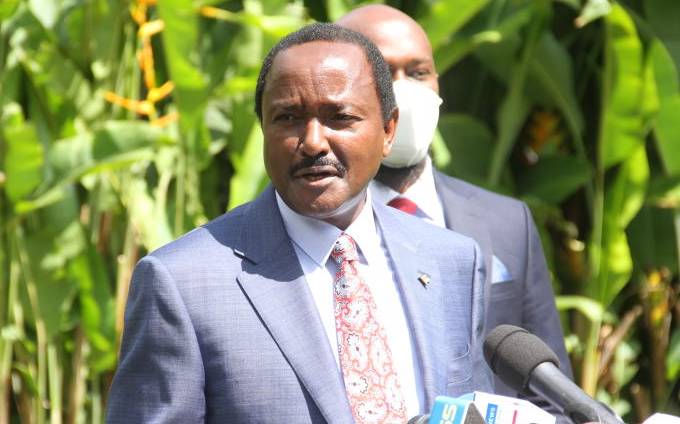 Outside of ODM leader Raila Odinga, his Wiper counterpart Kalonzo Musyoka appears to be the other presidential hopeful for whom time is not on his side as he fights to occupy State House.
Though at 67 he is nine years younger than Raila, Kalonzo's longevity in politics has been an Achilles heel, which has in the past been used by his opponents, especially within the Ukambani region, to campaign against him.
Kalonzo, who first bid for elective office in 1983, became MP in 1985 when the Kitui North seat fell vacant and he won with the support of then Kamba kingpin Mulu Mutisya.
Since then, Kalonzo has occupied various government and party positions, including as Kanu national organising secretary, Deputy Speaker of Parliament, Minister for Foreign Affairs, Minister for Environment and Natural Resources and eventually as Vice President under Mwai Kibaki.
He had vied for the presidency on a Wiper ticket in 2007 but with the country plunging into chaos following a dispute over the outcome of the poll, he was persuaded to take up the number two slot ostensibly as part of efforts to heal the country, which Kalonzo recently revealed were being spearheaded by billionaire businessmen the late Chris Kirubi, Equity Bank chairman Peter Munga and CEO James Mwangi.
Speaking at Kirubi's requiem mass, Raila also revealed that Kirubi was among those who persuaded him to negotiate with Kibaki, eventually resulting in a grand coalition government with him as Prime Minister.
In the last two elections, Kalonzo has been Raila's running mate and it is on account of a pre-election MoU that reportedly had the ODM leader commit to being a one-term president that the former VP recently ruled out any possibility of playing second fiddle again.
"As of now, it is unthinkable that one Stephen Kalonzo Musyoka would support Raila for the third time. I will be the most stupid fellow under earth to support for the third time a presidential candidate without a measure of reciprocity," Kalonzo recently told NTV in an interview.
This followed reports that President Uhuru Kenyatta had challenged the former Nasa principals to unite if they were to form the next government. However, he dismissed the reports, stating the president never pledged to endorse any of the four of them during a meeting with Kamba leaders at State House, Nairobi.
But though Kalonzo was firm that he would rather retire and go back to his Tseikuru home than back Raila, whose ODM party he blames for the collapse of Nasa, he appears conflicted by indications Uhuru's Jubilee is negotiating a pre-election deal with the Orange party.
This was clear during the requiem mass of former Gem MP Jakoyo Midiwo where Kalonzo, Raila alongside Amani leader Musalia Mudavadi acceded to calls to revive Nasa from, among others, National Assembly Minority Leader John Mbadi and Midiwo's successor, Elisha Odhiambo.
"I implore Kalonzo Musyoka and Musalia Mudavadi… if you take your brother to marry a girl and you realise the girl has gone to school abroad, when you hear the girl has come back, you go back and take your brother so that he marries the girl," said Odhiambo.
For Kalonzo, the situation gets complicated by the fact that Baringo Senator Gideon Moi's Kanu, which is in One Kenya Alliance (OKA) with Wiper and Bungoma Senator Moses Wetang'ula's Ford Kenya, already has an existing pact with Jubilee.
This means that if ODM and Jubilee were to sign a pre-election deal, Kanu will technically be one of the partners, a situation that may leave Kalonzo high and dry.
According to political analyst Dr Wang'uhu Gitonga, Kalonzo appears to be acting out of desperation as he no longer has a firm hold of the Kamba Nation and cannot claim to have made major inroads into other regions of the country.
"Ukambani is sliding away from him with the rise of Alfred Mutua and Kivutha Kibwana who can call the shots in Machakos and Makueni, respectively. The fact that they are serving their final terms as governs will make political developments there interesting to watch. Then, there is also the UDA factor, being propelled by Johnstone Muthama," he told The Nairobian.
"Even in Kitui itself, he cannot be said to be in control of things as much as the likes of David Musila have vowed to die with him. Governor Charity Ngilu, I think, is just buying time as she watches political developments. If Kalonzo does not negotiate himself, I don't think Ngilu would be willing to go down with him. Her interest at the moment lies in the revival of Nasa and the inking of a pact with Jubilee," Gitonga added.
This is likely to be the case, especially due to a lingering perception that for the many years that Kalonzo has been in public office, it took devolution to change the tide of development in the region.
The three governors had at one point ganged up to demand that Kalonzo hands over the leadership mantle to a new crop of leaders for sustainable development in the region. On Thursday, Ngilu and Mutua visited an ailing Kibwana at his home where they agreed on the agenda to present to the President when he tours the region next week.
Nevertheless, the win by Wiper's Agnes Kavindu Muthama in March's Machakos senatorial by-election served as an indicator that Kalonzo still has a fighting chance but whether he can rally the region in whatever direction he will be taking remains to be seen.
For now, a top ODM official privy to the party's negotiations with Jubilee admitted the situation is still very fluid and there are still many factors and changing dynamics that may shape up the 2022 poll.
"Let us not go into something that is yet to crystallise," he told The Nairobian when reached for comment.
It does not help matters for Kalonzo, however, that he has always left it to others to decide his political destiny. Indeed, before they fell out, Muthama was the force behind his politics, including his presidential run in 2007.
In his biography, Against All Odds, Kalonzo narrates how he had been assured he would succeed Kibaki with Uhuru as his running mate or vice versa with Deputy President William Ruto as Leader of Majority in the National Assembly before they went back on their word during a dinner at his residence.
According to Kalonzo, Uhuru threatened to replace him with Ngilu if he did not play along.
He opted to jump ship to Cord where he became Raila's running mate.