Wachira Waheire: I forgive cop who tortured me at Nyayo House for 17 days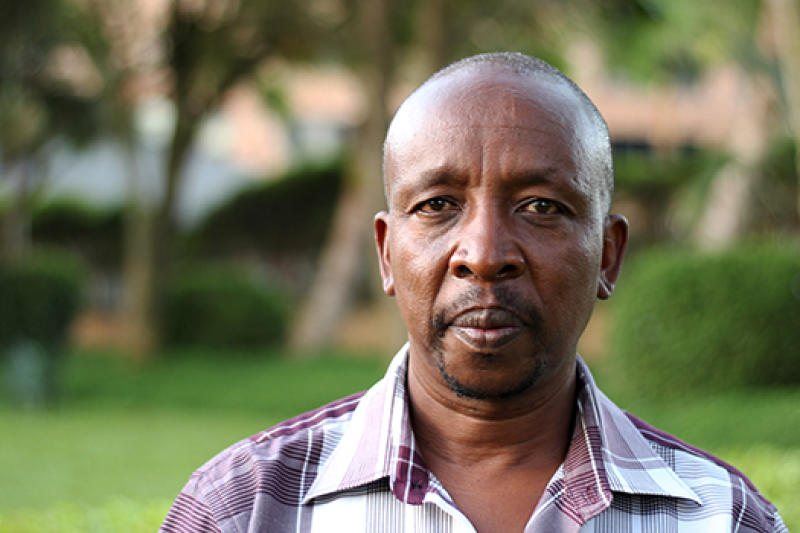 With commemoration of Saba Saba around the bend, former Nyayo House detainee and National Victims and Survivors Network Secretary WACHIRA WAHEIRE speaks to ROBERT AMALEMBA about the dark days that were.
When were you detained and why?
I was detained without trial at the Nyayo House torture chambers for 17 days starting December 2, 1986 for possessing foreign currency. I had landed from DR Congo a fortnight earlier and the Special Branch said I was on a mission of sourcing funds from overseas to overthrow the government.
What was the experience like?
Inhuman to the core. You are screened by a panel of 10 officers, one of them female, while naked. You survive on a quarter cup of tea and a piece of bread. One particularly heavy-built officer slaps you until you faint. The other will not stop the beating until you are bleeding profusely or you faint. All this was to make you confess to belonging to Mwakenya, a prohibited group that wants to overthrow the government. If you fail to confess, they spray you with hydrate and return you to a water flogged basement cell, where they control the temperatures to extreme cold or hot.
Do you recall any kind soul during that period of detention?
Yes, they were there or so they sounded and their assignment was to talk you smoothly to confessing the non-existent plot to overthrow the Government.
What was your darkest moment during detention?
Solitary confinement. That thing as simple as it sounds is very frustrating. I also hated the court session where I was forced to plead guilty for taking an unlawful oath and failing to prevent a felony. The session was at 5.30 pm before H. H Buch. The prosecutor was Bernard Chunga. The plain clothed police torturers were in the gallery with all their eyes trained on me. I was sentenced for six and a half years.
Who were your cell mates and where are they today?
At Nyayo, it was solitary but at Kamiti and Kodiaga, where torture victims were housed, I had many like Nelson Muyela, Chege Kahiga , C.A Onyango, Odungi Randa, Karige Kihoro (late), Karaithi Rungurwa, Dr Adhu Awiti (late), Chege Wainaina, Suleiman Kangara (Charles Kangara), Silas Imbo and many more.
How did the detention affect you and your family?
I had just graduated from UoN with a lucrative job at Associated Battery Manufacturer East Africa marketing manager. I lost that job and my family broke apart.
How do you feel when you walk past Nyayo House?
Initially, it used to disturb my mental being. I had to go for thorough counselling to overcome the mess.
Have you ever bumped into any of your jailors on the streets? If not, what would you tell them if you met?
I did meet one of my torturers and we had coffee. The former cop told me that he was merely doing his job. He said he feared that if he failed, he, too, could become a victim of the torture chambers where he worked. He confessed that he knew it was all fake, but that money had been budgeted for the exercise.
In your judgment, what goes on in the mind of a police officer who tortures suspects? How are they wired?
It's hard to tell, but I tend to believe it all lies on their self-esteem which has been affected by their demanding but underpaying job.
If you were in their place, what would you have done?
Well, that's a difficult one. I am not a police officer.
Many detainees of the era transitioned into politics and government. In your view, have they made a difference?
No. Once you get into the system, the first thing it does is swallow your activism.
Do you think torture victims lose the fire for public good when they get into State offices?
Yes, history has proven so in so many instances.
What does your organisation do?
Memorialisation, basically wanting to preserve the dark history of our nation in monuments so that we bring up a better society. We also do public interest litigation.
Courts have awarded torture victims billions of shillings. Have the victims been paid?
Many have been paid, especially during the Kibaki regime. The lowest paid sum was Sh1 million, while the highest was the Sh995 million paid out to former Cabinet minister and opposition leader, Kenneth Matiba. Roughly, the victims have been paid at least Sh 1.8 billion by the State after court rulings and another Sh3 billion is yet to be paid.
What was activism like in the 1980s to 1990s as compared to today?
In the 80s and 90s, activism and activists had a backbone. Today's activism can be summed up in one word: Twitter. Apart from creating justice centres at the grassroots, nothing is happening really.
Do you imagine that Kenya can lapse to a period of State sanctioned torture and detention without trial?Absolutely, the more things change, the more they remain the same. Remember, no one has been held accountable for the Nyayo House tortures.
Raila, Kiraitu, Orengo and many other top ranking politicians are your members. Do they pick your calls, what do you talk about?
These comrades hardly pick my calls! It's even harder to meet them in person.
You are pushing for construction of a museum at Nyayo House in honour of torture victims; do you feel that will ever be met?
Yes, we are pushing for that through all avenues. We even have a court order to that effect.
It took South Africa 25 years and Poland some 40 years to make monuments in honour of torture victims. How long do you perceive it will take Kenya?
It all depends on the willingness of the reigning political regime and of course our persistence.
What was the happiest moment of the struggle for you?
The 2010 Constitution especially the Bill of Rights therein.
Do you have children? Would you allow them to become political activists knowing the dangers and sacrifices involved?
I have children but they have never shown interest in activism. But I cannot bar them from it.
What values do you drum into their heads based on your experiences?
I educate them on patriotism and the true history of our nation. Not the compromised account they get in our education system.
?