'Deep State' will win State House race and it will not be by chance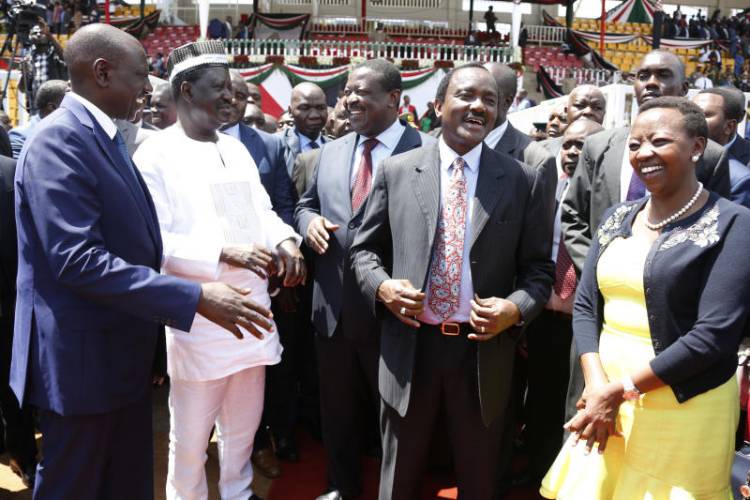 As Kenyans prepare to elect their fifth president next year, all eyes are on those perceived as safe bets, chief among them ODM leader Raila Odinga and Deputy President William Ruto.
However, going by the history of our presidential successions, those set to put their money on the top dogs may be in for a shock as the next tenant at the house on the hill may actually end up being one of the rank outsiders.
In the Kenyatta I succession, for instance, Vice President Daniel arap Moi never featured in first President Mzee Jomo Kenyatta's kitchen Cabinet as the ideal successor and his ascension to the top job was thanks to Attorney General Charles Njonjo's intervention.
It is Njonjo who jolted a scheme by the Mt Kenya Mafia in 1976 to change the constitution so as to bar Moi from automatically taking over as acting president in the event of Mzee Kenyatta's death.
The plot's ring leader was Gema leader Kihika Kimani. It collapsed after Njonjo issued a warning that "It is a criminal offence for any person to encompass, imagine, devise, or intend the death or deposition of the President."
Before then, Moi, who became VP after the resignation of Joseph Murumbi, was frequently harassed and humiliated by junior political and security functionaries but he took it all in his stride. Moi went on to succeed Mzee Kenyatta when he died on August 22, 1978 though it is believed that Njonjo helped Moi because he considered him a "passing cloud."
However, it did not take long for Moi to dispense with his maker who was forced to resign from his powerful role as minister for Justice and Constitutional Affairs in 1983 following his indictment by the Miller Inquiry for "attempting to take over power from Moi." He was later pardoned but that marked the end of his political career. On the other hand, Moi went on to rule for a record 24 years.
Even then, Mzee Kenyatta himself owed his presidency to Jaramogi Oginga Odinga.
When the agitation for Kenya's independence from British colonial rule became unstoppable, London sought to have a final word on who would become the leader of the new Kenya.
It fell on Governor Sir Patrick Renson to try and convince Odinga, one of the Kanu leaders, to assume the office of Prime Minister in an attempt to thwart the quest for the release of Jomo Kenyatta, who had been imprisoned for his perceived role in the Mau Mau war.
However, at a meeting at Government House, now State House in Nairobi, in 1960, Odinga flatly rejected the overtures telling Sir Renson doing so would tantamount to an act of betrayal.
"If I accept your offer, I will be seen as a traitor to my people. The British cannot elect me leader to my people … Kenyatta is around, just here in Lodwar. Release him and allow him to lead us, he is already our choice,'' he was quoted to have told the governor.
Had he accepted the offer, he would have become Kenya's first president when the country gained independence on December 12, 1963.
But his stance left the colonial authorities with no option but to release Kenyatta, who left prison shortly thereafter to take over as Prime Minister and later President.
Though Odinga became the country's first vice president, he later fell out with Kenyatta and was consigned to the political cold until his demise in 1978.
There was an attempt by the new President, Daniel Moi, to rehabilitate him but the honeymoon did not last long as they also fell out over his underground political activities.
In 1992, with the return of multiparty democracy, Odinga's attempt to become President flopped mainly due to the disintegration of the original Ford and he emerged fourth after Moi, Kenneth Matiba and Mwai Kibaki.
Before his death on January 10, 1994, he had openly expressed his desire to serve as President even if it was for "a single day".
In the 2002 election, which marked the Moi succession, not many pundits would have put their money on Kibaki, who was taking his third stab at the top job in the face of the tsunami caused by Raila's rebellion in Kanu that saw many of its stalwarts including vice president George Saitoti head for the exit door after Moi stuck with Uhuru Kenyyatta as his preferred successor.
Raila's camp closed ranks with Kibaki's to form the National Rainbow Coalition (Narc) but after a push and pull on who will be their candidate, he shocked the likes of Simeon Nyachae when he declared "Kibaki Tosha" during a massive rally at Uhuru Park.
In the end, Kibaki emerged the winner with 62.2 per cent of the vote to Uhuru's 31.3 per cent.
In the 2013 election, the odds appeared to be ranged against Uhuru, who alongside William Ruto, his running mate, was facing charges related to the 2007/08 post-election violence at the International Criminal Court at The Hague.
With western powers, led by the US and Britain, discouraging Kenyans from electing the two, even warning that "choices have consequences" the going could not have been worse for them.
Locally, some elements within the Deep State crafted a plot to have the two withdraw from the race in favour of Musalia Mudavadi and everything appeared to be going according to plan before Uhuru went back on the deal, blaming some dark forces (madimoni) for misguiding him.
He went on to launch his presidential bid and weathered a spirited opposition from Raila to emerge the victor.
In next year's election, the sons of their fathers are crafting an alliance that could see Raila finally occupy State House after four unsuccessful bids with Uhuru's and, by extension, the Deep State's backing.
However, according to History professor Macharia Munene, none of Kenya's four presidents ascended to the top by way of a chance. It had more to do with efforts at self-preservation by the Deep State. In his view, they are beneficiaries of ties that precede Kenya's independence itself.
"There are always competing factions within those perceived to be "deep state" and some are roguish. A few rougish noisemakers purporting to be close to the president do not constitute the deep state. From 1955, Moi was part of the establishment and was key to political and constitutional events. He simply outwitted rivals with Jomo's support," Prof Munene told The Nairobian.
"Kibaki was a deep state key strategist from 1960. Uhuru grew up as a child of the deep state, minister in critical ministries and deputy prime minister. Whoever wins in 2022 will be part of the deep state," added Munene, who teaches at USIU-A.
In his view, Raila, by virtue of his history, will be a serious candidate whether he will win or not.