Did President Kenyatta show his cards in 2022 succession plans?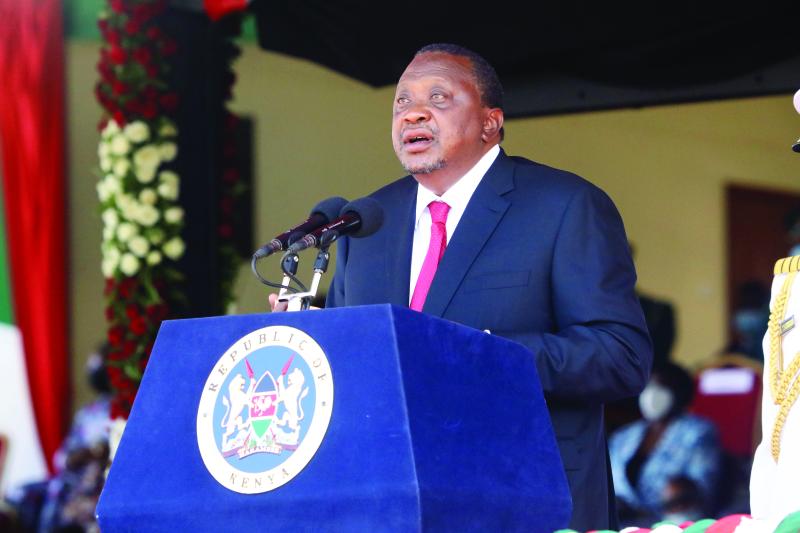 President Uhuru Kenyatta last Monday let the cat out of the bag as to who he will back for the presidency next year when he challenged Nasa principals to unite if they want to form the next government.
The call which followed a plea by Kitui Governor Charity Ngilu that he prevails over Wiper leader Kalonzo Musyoka to stick with his former colleagues put to rest the raging debate as to whether the President was losing his succession game plan in the wake of the derailment of the Building Bridges Initiative (BBI) by the High Court, disunity in his Mt Kenya backyard and the imminent collapse of the Jubilee Party.
The President's remarks were the clearest indication yet that he believes BBI, which will, among others, lead to the expansion of the national executive, will overcome its legal hurdles and result in a new 2022 vehicle
"Steve, listen to your people and what they are saying. Unite in Nasa then we shall see what will happen. Whatever you will agree on is what I will go with," Uhuru was quoted to have told Kalonzo during a meeting with Kamba leaders at State House, Nairobi ahead of his development tour of the region later this month.
"If as Ukambani you will work together and stay united the way the Mt Kenya region is doing, then I have no doubt you will be part of the next government," he added.
Kamba leaders have been reading from different scripts with governors Ngilu, Alfred Mutua (Machakos) and Makueni's Prof Kivutha Kibwana leading an alliance that seeks to dislodge Kalonzo. While Kibwana has also shown interest in the top job, Ngilu has a soft spot for Nasa, which her Narc party was a part of with the other partners including Raila Odinga's ODM, Wiper, Musalia Mudavadi's UDF, Moses Wetang'ula's Ford-K and CCM of former Bomet Governor Isaac Ruto.
The President's position drew sharp reaction from Deputy President William Ruto, who he had initially pledged to support in 2022 before they fell out after he reached the Handshake deal with Raila on March 9, 2018, which the DP saw as a plot to edge him out of both government and the 2022 race.
In a series of tweets on Tuesday, Ruto read betrayal in the President's move, wondering whether the dismembering of Jubilee was meant to throw under the bus those who backed his re-election.
"EUCHO!!NGAI FAFA MWATHANI!! So, what happens to the Thurakus, the kumìrà kùmèrà contingent, the 8 million of us?? None, no youth, no woman, no man of the 8M who woke up early and voted 3 times for UK/WsR ticket merit support? Sawa tu! Tutajipanga na support ya MUNGU," he tweeted.
"So, was the destruction/dismembering of Jubilee, a national party, meant to pave way for support of regional/tribal parties in Nasa? Now, with the collapse of Jubilee, isn't it fair for those who can't fit in ethnic parties to build UDA as an alternative national party? Ama?" the DP added hours later as he sought to take advantage of the situation to build wider support for his UDA party.
But with Nasa effectively dead with Kalonzo, Mudavadi and Wetang'ula shifting to the One Kenya Alliance that also includes Baringo Senator Gideon Moi's Kanu after differing on parliamentary leadership positions and sharing of funds from the political parties kitty, it remains to be seen whether Uhuru's intervention can work magic and revive the alliance that gave him a run for his money in the last elections.
What is, however, clear is that unlike his predecessor, Mwai Kibaki, who never actively campaigned for his successor in 2013, Uhuru could follow the example of political mentor, former president Moi, and try to sell his preferred candidate come August next year.
Multimedia University journalism lecturer Kipkirui Kap Telwa, however, thinks that the President could be playing the Opposition politicians' minds since he has never been known to be a serious campaigner.
"I don't think his remarks will change the dynamics. You know Uhuru is not a serious campaigner and secondly, Nasa people are no longer united. He is either gambling or he is just playing with their minds," Kap Telwa told The Nairobian.
"He does not want to hurt their feelings or expectations but when push comes to shove, he will abandon them," he avers.
Another challenge a revival of Nasa is likely to face is the Raila factor since unless he is the candidate, it might be difficult to support his loyal bases to rally behind another aspirant, say Kalonzo or Mudavadi, since they feel it is the last chance the former premier has to occupy State House after four futile runs.
According to Kap Telwa, Uhuru will also have to deal with the Mt Kenya political and business elite, which will have a problem digesting the idea of a Raila presidency as well as the splits in the region that have recently taken the form of Mt Kenya East and West.
"He is captive of the Mt Kenya political and business barons who won't support Raila. He has lost control of national and even regional politics. Look at what is happening in Mt Kenya. Now, we are hearing of Mt Kenya East and West. Further, his fights with his deputy makes it even harder for him to do anything without state power," says Kap Telwa, who is also a lawyer.
Unlike Moi, who unsuccessfully campaigned for Uhuru as his successor, Kibaki did not invest much in his own succession and left it for the various aspirants to square it out though there were attempts by his inner circle to force Uhuru and Ruto out of the race in favour of Mudavadi on account of their then active cases at the International Criminal Court.
"Kibaki did not script his succession. He left the boys to square it out. He tried with Deputy Prime Minister Musalia Mudavadi through UDF and it flopped early enough for Mzee to abandon the bid. It was left for Uhuru to find his way around until he got the magic plan," notes Kap Telwa.
But communications lecturer Irungu Ndirangu says it is too early to write off Uhuru, insisting he will eventually become the kingmaker.
"Forget about all the noises you are hearing from Mt Kenya. Uhuru will be the kingmaker. And don't look far. Look at Justin Muturi. He has enjoyed a long relationship with the President and what is happening has his nod. One way or another he will get a position in the post-2022 government. It is not by accident that he was installed in Murang'a. Also, look at history, all political milestones in Mt Kenya always have their founding in Murang'a,," Ndirangu told The Nairobian.
"My bet is that even if the BBI process falters. They can even go the parliamentary way and create new positions. You saw in the budget, the offices of prime minister and vice president have been institutionalised with their former holders being financed by the State in perpetuity," he added.