Out of touch? Cultural elders losing value, influence in modern politics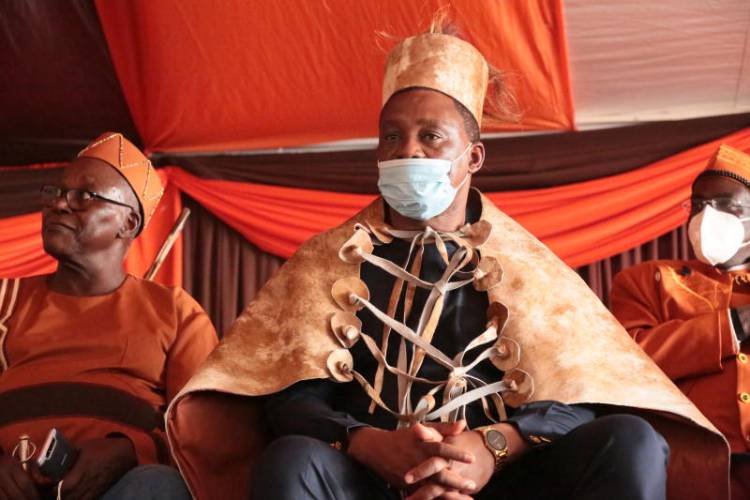 The season of community elders scrambling to make political decisions for their communities is here again as election fever grips the nation.
Indeed, it has become a ritual that one has to expect every five years as the country readies to elect its next president, governors, MPs and MCAs. This season is no different.
While the ritual anointment and blessing ceremonies have been happening for months now, the drama surrounding the installation of National Assembly Speaker Justin Muturi as Mt Kenya spokesperson served as a moment of reawakening.
Such endorsement is seen as a key cog in any political journey. It is what will determine whether the war will be won and the prize brought home.
But the opposition Muturi's coronation received from the likes of Agriculture Cabinet Secretary Peter Munya and governors Anne Waiguru could be a pointer that the place of cultural elders is no longer tenable in modern politics, especially where the youth form a majority of the voting bloc.
Even before the intrigues around Muturi's elevation, which put him in pole position to replace President Uhuru Kenyatta as the Mt Kenya kingpin after he leaves office next year, elders had come in for criticism for "commodifying" their positions and selling their expertise to the highest bidder.
Perhaps, nothing best exemplifies how the role of elders has apparently been commercialised like the November 2019 incident where Kaya elders retreated to Kaya Kinondo in Msambweni, Kwale County, to offer special prayers for then Nairobi Governor, Mike Sonko.
Reason? They were on a mission to protect him against jealous people, who were out to cause him harm for closing the taps the corrupt were using to siphon funds out of City Hall. This at a time Sonko was facing graft charges and staring at retrenchment.
In the Muturi case, elders supportive of his installation argue that it was done according to tradition with the speaker first receiving blessings from Mt Kenya East elders — including Meru's Njuri Ncheke Council — before he went into 10 days of exclusion ahead of his installation at the Mukurwe wa Nyagathanga shrine in Murang'a.
But this did not stop a section of Kikuyu elders from proceeding to cleanse the revered shrine, holding that it was never meant for political purposes.
While it may look like a war about customs and beliefs, what lies beneath the saga is the Uhuru succession politics.
In political circles, it is held that whoever the President will tap as his successor will automatically win the backing of the vote-rich Mt Kenya region, which is backed by the fact that it has often voted as a bloc.
It is for a similar region that other presidential hopefuls are also banking on Uhuru's support. They include ODM leader Raila Odinga, Wiper leader Kalonzo Musyoka, ANC leader Musalia Mudavadi and Kanu chairman Gideon Moi.
Even Deputy President William Ruto, who no longer has the President's backing, is careful not to antagonise him and is, instead, looking for other ways of wooing voters from the region.
And this is where the elders come in. By virtue of his installation as a Muthamaki ahead of the 2013 elections, the elders see themselves as the only ones who can decide who will take over as the community's political kingpin.
However, they appear not to have appreciated the fact that modernity has caught up with them and hence, they can no longer enforce their traditional powers on the populace, especially the youth.
According to statistics, more than half of the 19,611,423 voters registered for the 2017 elections were aged below 35. The figure is expected to be much higher in the next elections.
According to former newspaper editor Mugo Theuri, the role of cultural elders has lost meaning in the modern world, especially when they seek to guide the communities on matters to do with personal choices.
"The youth are not even aware of their existence. And not just the youth, they are not known within their localities. In fact, the chairman of the Kikuyu Council of Elders (Wachira Kiago) can walk down the streets of Nyeri town today and no one will recognise him," he told The Nairobian.
Theuri said the elders' quest to make political decisions on behalf of the community is even more complicated because traditionally, he notes, the Kikuyu have never entertained the idea of a supreme leader.
"There is nothing like a supreme leader among the Kikuyu. What we have are kiamas whose role is localised. An elder from Kiambu cannot purport to speak on behalf of the people of Murang'a. The only time elders converged to make decisions on behalf of the community was when it came to heavy matters such as a declaration of war," he added.
He also noted that the Kikuyu system is organised along unwritten customs and beliefs some of which are universal such as the rite of passage and how to treat women.

Gusii Council of Elders chairman James Matundura agrees that cultural elders have no role to play in politics, saying they should confine themselves to resolving disputes.
"I don't think it is proper for elders to indulge in politics. I know in some communities they have taken up the role of giving direction on which way the people should go. But for us, we only come in to smother fires whenever they break out. That is what, for instance, we are trying to do with regard to Interior Cabinet Secretary Fred Matiang'i and Kisii Governor James Ongwae after their fall out in Bonchari," he told The Nairobian.
"I also think it is risky to indulge in the ongoing succession politics because one may take a stand now and then the dynamics shift when changes envisaged under the Building Bridges Initiative come to fruition and you are left in a dilemma," Matundura, who was a member of the BBI taskforce, added.