Close ties: politicians shed enmity during celebrations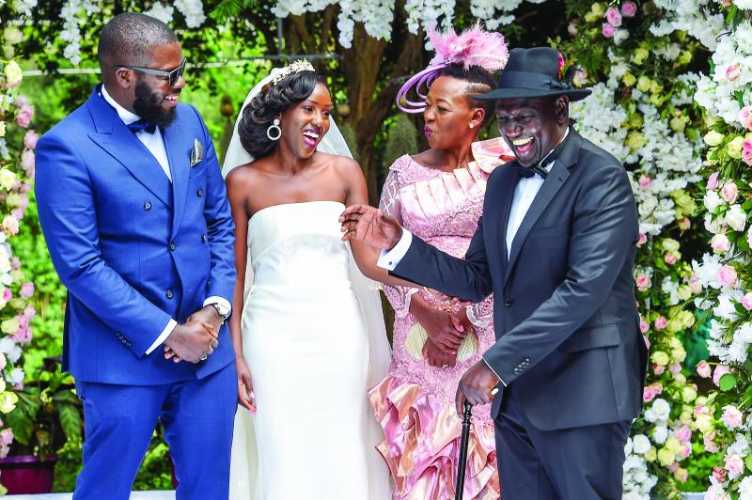 One of the most intriguing aspects of Kenya's usually high-octane politics is the ease with which fierce rivals close ranks when it comes to social or business dealings.
When it comes to realpolitik, Kenyan politicians are known to invest heavily in personality cults and tribal nationalism as they are key factors in the country's power politics.
For that reason, ethnic kingpins routinely rally their various nations every five years to fuel their political ambitions and there is no indication the situation will change any time soon even if the Building Bridges Initiative (BBI) juggernaut finally makes it to the final station.
During such times, the rivalry is so intense that a visitor to Kenya would be forgiven for thinking the country is likely to explode into full-blown violence at any moment. Not that it hasn't travelled down that route in the past.
The same visitor would be equally shocked to witness the fellowship that characterises interactions involving the very same politicians when it comes to social matters such as weddings, for instance.
Politics then seems to evaporate with hitherto bitter foes putting aside their rivalry to extend goodwill messages as they indulge in the glamour that such events bring. It makes one get the feeling that the run-ins we get treated to on the political stage are full of melodrama.
Take for example the recent hearty interaction between President Uhuru Kenyatta and his deputy William Ruto in the aftermath of the National Prayer Breakfast where the DP revealed he was about to give his daughter June's hand in marriage. A stranger would not have suspected the two are not the best of buddies at the moment, politically speaking.
The president even promised to visit June and her Nigerian husband Dr Alexander Ezenagu after his development tour of Nyanza where he presided over this year's Madaraka Day celebrations in Kisumu on Tuesday.
"Pongezi tena...you'll tell them, right? Pongezi sana, nitawaona labda nikitoka huko Kisumu," Uhuru is captured telling Ruto in a video clip that went viral on social media.
The president was among those who had been invited to the exclusive wedding ceremony alongside former Prime Minister Raila Odinga but the two could not make it as they were engaged elsewhere.
Some of the key politicians who turned up included ANC party leader Musalia Mudavadi, himself a potential Ruto rival in next year's presidential contest.
The event served to prove yet again that beyond political contestations, politicians still enjoy close, fraternal ties, especially when it comes to family and business.
A story is told of how in March 2007, then-President Mwai Kibaki's security detail got alarmed after he stayed until around 10 pm at Raila's Karen residence where he had gone for a reception following the wedding between Fidel Odinga (now deceased) and Veronica Wanjiru at Windsor Hotel.
Kibaki appeared at home, enjoying the evening bash and banter even as the presidential guard was busy looking for a way to safely get him back to his Muthaiga home.
Never mind that at the time, the two had bitterly fallen out following the defeat of the government-backed constitutional referendum in 2005 that saw Raila and his allies kicked out of Cabinet. They were also gearing up to what proved to be a deadly face-off at the ballot a few months later.
While it had not been planned as such, the marriage between Fidel and Wanjiru, which, however, later collapsed, was seen as symbolising unity between the Luo and Kikuyu - two communities that have historically read from different scripts on many issues.
Another recent marriage seen as being equally symbolic was the one between President Uhuru's son, Jomo, and Fiona Achola, the granddaughter of former Cabinet minister, the late William Odongo Omamo.
The significance of the marriage was not lost on Uhuru's brother, Muhoho, who during their traditional wedding in 2016, described the occasion as a celebration of the Kenyattas' legacy and heritage.
"Murang'a has come together with Nyanza, Nyanza has come together with Uganda and they have also come together with Kiambu and Nairobi as well," he was quoted as having told the gathering.
This was in reference to the fact that Achola's father, Richard Ngobi, was born by a Kikuyu father from Murang'a and a Ugandan mother.
Her mother, Ruth, hails from Bondo in Siaya, while she counts Raychelle Omamo, currently the Foreign Affairs Cabinet Secretary, as one of her maternal aunts.
Another less told story revolves around the marriage between Kenneth Matiba's daughter Susan and broadcaster Isaac Mwamto. One of those in the know told The Nairobian that the Matiba family extended an invitation to then-President Moi despite the two having fallen out after the 1988 mlolongo elections that saw the former quit Cabinet.
Though Moi did not attend the event, a private reception was held on Ngong Road and he is believed to have either attended in person or sent gifts through emissaries.
Another common factor when it comes to marriages involving political families is that they are not influenced by ethnicity or even nationality. And, it is very unlikely that the children marry below their social or educational status.
"Political families, just like wealthy ones, are brands and thus take a keen interest in who their children marry. Their kids cannot just choose any soulmate. They have to marry within their class and the longer the two families know each other, the better. It is always about ties that bind and not just a matter of love. In fact, such marriages are often prearranged," political commentator Dr Wanguhu Gitonga says.
He adds that the fact that most of the children go to similar schools and universities is also a key factor, noting that it also contributes to many cases where such relationships transcend ethnicity and nationality.
"The offspring rarely wander from the beaten path. They find their soulmates from those they have schooled together with, worked with, or who they share career goals with since they don't know much of anything else. That is why they are also not tied down by ethnicity or nationality," he told The Nairobian.