Madaraka Day: Kenya still under the 'iron law of oligarchy'
POLITICS
By Editor | June 1st 2021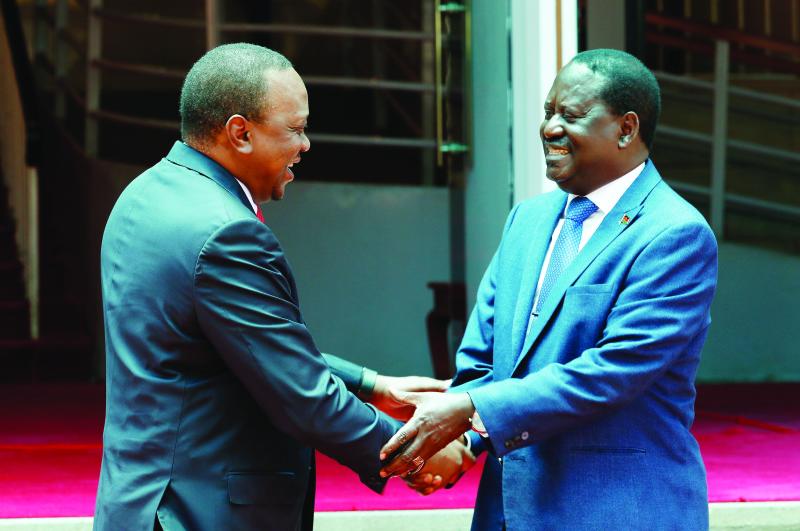 Kenya celebrates the annual Madaraka Day on Tuesday, marking attainment of self-rule from the British imperialists on June 1, 1963. This year's is thus the 58th celebration. In over half a century, we have been under four presidents; Mzee Jomo Kenyatta, Daniel arap Moi, Mwai Kibaki and back to Jomo with his son Uhuru at the helm.
And before the truce 'handshake' between opposition leader Raila Odinga and President Uhuru this April, the next elections in 2022 was largely viewed as the watershed moment when Kenya would shed off political dynasties of which the Odingas have been part.
This is despite missing out on the presidency; Jaramogi Oginga Odinga died on January 20, 1994 without warming the president's seat "even for a few hours" while his son, Raila Odinga has had 20-year unsuccessful stabs, and counting.
It was believed that the biggest beneficiary in 2022 would be Uhuru's deputy, William Ruto, but who is no scion of any political dynasty. The self-made 'hustler' who rose from the ashes of the Youth for Kanu '92 political pressure group, was no doubt the surest nail in the coffin of Kenya's political dynasties.
But the 'handshake' not only lowered political temperatures and tempers, but also slightly skewed the fortunes of DP Ruto in 2022. Or so it appears. Baba embarked on a 'handshaking tour' to then retired President Moi's home in Kabarak, Nakuru County, with political heirs from the Kanu regime in tow. His next 'handshake' stopover was Muthaiga in Nairobi where he 'consulted' with retired President Kibaki.
Baba's 'handshakes' are pregnant with political realignments considering only a few faceless oligarchs wielding enormous 'soft power' control the backroom levers of the state. Indeed, when DP Ruto tried his own 'handshake stopover' to Kabarak, he was politely rebuffed; the political wind momentarily taken off his sails. What is going on? Well, it's the 'iron law of oligarchy' at play, folks. That was what the late German-Italian sociologist Robert Michels called the tendency of dynasties to perpetuate themselves as eminent economists.
Daron Acemoglu and James A. Robinson note in their 2012 tome, Why Nations Fail: The origins of Power, Prosperity and Poverty.
"The internal law of oligarchies, and in fact, all hierarchical organisations, is that, argued Michels, "they will reproduce themselves not only when the same group is in power but even when an entirely new group takes control."
In Kenya, the 'iron law of oligarchy' began after independence when political elites inherited similar structures of government from the British, occupied their residences, perpetuated the same patronage networks, employed same old manipulation of tenders, markets and state jobs for the economic resources that oligarchs need to control, dominate and consolidate their grip on power. If history repeats itself, first as a tragedy then as a farce, then the 'iron law of oligarchy' is part tragic since the new leaders, chips of the old political block, bring nothing new, entrenching the status quo and with it, exclusion, as DP Ruto is slowly learning.
History becomes a farce when Kenyans democratically vote for what they think are new leaders yet, in reality, are handpicked cogs in the wheel that moves the 'iron law of oligarchy' into the next generation, ad infinitum!