It is no longer trendy for widows to inherit their men's political seats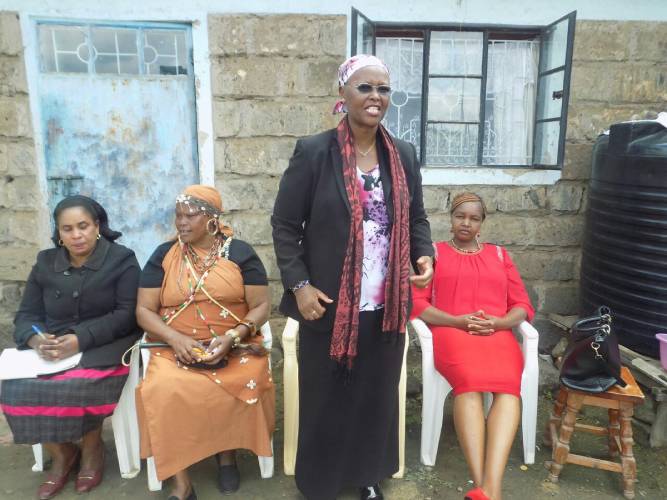 For a long time, one of the easiest ways women got into Parliament in Kenya was through succeeding their husbands when they passed on before the end of their terms.
And it is not just a local phenomenon, as research clearly shows. It has been the same even in the United States where most of the women, who got into Congress before 1976, rode on the deaths of their spouses.
Political scientist, the late Diane Kincaid, captured it well in her 1978 research paper, Over His Dead Body: A Positive Perspective On Widows in the U.S. Congress. However, it is more profound in developing democracies.
The widow effect
There are many reasons that have been cited to explain the phenomenon from widow effect, sympathy votes, political patronage and pillow talk.
In a paper published by the ANU Department of Pacific Affairs (DPA), titled Widows and Wives in Pacific Politics: A Reliable Pathway for Women?, Kerryn Baker and Sonia Palmieri note that it is generally agreed they are regarded more positively by society as compared to other women.
They say the widow effect means that spouses of deceased politicians are seen as placeholders who are to keep the seat warm until an ideal male candidate is identified and supported at the next general election or as financial beneficiaries of his empire.
The sympathy vote is also important as it ensures the widow inherits her late husband's popularity while political patronage works in a political system that promotes clientelism such as Kenya's and ensures power is retained within the family. It is the reason given when one seeks to be elected so as "to finish the work started by the husband."
On its part, the pillow talk theory makes reference to the fact that a politician's spouse is seen as better placed to inherit the seat given that she gets to discuss politics and local community concerns at home.
Magic gone
However, it would appear that the magic that comes with being a politician's wife is no longer working as it used to be if the results of recent by-elections are anything to go by.
In Matungu on March 4, the late Justus Murunga's widow, Christabel, failed to make an impact despite entering the race with a promise to complete projects started by her late husband.
Her entry into the race was, however, a complicated affair. First, she had family drama to contend with after her eldest stepson, Eugene Ambwere also threw his hut in the ring. His position was that he was well placed to complete the term that was left by his father.
"I understand a lot of ideas he had in mind for Matungu and I just want to fulfill them," said Ambwere then.
Efforts by Murunga's family to have the two agree on who will go for the seat failed. The fact that meetings were convened by the late MP's personal assistant George Nyongesa, an ally of the widow, led to accusations she was not playing fair.
Then, they were shunned by the main political parties namely the Orange Democratic Movement (ODM), Amani National Congress (ANC) and United Democratic Alliance (UDA). The stakes were high for the three parties which had an eye on the 2022 succession.
While ODM wanted to wrestle the seat from ANC to make a point that its leader Raila Odinga was still the man to beat in the Western region, ANC's Musalia Mudavadi, with the support of other Handshake partners, wanted to retain bragging rights as they meant everything for his post-2022 positioning in national leadership.
On the other hand, Deputy President William Ruto was rooting for UDA as a win would have been proof he had made inroads in the region. In the end, Christabel and Ambwere contested as independent. In the final tally, Christabel scooped 365 votes and Ambwere had 78.
The race was won by ANC candidate Peter Nabulindo who got 14,679 votes while ODM's David Were came second with 10,500 votes. UDA's Alex Lanya was third after getting 4,813 votes. A similar scenario played out in mini-polls in Bonchari and Juja constituencies.
In Bonchari, there was expectation that ODM and Jubilee would back the late John Oyioka's widow, Teresa Bitutu, in the spirit of the Handshake though there were early indications all will not be smooth sailing for her.
This was after Kitutu Chache North MP Jimmy Angwenyi, who doubles as the National Assembly Deputy Majority Leader, opposed calls by the family and various politicians in attendance at Oyioka's burial that she should be supported to finish the work he had started.
It was only People's Democratic Party (PDP) leader Omingo Magara who said they were ready to give her a ticket as the late MP belonged to the party.
In the end, ODM and Jubilee fielded candidates (Pavel Oimeke and Zebedeo Opore respectively) in a move that raised the stakes and tested the Handshake deal to the limit.
Those familiar with the intrigues that surrounded the nominations told The Nairobian that there was a last-ditch effort to woo Bitutu back to Jubilee when it became clear she had - with Magara's facilitation - been issued with a UDA ticket but by then it was too late as the IEBC timelines had expired.
"It is true she had been assured of a ticket by key people in ODM and Jubilee but they then went quiet. It is only after she met Ruto that her phone started buzzing but it was too late in the day," a close aide told The Nairobian.
Bitutu was campaigning on a platform of sympathy to fill her late husband's shoes.
She got a boost when lawyer Cliff Ombeta backed her bid as did political activist and Kisii governor aspirant Rachel Otundo.
"I'm appealing to the Bonchari people to wipe my tears by electing me to complete my husband's tenure," she said.
In Juja, the Jubilee Party settled on Susan Njeri Waititu, the widow of the late MP Francis Munyua alias Wakapee. However, she lost to George Koimburi, who was running on the ticket of the People's Empowerment Party, an outfit founded by Gatundu South MP Moses Kuria, who garnered 12, 159 votes to her 5, 746.
Gender wars, 2022 to blame
Gender advocate Charity Kyalo blames the 2022 succession battles, violence and voter intimidation for the widows' losses, noting that the ugly face of parternlist politics reared its ugly face again despite the main gains women have achieved on the political front in recent years.
"It was all about 2022 and I am sad because it appears women are being forgotten as men fight for their political futures. You saw the heavy police presence and other dirty tricks that were at play in all the constituencies, including acts of hooliganism. It scared away women voters and hence the dismal performance by female candidates. I hope all is not lost," Kyalo told The Nairobian.
In the forthcoming Kiambaa by-election, the situation got more interesting as three family members, June Koinange, the widow of the late MP Paul Koinange, Lena, and her niece Damaris Wambui all eyed the coveted Jubilee Party ticket.
However, they all lost out after the party abandoned the nominations route and instead opted to interview the aspirants following its shock defeat in the Juja constituency and Rurii ward by-elections.
At the end of the face-to-face interviews held at the Jubilee headquarters in Pangani, Nairobi, businessman Kariri Njama emerged the winner and will now battle it out with, among others, UDA's John Njuguna Wanjiku.
PEP initially planned to field Raymond Kuria in the race but later withdrew his candidature to avoid sibling rivalry within the Hustler Nation.