Orengo's new fire the antidote for Kenya's ailing democracy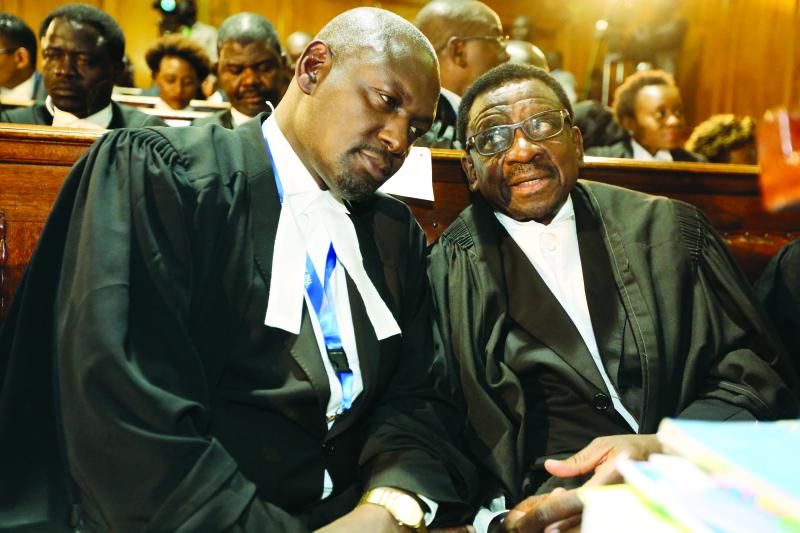 It was former Attorney General Charles Njonjo who coined the name "seven bearded sisters" in reference to a group of revolutionary MPs who gave then President Moi a difficult time in the early months of his presidency.
Among the group that Njonjo felt leaned towards Marxist ideology was James Aggrey Bob Orengo, now the Siaya Senator and Leader of Minority in the Senate.
Njonjo borrowed the name from Anthony Sampson's 1975 book, The Seven Sisters: The Great Oil Companies and the World they Shaped, which details how seven of the biggest oil companies in the world conspired to overthrow the government. The beard part had to do with German socialist revolutionary Karl Marx.
Others in the cohort were Kitutu East (now Kitutu Masaba) MP Abuya Abuya, Lawrence Sifuna (Bumula), Onyango Midika (Nyando, now Muhoroni), Mwashengu wa Mwachofi (Wundanyi), and Koigi wa Wamwere (Nakuru North, now Subukia) and Chibule wa Tsuma (Kaloleni.
George Anyona, Chelagat Mutai and Wasike Ndobialso shared a similar world view with the radical group.
While Orengo, like many others of his ilk, has mellowed with time especially after a combined Opposition ended Kanu's hold to power in 2002, it appears the radical streak in him is alive and well.
Many presume Orengo is now firmly in ODM leader Raila Odinga's corner and would have been the last one to rock the boat like he did recently when he parted ways with his party boss on what they see as unfair distribution of 70 new constituencies contained in the Building Bridges Initiative (BBI)'s Constitution of Kenya Amendment Bill 2020.
Even as the ODM command countered internal opposition by kicking out Rarieda MP Otiende Amollo from his lofty position as vice chairman of the influential Justice and Legal Affairs Committee, Orengo vowed he would never be intimidated in compromising his conscience.
"I can never be intimidated in my political life because I have seen many people come and go, I have seen many powerful people come and go. I have seen Presidents come here and go. I have seen people who on their words, you will leave this house and be locked in the same day, they have come and gone," he declared on the Senate floor on Wednesday last week during debate on the Bill.
At the time, the grapevine had it that he was the next to be axed from his position in the Senate leadership, though ODM came out to strongly deny the same.
Insiders within ODM intimated to The Nairobian that Raila had nothing to do with the decision to kick out Amollo though it leaves a lot to be desired on why he never made any intervention to stop the crackdown.
However, Orengo's firm position is said to have alarmed the ODM leader who has staked too much on the success of the BBI leading him to make desperate efforts to persuade the maverick politician to drop his stand.
While we could not establish whether Raila made any compromises to win back Orengo, our sources say it took concerted efforts by Luo elders, professionals and Governors Wycliffe Oparanya and Charity Ngilu, among others, to broker a meeting between the two as well as Amollo meet at his Karen home on Monday ahead of the Tuesday vote on the BBI Bill in the Senate.
Later, Orengo, Oparanya and Amollo drove to Cotu supremo Francis Atwoli, another leading BBI campaigner, signifying the importance of ensuring all was well within ODM.
Ngilu is said to have sought to mediate and make the ODM leaders see the bigger picture, a position she reiterated later when she tweeted about her contribution during the reconciliatory meeting.
"In our meeting with Baba @RailaOdinga, I strongly encouraged that unity of purpose should prevail in ODM especially amongst leaders who have shown great purpose in moving this country forward. The work of dealing with the current pandemic, youth unemployment and the stressed economic times need all of us to come together regardless of party affiliations. Kenyans are looking upto us to get them out of these challenges. This is not the time to disagree about issues that should be bringing us together."
"Time and again, we women have been called upon to seize the moment and move Kenya forward. We have always measured up by bridging the divide and breaking new frontiers. Tumetoka mbali, tumefika mbali na tunaenda mbali," she added a day later alongside a catalogue of photos of the many unity meetings she has been part of from the Narc days to the BBI.
Orengo is also said to have become uncomfortable that Raila was keen on getting advice from johnny-come-latelies such as National Assembly Minority Leader John Mbadi and ODM Director of Elections Junet Mohammed at the expense of those who have been in the trenches with him for many years as he fought for the country's second liberation and later, constitutional change and pursued election petitions in court.
It is not, however, the first time that Orengo is standing up against Raila having done so in 2002 when he vied for the presidency on a Social Democratic Party (SDP) ticket even as the ODM leader (who was then leading the Liberal Democratic Party) was backing Mwai Kibaki, the candidate of the National Rainbow Coalition, a conglomeration of Opposition forces that had ganged up against Moi's push to have Uhuru Kenyatta succeed him. It saw him consigned to the political cold as Luo Nyanza could then not fathom opposition to Agwambo, as Raila is fondly referred to, alongside fellow socialist Prof Anyang Nyong'o, now Kisumu Governor.
They both had to eat ample pie to get back into elective office in 2007.
But Multimedia University Lecturer Kipkirui Kap Telwa says having the likes of Orengo, Amollo and Gatundu South MP Moses Kuria, among others, who are brave enough to tell the king he is naked is refreshing for a fledgling democracy such as Kenya's.
"We need such leaders who are driven by honesty and conscience if we are to make our democracy vibrant. Though we lack many such honest leaders, Orengo, Amollo and Kuria are trying to be the conscience of the Kenyan society," he said.
"Leaders like Koigi wa Wamwere, Jean Marey Seroney, Jelagat Mutai and George Anyona, among others, challenged the Kenyatta and Moi regimes eventually leading to expanded democratic space," Kap Telwa added.
Communities where donkeys are revered
In the community, besides burying donkeys like humans, a dead donkey is lowered into the grave accompanied with wads of cash, a token of appreciation