Dr Ling Merete Kituyi: She changed Raila's beard, fixed him with glasses and a wig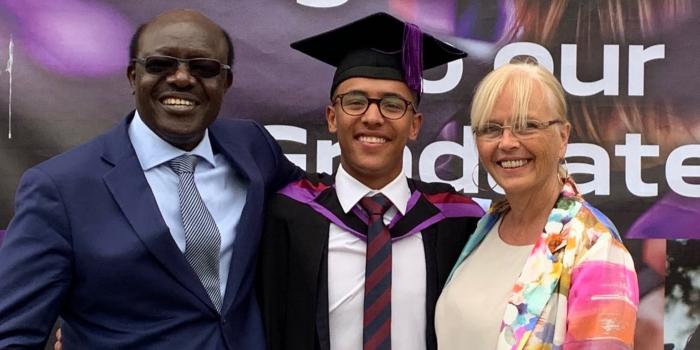 If Dr Mukhisa Kituyi succeeds in his bid to become Kenya's fifth president, he will join a small, elite club of leaders whose spouses are freedom fighters in their own right.
His wife, Dr Ling Merete, currently a senior UN official based in Geneva, Switzerland, traditionally keeps a low profile. But she is a giant of the second liberation from the 90s when her husband was among the Young Turks that took on the Kanu regime in fiery calls and protests that led to multi-party politics.
Former Sirisia MP John Munyasia explains that politically instigated tribal clashes uprooted many families from their homes in Bungoma and Trans Nzoia. Forced to seek refuge at market centres, the displaced persons suffered both trauma and physical injuries.
They shared a fate with "dissidents" associated with a crackdown on the February Eighteenth Revolutionary Army (FERA), an outlawed organisation that was said to have tentacles in the then Western and Rift Valley Provinces. Those who fell into Special Branch (the precursor to National Intelligence Service) snares were detained, beaten and tortured.
"Ling established the Independent Medical and Legal Unit (IMLU) to offer treatment and legal aid to victims. She set up medical camps to offer treatment and psychological counselling for trauma in Bungoma and Trans Nzoia and eventually spread them to Nyanza, North Rift and other parts of Western Kenya," says Munyasia.
IMLU also became the first organisation to specifically concentrate on the need to provide medical evidence on torture that had the capacity to lead to a conviction of state agents once prosecution commenced.
Describing her as a freedom fighter in her own right, Munyasia says Ling came across as a no nonsense and fearless woman who did not succumb to threats. These traits that would prove life saving for opposition leader, Raila Odinga.
Raila: Dr Ling sneaked me past police roadblocks
In his biography, Raila Odinga: An Enigma in Kenyan Politics, which was written by Nigerian Babafemi Badejo, the ODM leader recalls how Dr Ling sneaked him past police roadblocks as he escaped a police dragnet.
Raila had fled his Kileleshwa home after receiving intelligence from a United States embassy official Allan Eastham that there were advanced plans to arrest and potentially execute him.
After spending a night at James Orengo's residence on a day the police raided the Ugenya MP's Agip House office in a bid to arrest him, an arrest that was thwarted by a battery of lawyers led by Martha Karua, a decision was made to relocate him to Kituyi's home.
He was driven over by Prof Anyang Nyong'o where spent a week under cover as the special branch hunted him down. Realising the clock was ticking ominously,a decision to seek refuge at the US Embassy was made.
It fell on Dr Ling to drive him to the embassy. To successfully beat the police dragnets, according to the biography, she changed Raila's beard, fixed him with glasses and a wig and made him sit at the back of the car.
However, while embassy officials accorded Raila an audience, they declined to host him for fear of further antagonising the government, which was still seething after the Embassy offered refuge to opposition lawyer Gibson Kamau Kuria.
Raila was to stay for another week at the Loresho home of Jalang'o Onyango before the Catholic Church helped him escape to Uganda disguised as a priest en route to Norway where he was granted asylum.
Sanctuary for the Young Turks
Kituyi's home became a sanctuary for the Young Turks and others pushing for political reforms before the Kanu regime eventually agreed to amend the Constitution to allow a return of multi-party democracy and in the years that followed.
Using her deep connections within the diplomatic community in Nairobi, Dr Ling played a pivotal role in spiriting away other pro-democracy elements to safe havens in Norway and other western countries where they gained asylum or exile.
Apart from Raila, others who benefited from her connections were Kiraitu Murungi, Wanyiri Kihoro and Koigi wa Wamwere, among others.
"They would normally spend a week or two at Kituyi's residence as she worked on their papers before helping them escape the country mostly in disguise. Norway, her home country, was the most favourite destination," one of those familiar with her work at the time told The Nairobian.
Others who worked with Dr Ling also say that together with Prof Maathai, she acted as a link between the firebrands and alternative press journalists such as Pius Nyamora, the founder and editor of the fearless Society magazine.
Njeru Kathangu, a former Runyenjes MP, who was also jailed under Moi, narrated how she would fundraise as part of efforts by IMLU to take care of those who had been tortured at Nyayo House and other police detention cells.
"I was the chair of the victims of torture. We would refer them to IMLU where they were assisted with treatment. She also worked with lawyers who took up their cases in court and helped raise funds for these programmes," he told The Nairobian.