Governor Okoth Obado: I won't vie for Uriri Parliamentary seat, it is like kalongo longo in my village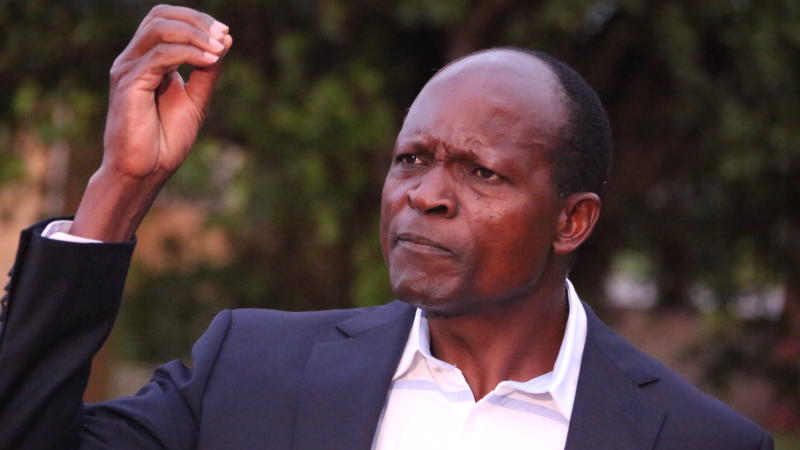 Migori Governor Okoth Obado has termed calls by a section of supporters to have him run for Uriri Parliamentary seat as the worst joke ever and likened it to playing kalongo longo in his village.
Obado, who is serving his second and last term in office according to the 2010 Kenya Constitution, will have to pave way for another county boss in 2022.
The governor believes he has made friends all over the county and he would not wish to abandon them and go for the simple MP post. He said the MP seat is a lesser political position compared to his current post of county chief executive.
The governor, who spoke at the burial of Uriri MP Mark Nyamita's aunt while addressing mourners, said he heard people saying he would be vying for an MP seat in his constituency after his term ends.
"There are people who are saying, though they have not told me directly, that I am going to vie for an MP seat here in Uriri.
"I have made friends in Rongo, Awendo, Uriri, Nyatike, Suna West, Suna East, Kuria and everywhere in the county. I would not wish to drop them and start playing kalongo longo here in my village," Governor Obado said.
Obado noted, academically, a pupil in school would be promoted from a lower class to an upper one and not vice versa.
Owing to his previous remarks, which elicited discontent among Migori leaders, the governor noted that his preference to move to another party, other than ODM, did not mean the seat he would go for was that of Uriri constituency.
"It is powers among the electorates that determine who gets which political seat. When one is in nursery, he goes to class one and moves forward instead of backwards," Obado said.
The governor added that he wants to be the party leader of Peoples Democratic Party (PDP) and asked Migori residents to help popularise the party.
Obado explained that even when other parties members including ODM stood to speak, people from Migori should also volunteer and let others know that there is a party with the name PDP, whose motto is 'the power is in the hands of the people'.
He warned the leaders, especially those from Migori, to avoid stabbing him in the back for his move to decamp from ODM party and forming his own. He said even other leaders in other counties, including governors, had formed their own parties and were not being attacked for it.
The governor remarks to vie for elective position on another party, as its party leader, elicited reactions among Migori leaders who said the county was an ODM stronghold and would not accept anyone introducing another party and destroying the peace which the people enjoy.
Educated at St Joseph Rapogi and later Kenyatta University, Obado was little known until he contested and was elected as director of the Kenya Sugar Board representing farmers in the Sony sugar zone.
He served as a director for three terms, during which he worked closely with the late Ndhiwa MP, Orwa Ojode, in pushing for the establishment of the sugar factories in Ndhiwa (Sukari Industries) and Trans Mara.
Hide your knickers
Hanging your underwear on a public clothesline makes them public property