Deputy President William Ruto, from top State House insider to prayer warrior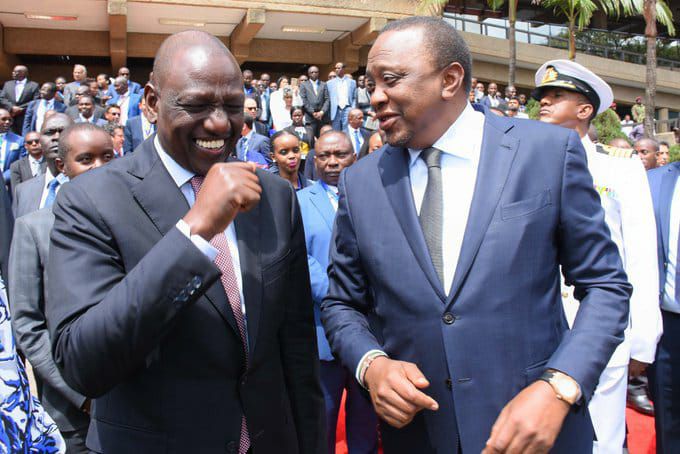 Nairobi Governor Mike Mbuvi Sonko's case pales in comparison to the situation Deputy President William Ruto is in today.
The one time "co-president" is the embodiment of how political marriages brewed in Kenya usually end up in an acrimonious divorce.
At the start of their tenure, the dynamic duo spotted matching shirts, replete with matching ties. They were a raging fire, crisscrossing the country, promising laptops to class one pupils and seven stadiums. But the friendship has fizzled out, giving birth to cold impotent ash.
The DP is now a spectator in government. Last week, he took to Twitter accusing the government he serves of abusing police and the criminal justice system to bully citizens, threaten leaders and blackmail the Senate.
"Wrong. Very wrong. It's not the reason millions woke up early to vote for us," tweeted the man who has since been pushed away from project launches and purged from the centre of government.
He is charting a lonely path to the 2022 General Elections, the shadows of his failed predecessors trailing him. The civil service bureaucracy, the engine that runs government has further drifted away from him.
He has transformed his official Karen residence into a combination of a prayer sanctuary for his arduous journey, a donation centre for his political fans, an innovation hub for his hustler nation, and his political mobilisation capital.
"He became an ordinary citizen long ago. Only a motorcade and the flag have remained, but otherwise, he is just another citizen camouflaging as a senior government official. His Tuesday statement confirmed as much," legislator Junet Mohamed said.
In recent months, Ruto has made it clear he is spectating within the government. While the government is busy working on Covid-19 mitigation as well as other projects, he has been hosting religious leaders at 'worship' meetings.
Political analyst Dr Wang'uhu Gitonga argues that in politics, once a mission is accomplished, the rest becomes fair game.
"The unity between Uhuru and Ruto on the ICC cases was a marriage of convenience. Once the threat evaporated and especially after he actively started campaigning prematurely for the presidency, a fall out was inevitable," he told The Nairobian.
Then there was Uhuru's lawyer, Prof Kithure Kindiki who led a team of attorneys representing Uhuru at the Hague in 2011. From The Hague, his fame was such that it was easy to clinch the Tharaka Nithi seat at the Senate-where proximity to the president saw him beating veteran politicians Kiraitu Murungi and Mutahi Kagwe to become Leader of Majority.
Today, Kindiki is clutching at straws not to drown in the raging river of political betrayal, the bells of political treachery having tolled for him. He is in the political wilderness, after the blood bath following the purge in Jubilee, which saw him losing Leader of Majority post and an impeachment motion, which threw him out as the Senate Deputy Speaker.
His Cardinal Sin was his open dalliance with Ruto's 2022 ambitions and plain defiance to Uhuru's summon to attend a Jubilee Coalition Parliamentary Group meeting where politicians allied to Ruto were kicked out of plum committee positions.
Hide your knickers
Hanging your underwear on a public clothesline makes them public property