Tarang'anya High: Where Governor Okoth Obado taught Mathematics and Physics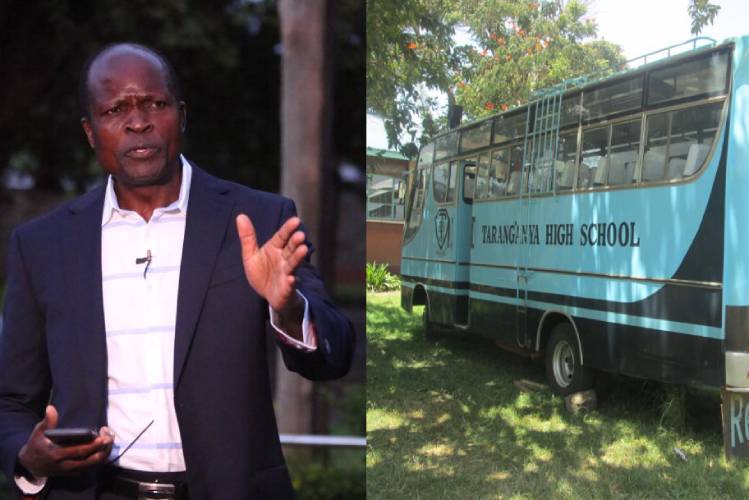 Tarang'anya High School in Kuria West constituency was founded in 1958 as an intermediate primary school.
In 1965, a single streamed harambee secondary class was started with the pioneer class sitting for their examination three years later.
The same year, the then area Member of Parliament Maisori Itumbo pushed for the registration of the school as a government institution. It was officially registered in 1969. In 1971, a second stream was unveiled and in 1983, the school admitted A-level students.
In 1980s to 90s, 'Tara' as it was commonly referred to was known as a football powerhouse rivaling the likes of Isebania high school. The then principal Erick Kionge Awino would hire a lorry to ferry students to football matches.
They would carry banners bearing the message 'Tara Kaffira State', in support of the team. Later, the school managed to purchase a landrover to ferry the cheering squad to the school games.
Among the well-known former teachers at the school is Migori Governor, Okoth Obado, who taught Physics and Mathematics. He would ask boys to go bath in River Nyangoto during long dry season. Kadika Girls is touted to be the sister school where the students would always go for Christian Union (CU) crusades that turned to be God-sent opportunities for bonding.
Currently, the school is under Dr Elphas Luvaso as chief Principal. It has a student population of over 900 and six streams. Notable alumni who were guided by the school motto 'Service And Justice', clad in navy blue trousers and sweaters and ties with white shirts include Kenya's High Commissioner to Nigeria Wilfred Machage, who is also former Migori senator, MP and assistant minister, late Ben Oluoch, former Migori senator and radio personality and Hassan Yusuf Abdi, Kamukunji MP.
Hassan was a radical student who was expelled while in Form 3 for leading a strike. He sat for his final exams as a private candidate. Others who recall former principal Kionge Awino's decree, "If you have not brought school fees, you better go back home with Nyakwengata bus and come with the money, are Robiwanswi Caaca, Radiological Technologist, Joseph Mwita, Lecturer, Karatina University, Iranda Masiko, Forensic Document Examiner, Directorate of Criminal Investigations (DCI) and Jackson Omwega Engineering Surveyor.
Other alumni include, Kenya Airports Authority, George Onyango, Senior Accountant, ministry of Foreign Affairs, Sam Mwita, Cash Transfer Programmer, ministry of Labour and Social Protection, Aden Marwa, former FIFA referee, Dr Erick Adede, former Gor Mahia chairman and Austin Ajowi, football coach.
Among those who retired to Chui, Simba (IDP), Ndovu, Nyati ( footballers), Kiboko (Ward) and Kifaru dormitories after enjoying ugali with madodo during supper on Wednesdays served by Bogare include Nelson Okanya, Global Mission President at Centre for Service Leadership, Job Mokaya, Publishing Manager, East African Education Publishers, Reuben Onyimbo, Commercial Manager, Nation Media Group, Kennedy Okumu, Quality Assurance Officer, AAA Growers Limited and Brian Mwita, Human Resources Administrator, Villa Rosa Kempiski.