Archbishop Njenga Girls High School: Regional giant where girls soccer is tradition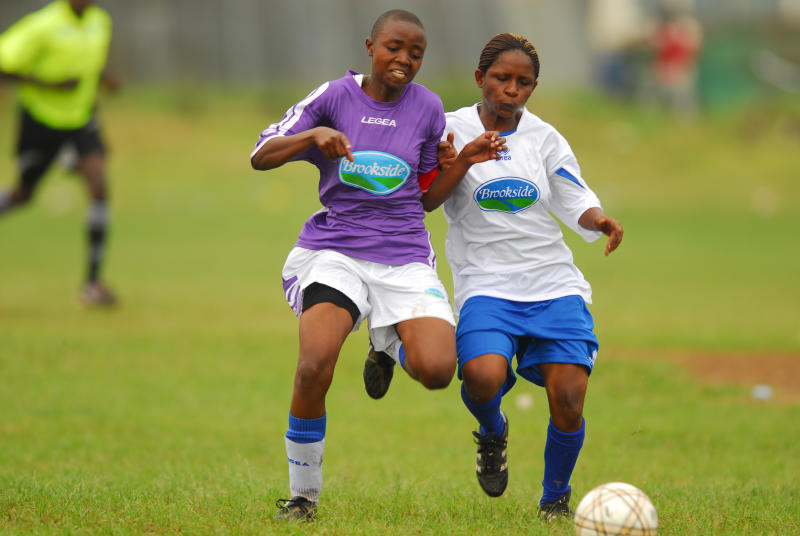 Archbishop Njenga Girls High School was established by parents from Chekalini. Then known as Chekalini Mixed Secondary School, it started as a harambee school back in 1971.

It had an initial enrollment of 17 students - nine boys and eight girls. The school utilised an old house left vacant by an ex-European settler as its first classrooms with an adjacent building being used as teachers quarters, a store and administration block.

In June 1972, the boys were phased out and moved to the nearby Catholic sponsored institutions before the school changed its name to Archbishop Njenga Girls High School after retired Rev. Archbishop John Njenga accepted to be its sponsor.

In 1978, the school was allowed to teach A-level classes focusing on arts based subjects. The government then took over its management in 1988 and oversaw its growth from a single stream to the current five streams. Alongside its excellence in academics, the school has stood as a giant in promoting sports and extra curriculum activities.

In 2002, the school won a bronze at the national girls soccer competition to qualify for the regional games where it ruled the roost at the East and Central Africa Championship for five years in a row beside clinching a Soya awards trophy. The school is also good in music. The current principal is Mrs Rose Tangus with Mrs Flugencia Khakayi serving as as her deputy.

Those who remember the school motto, "Archbishop Njenga Girls High School for the Progress", clad in navy blue skirts, ties on white blouss with sky blue sweaters include Florence Vilegwa Salano, a manager at Equity Bank; Rachel Munde of the Kenya Film Classification Board; Charity Akelemo, a senior nurse at Njoro Sub-County Hospital and Carolyne Anekeya, a nurse at ministry of Health.

Others who enjoyed sweat potatoes aka "Mabwoni", served on Saturday for breakfast with tea and rice and beef for supper served by Mwaboza before retiring to Harambee, Nyayo, Musungu, Moi, Maraka and Kinara dormitories include Seline Mwenje, now working with Care International Kenya; Dr. Lydia Wamocha, a senior lecturer in educational planning and management at Masinde Muliro Univesity of Science and Technology (MMust); Winfridah Amumbwe of Kenya Airways; Maureen Nabibya, a senior principal magistrate in Mombasa; Ruth Kulundu, who works with IEBC in Siaya county and Sarah Owendi, a producer at Rembo TV.

Those who hiked lift in the Leyland truck before the new Scania school bus was bought during music, drama and academic tours to other schools including Kivaywa, Musingu, Lumakanda boys aka Lumanjenga with Mr. Diblo behind the wheels include Flora Wanda, who is a lecturer at St. Augustine University in Tanzania; Irene Karani, an official with AFC Leopards; Melab Lumala, a nominated MCA in Nairbi County; Fridah Wesa, a proprietor of Gift of Hope Schools; Dr. Robai Khasoah, a doctor at Manor Park Hospital in Dallas, Texas and Dr. Mary Moleaye, a lecturer at Mount Kenya University.

The school alumni is structured in chapters namely Nairobi, Coastal, North Rift and Western led by current President Ms Pauline Sisa Kiptoo, deputy Nazreen Bahuh, Carolyne Nyambati as the secretary General, Lilian Ilaini, the Organising Secretary and Florence Vilegwa Salano the treasurer.

The worst punishment was cutting grass around the ablution block with a blunt jembe or cleaning washrooms the entire lesson when found sleeping in class. There was entertainment on weekends where the dance floor was open for all and during outings to sing for the late President Daniel Arap Moi where an extra loaf of bread or beef was guaranteed afterwards.