Premium
Couple who got married at E-Citizen launch owe it to Presidential team intervention
NEWS
By Benjamin Imende | Jul 6th 2023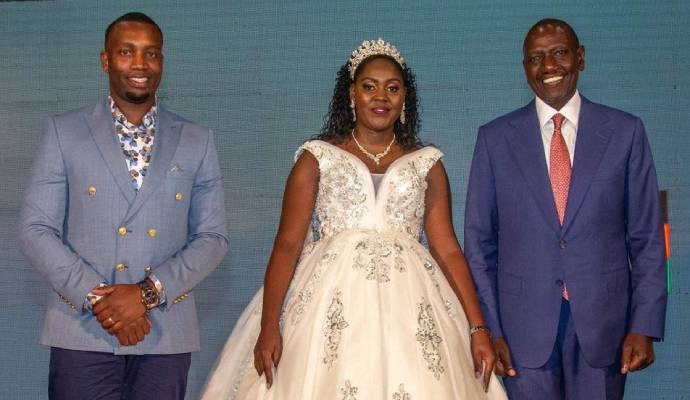 After three couples declined the prestigious Kenyatta International Convention Centre (KICC) and E-Citizen launch as their wedding venue, Nicholas Ngunjiri and Judith Jelagat saw a golden opportunity to wed, love, and stay together forever.
They decided to make their marriage official at the Attorney General's office. Little did they know that their special day would be graced by none other than President William Ruto himself.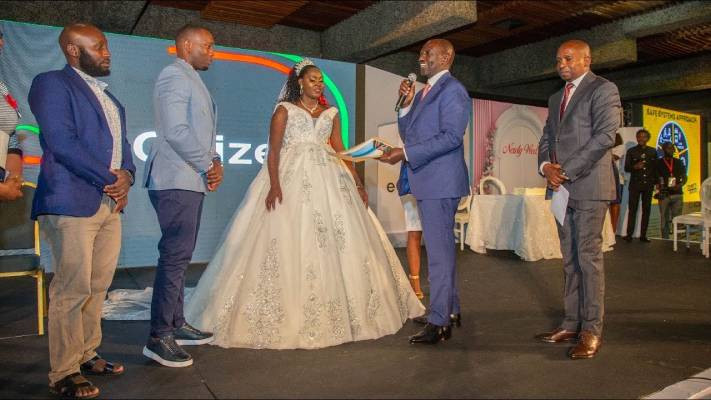 With Ruto, family, and parents as witnesses, the new couple walked hand in hand down the aisle, exchanging tender kisses and heartfelt promises to love and cherish each other in richness and poverty. But the true magic of their story lay in the heartwarming backstory that unfolded. Judith had held onto a light blue blouse, dreaming of wearing it on her wedding day, only to have her hopes dashed. CAS Nominee Dennis Itumbi, touched by their predicament, sprang into action.
He guided Nicholas to a suit shop in the bustling Central Business District (CBD), ensuring he looked like the dashing groom. Meanwhile, Judith found her dream wedding dress at Whiterose in Langata, a timeless masterpiece that would make her radiant on her special day.
The kindness didn't stop there. Stanley Kamanguya, the CEO of ICTA, surprised the couple with a magnificent cake, symbolizing shared joy and celebration. Premium wedding event planners, Allure and Axxure, added their magic touch, creating an enchanting atmosphere for exchanging their vows. As the wedding day approached, a local TV station lent its support, enhancing the couple's natural beauty with professional makeup services.
The long-awaited day arrived. Nicholas stood tall in his perfectly tailored attire, capturing the essence of a dapper groom. An ethereal vision, Judith exuded beauty and grace in her dream wedding dress. Surrounded by family and friends, their hearts swelled with love and anticipation as they exchanged heartfelt vows.
Madzayo suit threatens to open eCitizen's 'can of worms'

Ruto challenges youth to be part of change in Africa

Raila Odinga: Kenya needs international help to end Ruto's tyranny

We need CASs to deliver our agenda, Ndindi Nyoro says
The wedding was to demonstrate that the e-Citizen platform can handle everyday activities without visiting a physical office.
The couple got a boost when the government sponsored their honeymoon, topped with return flight tickets and a ride in a limousine.