Premium
Twist emerges as main suspect denies involvement with murdered accountant June Jerop
NEWS
By The Nairobian Reporter | Apr 14th 2023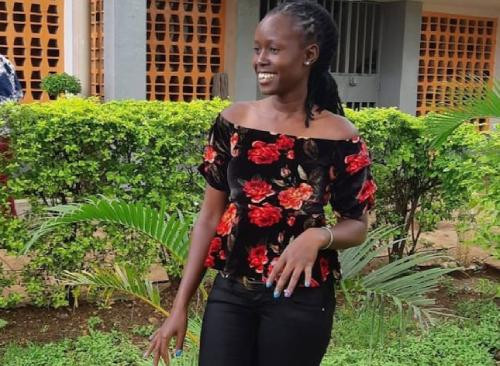 The mystery behind the death of a Nairobi accountant has taken a new twist after the main suspect believed to be her boyfriend denied they had an affair.
Jesse Wafula, 32, was linked with the death of June Jerop Kangogo and has been in custody for the last two weeks as police continue with investigations into the gruesome murder.
As questions linger over whether Jerop's murder was due to a business deal gone sour, job-related or a love triangle, Wafula has come out to deny reports they were in a relationship, saying he is a happily married man with one daughter.
Jerop was an accountant at the National Industrial Training Authority (Nita) in Nairobi and was found murdered and her badly mutilated body dumped in Jamhuri Estate, Nairobi last month.
In a fresh twist, Wafula has now moved to the High Court seeking to block his prosecution over Jerop's murder.
In the court documents, Wafula describes himself as a young man living partly in Nairobi but doing business in Bungoma.
Man sentenced to 45 years in jail for student's murder

Current crises in education now affecting all economic sectors

Police arrest man over wife's murder

Former police officer convicted of George Floyd's murder stabbed
In a sworn affidavit, he stated that on March 18 he was in Bungoma as usual but was arrested on March 23 in connection with Jerop's death.
"I was contacted by the deceased on the 17th of March 2023 and the 18th March 2023 but did not manage to talk. Both times that the deceased tried to contact me, I did not manage to answer her calls," he stated.
Through a supporting affidavit, Wafula further claimed that he was also in the business of selling salvaged cars and had sold a motor vehicle to the deceased worth Sh1 million.
Thus by the time of her death, the car was still registered in his name, ostensibly to help her escape some queries at her workplace.
"The deceased asked me to have the lease put in my name so that she could escape any queries being asked at work since she was earning Kenya shillings Forty-Eight Thousand and her monthly rent was Kenya shillings Thirty Thousand," he stated.
Matching signals
Wafula was arrested in Nairobi on March 24. Investigators said he was arrested because his and the deceased's phone signals matched locations on March 19.
Two other suspects, Allan Wafula and Timothy Masika, who were Jerop's colleagues at Nita, were also arrested in connection to her death but were released.
Stay informed. Subscribe to our newsletter
"CCTV footage from the residence of the deceased does not show her with me. Her phone, which is in possession of the officers, shows her location prior to her death," he stated in part, adding, "I am facing a serious charge. It is not disputed that there has been a trend by police officers to arrest suspects and seek further time from the judicial officers to conduct further investigation.
"I have provided information that clearly shows that the deceased and I were not together either prior to her death or after her death," Wafula added.
He explained that none of the witnesses who have recorded their statements have tied him to the death of the deceased.
Adding that he is being detained while he is innocent and that his right to movement is being violated. Further, Wafula fears that his right to life is at risk and that the officers are ill-natured.
"If the said police are not restrained, they will only continue to frustrate and cause commotion in the applicant's life," the documents read.
On the material day, it is reported that Jerop left class at Kenyatta University in the evening hours and went missing, only for her body to be found.
A postmortem conducted on her body at Monalisa Funeral Home in Nairobi revealed that a sharp object was used to injure her in her chest.
For this reason, it was concluded that she died of excessive bleeding since the object pierced through her chest all the way to the heart.
The deceased's family said it was painful to lose such a young relative and called for proper investigations so that the culprits can be brought to book.
Jerop hails from Moiben Constituency in Eldoret, Uasin Gishu County, where she was laid to rest.