Premium
MP Peter Salasya: Linet Toto is my friend, we just mingle for fun
NEWS
By The Nairobian Reporter | Apr 3rd 2023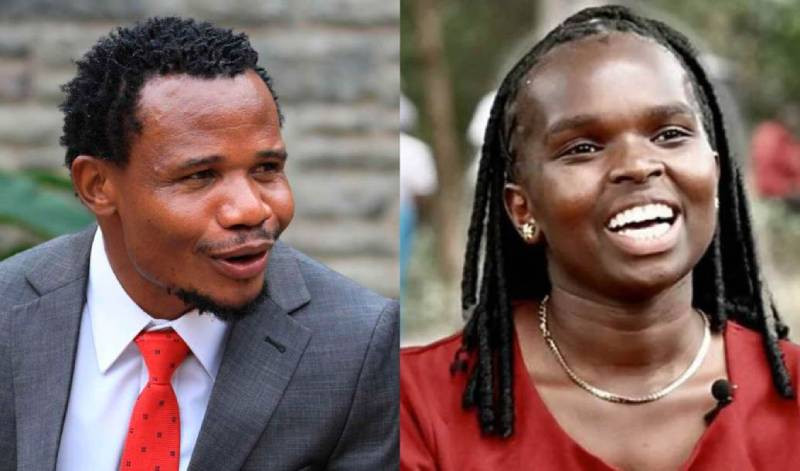 Mumias East Member of Parliament (MP) Peter Salasya has once again kept his followers guessing over his next move after he posted a photo while sharing a meal with Bomet Woman Rep Linet Chepkorir Toto.
The controversial lawmaker is said to prefer the company of women, prompting some of his colleagues, including Lurambi MP Titus Khamali, to urge him to get married.
Immediately after his election in the August 9 General Election, Salasya's singlehood ignited debate after he said he had not found the right woman to marry.
However, it is Salasya's photos with Toto that have attracted hundreds of comments on various platforms.
"With mhesh Linet Toto and Hon @CharlesNgusyaN MP mwingi west on our way to Tanzania team Kenya athletics of @NAssemblyKE," he wrote in a caption on the photos.
This is the second time the two are being seen in public since they hit headlines after they differed politically over the ongoing anti-government demonstrations, with Salasya threatening to "impregnate" her for "disrespecting" Azimio leader Raila Odinga.
Divorce is an act of courage or cowardice; think twice before quitting

World Bank wary of Kenya's Sh277 billion Eurobond repayment burden

Kakamega man charged for stoning mother-in-law's car

Marriages have turned into bitter spaces full of hate instead of love
But days after the spat between the two legislators in late February, they shared a podium during Prophet David Owuor's prayer rally in Bomet County.
And now, Salasya has downplayed those who could be reading too much into his closeness with Toto and other hot lasses in the political space.
When asked if he is lucky when it comes to women, the MP replied: "That is a sensitive topic to me but I love mingling with them."
He further added: "Toto for instance is my friend and there is nothing between us, we just mingle for fun. In fact, as we speak, I'm with another female MP from Nyeri, I just mingle with them."
Stay informed. Subscribe to our newsletter
Toto is, however, in a relationship after she recently accepted a proposal from a lover whom she had kept away from the public. The Woman Rep and her fiancé Godfrey Kimutai got engaged on February 14.
Kimutai was seen on one knee with another photo showing Toto holding a bouquet of flowers. Already, the families of the two have met for her dowry negotiation ceremony as per Kipisgis tradition as they move their love to the next level.
Looking for a prayerful lady who is young, focused, and supportive
Salasya congratulated Toto on her engagement, promising to attend their wedding.
He, on the other hand, is still single despite the fact that he met a young lady who came out confessing her love for the lawmaker sometimes last year.
The woman identified as Lydia Ronad reached out to Salasya after standing for several hours with a placard along Tom Mboya Street.
"I met the woman for a cup of tea and she was serious, I will still look for her when I get time because I'm a very busy man," Salasya said in a phone conversation with The Nairobian.
In a TV interview, Salasya said he was looking "for a prayerful lady who is young, focused and supportive" and one ready to hit the ground in his rural constituency looking for votes.
He said he was not interested in urbanites since they are likely to lay "traps" for him.
But this did not deter a musician from the Western region, Juliana Malesi Kakai, from also proposing to him. She said God had shown her in a prayer that she was the right partner for the MP.
"I have made up my mind and I'm now ready to marry Peter Salasya, a man I believe in my spirit is my God-given husband," the 28-year-old Kitale-based artiste said.
At the same time, a wife-vetting committee headed by Kakamega Woman Rep Elsie Muhanda reportedly received 30,000 applications but none of them was wife material, according his criteria. Salasya, now 32, is a former student leader at Egerton University who garnered 12,140 votes against his closest competitor, David Wamatsi of ANC who got 9,043 votes.
He had been dismissed as a 'mad man' by his competitors and their supporters when he declared interest in the MP seat.
"I was told that one would need between Sh20 to Sh30 million to mount a serious campaign. There was no way I could raise that amount just like I could not buy the talk of stepping out of the race for lack of money," he shared after the elections.
Adding that: "I bought some paint and with the help of volunteers painted virtually all stones in the constituency with my name".
The MP said he was chosen by God and he had prayed that Mumias East constituents would accept his candidature. His message, tailored on reviving Mumias Sugar, raising the education levels in the constituency, empowering youth and women, and ridding the CDF kitty of graft, somehow resonated with the voters and saw his support surge, bringing more favour.
Marry when you want, says expert
Relationship therapist Nicoletta Mungai argues that no one should succumb to societal pressure to marry when they are not ready.
"It is not written anywhere that a man must marry at that age, at the same time he (the MP) was not seeking for the seat so that he could get a wife," she said.
She explained that society is full of pressure but the MP seems to be an open person if he accepts to have lunch with the woman who came out confessing that she loves him.
The expert says there is always the right time for everything, and that the MP's priority could be to deliver to his electorates as he promised them when he was seeking to be elected.
"Men are very factual, on the other hand, the moment someone gets into a relationship they could forget what took them there," she said.
"Being a single celebrity is not a mistake because those who are coming out to confess love could be after money or fame but will not withstand challenges when fame fades," she noted.