Presidents Jomo Kenyatta, Uhuru Kenyatta and Kibaki all had look-alikes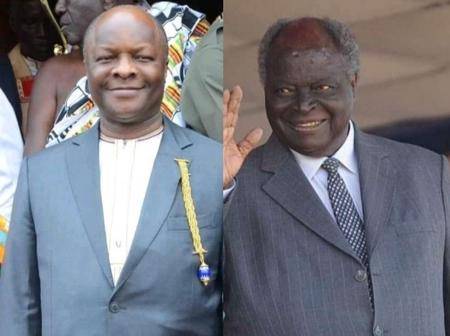 Most, if not all of us, have looked at someone twice when mistaking a random person on the street for someone we know or know of. It could be a relative, friend or a popular individual in the society. A previous report by BBC indicated that everyone has someone out there who is a perfect duplicate.
They could have your mother's eyes, your father's nose and that annoying mole you've always meant to have removed. We live on a planet of over seven billion people, so surely someone else is bound to have been born with your face. The late President Emilio Stanley Mwai Kibaki was no different.
At the point of his demise, Kenyans had come across at least two of his lookalikes who made headlines just for looking like the former head of state. Samuel Njau Gicheru was born in Gatundu, Kiambu County but runs a family business in Kirigiti.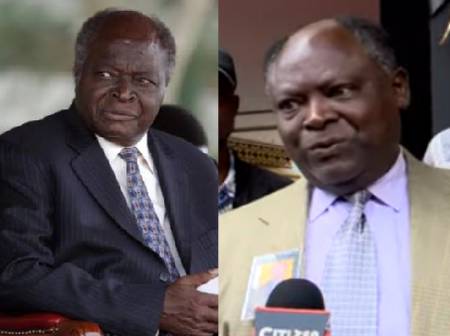 He was also among the hundreds of Kenyans who trooped to the Parliament buildings on April 25 to pay their last respects to the late President Mwai Kibaki. It is his striking resemblance to Kibaki that caught the attention of many. When questioned by journalists, Gicheru denied having any relations with the former Head of State.
"The fact that we look alike does not have to necessarily mean that we are related. Everyone has a lookalike in this world," Gicheru said.
Apart from the unquestionable resemblance, Gicheru disclosed that his wife's name was Lucy and that he also got into an accident years back. He further disclosed that he had joined politics years back, but left when he was involved in an accident. President Kibaki, too, was involved in a road accident in Machakos during the 2002 campaigns that saw him oust the KANU regime.
As if that was not enough, in 2019, social media users in Kenya were surprised after pictures of a Ugandan man who bore a striking resemblance to the deceased president emerged online. The man, whose picture is now all over the internet, was identified as Ronald Edward Frederick Kimera Muwenda Mutebi II.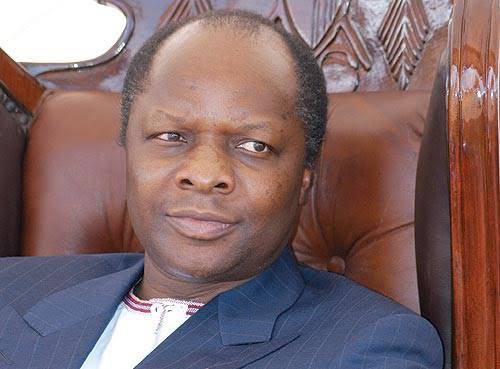 The 63-year-old is the reigning Kabaka (also known as king) of the Kingdom of Buganda, a constitutional kingdom in modern-day Uganda. He resembled Kibaki so much that Kenyans made speculations of blood ties between them, owing to the fact that Kibaki studied at Makerere University.
A look-alike, double, or doppelgänger is a person who bears a strong physical resemblance to another person, excluding cases like twins and other instances of family resemblance. In most cases, the look-alikes do not have any biological or genetic ties and are complete strangers.
Believe it or not, scientists say that statistically, every person has roughly six doppelgangers out there in the world.
That means there are seven people with your face, including you, out there. Kibaki, therefore, wasn't alone.
Michael Njogo Gitonga who is also commonly known as "Uhunye wa umoja" has an uncanny resemblance to President Uhuru. In a past TV interview, Gitonga said that, his mother, a police officer, was once stationed at Jomo Kenyatta's Gatundu home in the '60s and early '70s. Uhuru's own father, Jomo aka Burning Spear, is believed by Ugandans to be one of their own.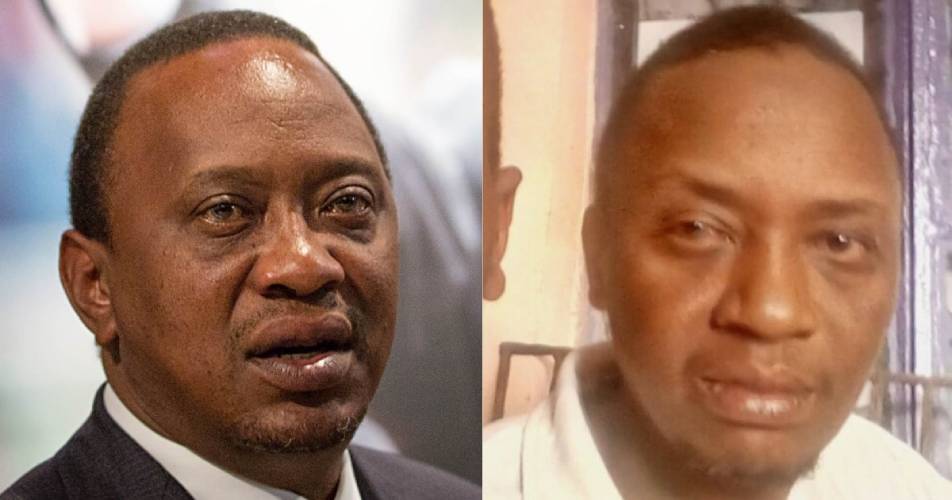 So much so that in 2013, Uganda's The New Vision sensational claimed that Kenya's fourth president Uhuru Kenyatta could be of Ugandan royal blood. After Uhuru's swearing in, the Bunyoro monarch, Solomon Gafabusa Iguru sent a congratulatory message to his 'cousin' on his election victory.
In a story that tells why success has a thousand fathers...A message from Omukama, or King, cited the old cordial relations between Bunyoro and Kenya and recalled how the late Jomo Kenyatta often visited the Omukama's father, the late Sir Tito Winyi. The newspaper even published pictures of relatives whose looks are similar to those of Kenyatta's.
According to the New Vision, the theory that the first president of Kenya was a son of the Omukama Kabalega of Bunyoro-Kitara has for ages been doing rounds in Uganda and with Uhuru being elected as president, the rumours mills were working overtime to justify the claim.
Retired Judge of the East African Court of Appeal Justice Benna Lutta who also served as Solicitor General after independence was quoted in the Monitor saying he was present when When Kenyatta was crowned as King of Bunyoro at a ceremony attended by luminaries like Jaramogi Odinga, Achieng Oneka, Joe Murumbi, JD Kali and others.
"When we got inside the palace, Sir Tito faced president Kenyatta and told him: 'Go straight there. That is your father's chair. Go and sit on your father's chair.'
And it was not an ordinary chair. It was a throne, very ornate. Kenyatta did not ask any question or hesitate in any manner. He strode majestically there and sat on the throne. It is as if he knew everything."