Caretaker in court for conning, biting and evicting tenant
NEWS
By Lilian Chepkoech | May 18th 2022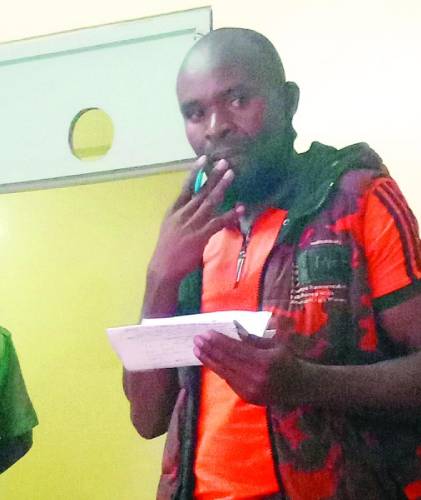 A woman in Shauri Moyo estate has accused a caretaker of tricking her into buying a house only to eject her because she was poor.
Lisper Mwende Muthoni, a food vendor, told a Makadara court that Vincent Anyula Muthoka swindled her on different dates between July 18 and 20, 2021 at the Ministry of Housing offices in Kamukunji Sub-county.
"Anyula, together with another person not before the court, with intent to defraud, obtained a sum of Sh30,000 from Mwende by falsely pretending he was in a position to rent to her a house, a fact he knew to be false," read the charge sheet.
Mwende recounted how a "humble" Anyula approached he and told her that his brother, who is a county commissioner, was giving out houses at Sh25,000.
Impressed by the enticing deal, Mwende swiftly sent Sh25,000 to the commissioner.
"Shortly after making the full payment for the purchase of the house, I collected my belongings to move into the new house only for me to be welcomed with an open house with no windows and doors," she said.
"I did my best to put curtains and later doors but Anyula demanded that I add him Sh5,000 so that I could be allowed to own it. I complied because I had already paid money," she said.
She added: "He also demanded Sh1,200 monthly rent and I was puzzled at how a homeowner could pay rent. However, I paid the rent for two months when Anyula's brother came and vandalised the door to my house, saying I had to vacate because I was poor and that I had depleted the money I had paid."
She was then ejected and her property was thrown outside. She said her TV, microwave and a tent worth a total of Sh149,000 were stolen.
Mwende said she reported the matter to the police who arrested Anyula but his brother was nowhere to be seen: "But he came, assaulted and bit me on the hand before kicking my nine-year-old daughter on the lower abdomen, causing her complications and constant bleeding."
Anyula declined to cross-examine Mwende, insisting she wasn't the complainant and demanding she produces an identification card to prove she was the victim.
Mwende said Anyula also confiscated her ID card.