Magoha: Stop having sex and focus on school, you will have enough time for lovers in future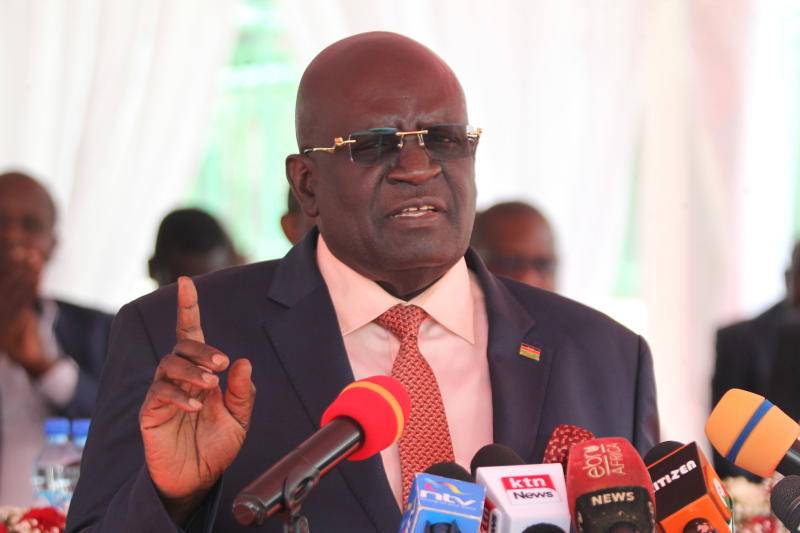 Education Cabinet Secretary George Magoha has told primary school children to stop engaging in premature sex and instead focus on their studies.
Magoha, while on a tour at Kakamega Primary School, told Standard Eight candidates that they will have enough time to have lovers in future after excelling in school.
"How can you be sexually active when you are in primary school? Your body is the temple of the Holy Spirit and you are not supposed to even think of how you will reproduce. You will have time to do all those things that seem important now. Instead, focus on your studies," he told the pupils.
Magoha continued: "Do not commit suicide over an illicit love affair. The best thing you can do is to talk to your parents about such relationships rather than committing suicide. If they don't initiate it, you can always start such conversations."
The CS told the candidates they have reached the adolescent stage and it's easy for them to lose focus. He warned against paying much attention to matters that will affect their academic results.
Prof Magoha said he expects the candidates to maintain the school's performance, which has been exemplary over the years.
"You have reached a stage where your hormones are making you feel a way you don't always understand. You will start feeling attracted to each other. When the hormones come, just believe in yourself and have self-drive. That's the only gateway to success," he said.
The CS further asked the pupils not to shy away from reporting teachers who make sexual advances towards them. "They should report immediately for stern action to be taken against such teachers," he said.
"If you see a teacher looking at your neck suggestively, report him and I will deal with him," he added.
Magoha also asked parents to spend time with their children to instill discipline. He said while at home, children should be allowed to do the house chores instead of overburdening house, helps for those who have them.
"They should allow their children to do the work."
He said there is a dangerous trend where parents have no time for their children.
"The children don't need the money you pay in school as fees, but you time as a responsible parent. Take time to listen and reason with your children, you will help in shaping your child's future."
The CS's sentiments come at a time when teenage pregnancy is rampant in Kakamega. Amelda Barasa, the Kakamega County Reproductive Health Coordinator, said there were 558 teenagers aged between 10-13 years who got pregnant in 2021.
In Kenya, unintended pregnancies stand at 41 per cent, 34 per cent were mistimed while seven per cent were unwanted as per the latest report by Performance Monitoring Action (PMA) under the International Centre for Reproductive Health.
The Covid-19 pandemic affected health programs and services delivery for about three and half months with the consequence being 1.4 million unintended pregnancies, according to the World Health Organisation (WHO).
The Ministry of Health maintains it's illegal to offer family planning methods to children below 18 with severe consequences for culprits. The report, however, shows "16 per cent of adolescents reported discussing family planning with a health care provider or community health worker in the past year."