Church appoints first woman to head Kenya West territory
NEWS
By Nathan Ochunge | Feb 16th 2022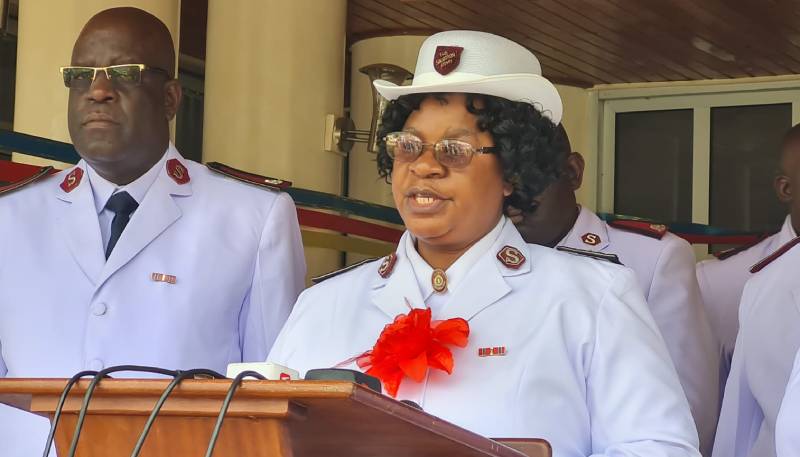 History was recently made by the Salvation Army after the church appointed the first ever woman as the Territorial Commander for the Kenya West Territory. Kenya West Territory is divided into 33 divisions and covers Western, Nyanza, South Rift and North Rift regions with over half a million followers.
Commissioner Margaret Siamoya, a Zambian was unveiled on Sunday at Bukhungu stadium in Kakamega town by Keith Conrad, Salvation Army international secretary for Africa together with Commissioner Yvonne Conrad, the Zonal Secretary for Women Ministries.
She takes over from Commissioner Stephen Chepkurui who has been at the helm of power since January 1, 2017. Chepkurui, together with his wife, Commissioner Grace who has been the Territorial President of Women's Ministries have both retired.
"God called me into ministry of the Salvation Army 30 years ago and I have never looked back since my ordination in 1991. I am ready for the task ahead. I am here to see the spiritual growth of the flock throughout the territory and also win more lost souls back to Christ," said Siamoya moments after she was installed.
She added: "My leadership will not discriminate against anybody but we want to encourage everyone to be in the church where they can find comfort. Many people have lost jobs, stricken by sickness, stressed and in depression. These are the people we want to give hope to."
Besides her new Territorial Commander role, Commissioner Siamoya will double up as the Territorial President of Women Ministries. Commissioner Margaret Siamoya first came to Kenya in April 2019 and has been heading the Kenya East Territory as the territorial commander for 33 months.
She promises to focus more on helping the needy in the society especially the widows, orphans and the old, adding that the church cares for everyone in the community who is in need without discrimination irrespective of your denomination.
"I had a dark moment in 2010 when I lost my husband, we served God together, his death was a big blow but I have stood firm and continued to preach the gospel without ceasing," she told the multitude.
She has urged politicians to conduct peaceful campaigns devoid of insults and violence. "As a church, we shall pray for peace during and after the elections but leaders have the responsibility to conduct themselves with decorum while campaigning," she said.
The cleric indicated that God will anoint those to take over leadership of this country "and as a church, we shall work with the government of the day."
She has challenged women to vie for elective seats so that the country can experience their leadership prowess.
Kakamega Deputy Governor Prof Philip Kutima and his Bungoma counterpart Prof Charles Ngome, Ikolomani MP Bernard Shinali, Dan Wanyama (Webuye West MP) and a host of local leaders graced the occasion.The Salvation Army church was first established in Kenya in April 1921, by Lieutenant –Colonel James Allister Smith and his wife.
The first cadets were trained in 1923. On 1 March 2008, the Kenya Territory was divided into two and the Kenya East Territory and Kenya West Territory were created.