Akorinu Bishop who defended his drinking ways quits the bottle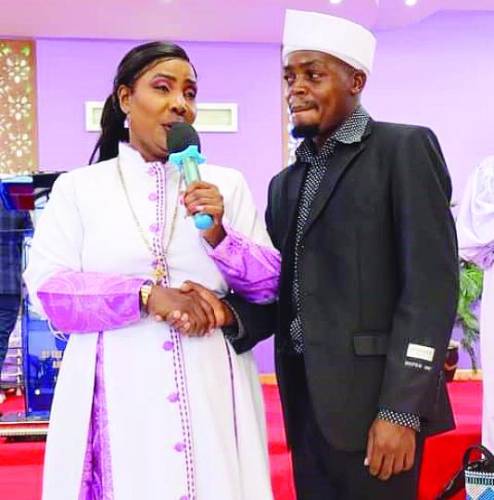 Controversial Akurinu bishop Eliud Nduati, who confessed to drinking alcohol publicly, now says he has quit the bottle.
The 32-year-old entertainer said he was vilified for humiliating the Akurinu church but in some quarters, he was celebrated. Some faithful even threatened to beat him up.
It was, however, an onslaught from a fellow turbaned church faithful-cum-musician that made him decide to quit the bottle gradually.
Gospel singer Daniel Kamburi called him unprintable names, sparking reactions on social media.
However, the attacker-turned-friend later apologised and is leading other Akurinu preachers in dragging Nduati alias Hezeh Ndung'u from the bar to church.
"They came for me in the bar. It took a lot of persuasion to make this decision," he told The Nairobian.
However, the entertainer, who ekes out a living performing in clubs, said he would not drop the hustle.
"I am not stopping performing in pubs but I am happy I have so far managed to stay sober for some weeks. The negative publicity built me in a way. I am getting gigs," he said.
On New Year's Eve, he was invited by Bishop Jane King'ori of Grace Chapel Fellowship Centre where he received a warm welcome.
"There are people willing to help me recover but my drinking buddies are not happy with my new resolution," he said.
He was slammed for using the name Hezeh Junior as he was perceived to be the son of the popular Akurinu singer Hezeh Ndung'u.
"I have explained that Hezeh Ndung'u is my spiritual father and not the biological one. I was attacked for being a drunkard and then associating myself with him...," he said.
He hopes to get consent to do remixes of the artist's songs.
Nduati, who claims to be bishop of Prophetic Ambassador of Christ International Church, started taking booze 15 years ago when he was still in secondary school and a member of the Akurinu faith.
He defended his drinking, arguing that what he imbibes goes to the stomach and not the soul.