Forensic evidence, more professionalism have improved DCI investigations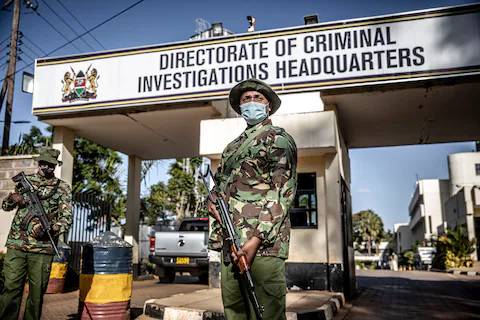 On January 1, the Directorate of Criminal Investigations (DCI) marked the first anniversary since the unveiling of the toll-free numbers that Kenyans can use to share information freely.
With the slogan dubbed, Fichua kwa DCI, the platform is also used by the sleuths to share progress, some cases shared and the next course of action.
As part of their scorecard, some of the cases that were successfully tracked were shocking murder cases of 2021.
The case of Lawrence Warunge, the murder suspect who confessed to killing his parents and two others, made the list of the successful cases, more so when he was confirmed fit to stand trial.
Another case that shook the country was that of Masten Wanjala, self-confessed serial killer who confessed to luring young boys before taking their lives.
Wanjala was accused of killing 10 boys in Nairobi since 2019, and for drinking the blood of some. He gained their confidence by pretending to be a football coach, and held some at ransom.
In October last year, Wanjala, 20, was traced by villagers to a house in Bungoma town and beaten to death.
Among other cases was that of a house help who was captured on camera brutalising minors to her former employer in Nairobi's Greenfield estate after she was fired.
It is alleged that the house help had been sacked by her employer when she went back and assaulted the children, leaving them nursing stab wounds, and other injuries.
Security analyst Richard Tuta argues that there has been an evolution in the criminal justice system.
Tuta says currently, the investigations department is using experts who are qualified to handle crime scenes and do proper probes.
He added that the investigations unit is well structured, funded and the personnel it has are thinking ahead of criminals.
"Their response to crime scenes is better in terms of approach unlike some years back. They are now using forensic investigations, which is the use of science to solve crimes," he said.
Another expert, Haggai Chogo, says: "We have police officers who are patriotic and do their work diligently. The same can be applied in other sectors."