Riswa! Luo elders to expell bad spirits after assailants kill 18 cattle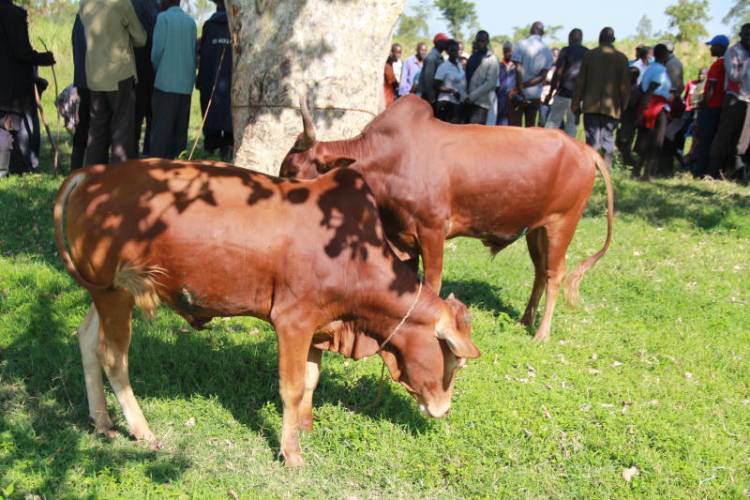 Elders in Ndhiwa sub-county of Homa Bay County are scheduled to perform traditional rituals to exorcise bad spirits believed to have caused the death of 18 head of cattle and injuring more than 120 others. The cattle were killed by unknown people in 10 villages in South Kanyamwa and North East Kanyamwa locations where farmers depend on livestock rearing as a source of livelihood.
The incident occurred on Sunday morning, shocking residents who woke up and found some of their cattle killed and others having severe injuries in the belly. But 96-year-old Jarongo Okumu now says they will be forced to undertake traditional rituals to scare away the bad spirits, which made the assailants raid cattle in the villages.
Okumu said such a killing had never been witnessed in the area. He said it has been known that cattle can only be stolen by thieves and sold later.
"I have never witnessed such a heinous act since childhood. Cattle are like a bank account which if raided by a criminal, they simply steal the money but they don't tear the notes," Okumu said.
The animals were killed without any interference with their carcasses.
"We are perturbed by this incident because it is weird and has led to serious economic losses," said Okumu.
Traditionally, if such an incident occurred in an area, elders would sit down and perform rituals to exorcise the bad spirits. The rituals would include slaughtering an animal and use of a sword and a shield to expel the spirits, which are believed to have caused the problem among other things.
Okumu said they were consulting as elders in the area and they would hold a meeting on December 30 to discuss what to do about the incident. The meeting will be convened by the chairman of the Luo Council of Elders in Kanyamwa Kologi ward Richard Awino. Awino said the incident was so sad that elders cannot fail to make any interventions.
"We are going to consult. The bad spirits must be expelled," Awino said.
The government is also doing its part to ensure the suspects who killed the cattle are arrested. Homa Bay County Commissioner Moses Lilan said two suspects had been arrested in relation to the incident and detained at Ndhiwa police station.
Lilan said the duo had been implicated in killing and injuring the cattle owned by innocent farmers in the two sub-counties.
"This morning we managed to arrest two suspects believed to be the masterminds of the killing of the livestock," Lilan said.
Lilan said they had got intelligence that the two were working in cahoots with other people. Their accomplices disappeared. The administrator called on residents to cooperate with security officials and reveal confidential information regarding the suspects.
"We are told they were working with other accomplices. I urge residents to give us information in confidence to enable us to fight this vice," Lilan said.
Lilans said they were also following some crucial leads to help in arresting the other suspects linked to the heinous act. He added that their investigations would be extended to Kisumu and Migori counties where they believe other suspects were hiding after fleeing Homa Bay.
On Tuesday last week, unknown suspects raided a number of villages in Mbita sub-county and killed 31 cattle and injured more than 28 others. More than 12 farmers at a number of villages in Kayanja and Waondo sub-locations were affected by the heinous act.