Augustine Owino: Meet Kenya's best mortician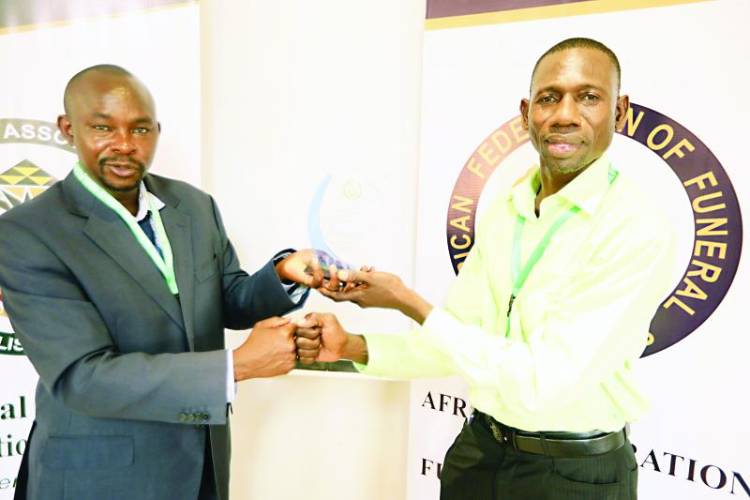 Augustine Owino, 45, has been feted as the best mortician for setting up modern mortuaries and embalming services in over six hospitals across the country.
Owino was awarded during the 8th Annual Funeral Conference for morticians organised by the Funeral Service Association of Kenya (Fusak) at Bliss Hotel in Mombasa. An elated Owino received the trophy and certificate in Mombasa from Dr Edith Churchman, a renowned American licensed funeral home director and embalmer from New Jersey in the United States.
"My entry into the field of funeral homes is not by default. I was inspired by a neighbour who used to work at the Coast General Hospital to do this job," said Owino.
Owino grew up in Mombasa's Jomo Kenyatta estate in Mvita Constituency where he said he met the man who would later induct him into the job dreaded and scorned by many. Owino, who played football for the defunct Lake Warriors Youth Soccer side in Mombasa, underwent mortuary science training at the Chiromo Funeral Service Centre.
He would later set up embalming services at the Coast General Hospital where he honed his skills as a mortuary attendant during his early days into the profession. Owino, who is the current secretary general of the Funeral Services Association of Kenya, later established embalming services at Port Reitz Hospital in Changamwe Constituency.
"I dedicate this award to all the professionals in the field of funeral homes, dead or alive. This profession is a calling," said Owino, who is currently the funeral superintendent at Mbagathi Hospital in Nairobi.
Owino said when he joined Mbagathi, there was no refrigeration at the hospital's mortuary for almost five years.
"Bodies were being preserved on open wooden shelves. I worked meticulously and even had a body staying for 15 years (in good condition) before it was taken for burial," he said.
Owino was also credited with setting up modern mortuary facilities and starting embalming services at Pandya Memorial Hospital in Mombasa, Pap Onditi in Kisumu County, and former Nyanza General Hospital now Jaramogi Oginga Odinga Referral Hospital in Kisumu County. Ezra Olack, the founder and President of the Africa Federation of Funeral Services and Fusak local chair, described Owino as one of Kenya's greatest pairs of hands in funeral service operations.
"At Mbagathi Hospital Funeral Home, Owino has successfully turned around the mortuary services from scratch. Bodies there used to be taken to City Mortuary," he said.