Comrades won't stand for DCI boss Kinoti harrasment, says KUSO President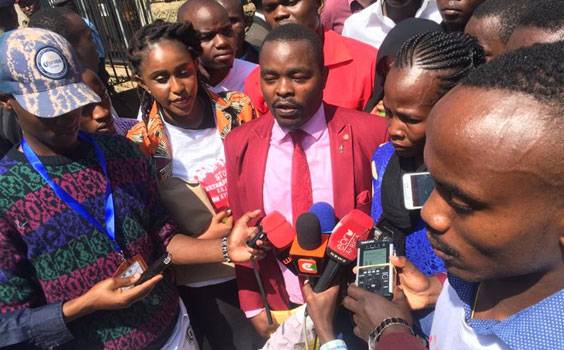 The Kenya University Students Organization (KUSO) has threatened to paralyse operations in all institutions of higher learning across the country over what they termed as 'persecution of the Directorate of Criminal Investigations boss George Kinoti'.
Addressing a press conference in Nairobi, a charged KUSO's President Anthony Manyara defended Kinoti over his record saying that the DCI boss has been instrumental in the arrest and locking up of lethal criminals and terrorists as a field officer at various ranks he has held.
He further said that during Kinoti's tenure, the country has experienced relative calm with Kenyans willing to cooperate with other security agencies and community policing in giving out information that has helped in clumping insecurity in the country.
Manyara added that the country has enjoyed relative peace under Kinoti's leadership, citing his cooperation with other agencies.
"With the confidence he has instilled, Kenyans have offered crucial information that has helped solve high-value cases," said Manyara.
The student leader reiterated that comrades who have previously borne the brunt of crime and police brutality have found solace in the hand of Kinoti.
Manyara pointed out that 'external forces' were behind Kinoti's woes following his investigative work and putting him behind bars will jeopardize the security system in the country.
"Kamiti maximum prison holds all the hardcore criminals and terrorists that DCI Kinoti has taken off the streets and put behind bars," stated Manyara.
Manyara claims unnamed persons are out to suppress the exemplary work of the DCI Boss and called on Chief Justice Martha Koome to pronounce herself on the increasing judicial activism.
"Persons of vested interests are keen on seeing a complete standoff between the judiciary and all other agencies and arms of the government such as the DCI," he added.
The DCI boss has been at the centre of a storm since last week when High Court Judge Antony Mrima sentenced him to four months imprisonment for failing to obey court orders to return guns taken away from business cum politician Jimmy Wanjigi.
An attempt by the Attorney General to suspend a four-month sentence imposed on DCI boss George Kinoti for disobeying a court order flopped.
Attorney-General Kihara Kariuki sought to have the court suspend its sentence pending hearing and determination of an application to set aside the November 18 decision by Justice Anthony Mrima.
"Given the nature of orders sought and history of the matter, this court is of the view that any orders will be considered after hearing of the application," Justice Mrima said.